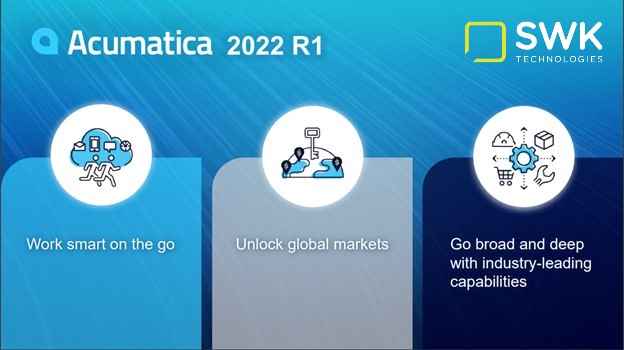 Joel Gress
VP of Product Marketing – Acumatica
SWK Technologies, Inc.
There are 200+ enhancements and 60+ new features in Acumatica 2022 R1, which are covered in detail in their release notes (note: Acumatica Community login required). The following is what we see as some of the highlights in the latest release as Acumatica continues to impress with its pace of innovation.
The 3 key areas of focus for Acumatica 2022 R1 are:
Work smart on the go by updating the mobile user interface (UI) adding personalization features and enhancing performance.
Unlock global markets with the addition of localizations for UK and Mexico and the introduction of Global Financials to streamline reporting and consolidation for organization's multiple base currencies across companies.
Go broad and deep with industry-leading capabilities with multiple enhancements to the Acumatica editions (Distribution, Manufacturing, Retail-Commerce, and Construction / Project) including Blanket Sales Orders, Enhanced/New Dashboards, Amazon Connector, Streamlined Project Quote/Opportunity processing, and much more.
GL Anomaly Detection (managed release)
With so many great new features and enhancements, it is difficult to pick a favorite yet this one seems to rise to the top of my list.  It is in my opinion the beginning of what I hope to be a long list of AI powered automations that act in a practical manner to make the users job easier.  I look forward to seeing this feature move into Distribution, Field Service and Manufacturing.
GL Anomaly Detection helps users avoid issues with reclassified transactions.  The system uses a machine learning algorithm to calculate predictions of errors in posted GL transactions. The model is operated by a cloud service and is based on reclassified GL transactions in closed GL periods.
Use of this feature begins with activation and running the training process.  The training process requires at least two closed periods with posted reclassified transactions. Based on these transactions, the model learns the pattern of activity. As new periods are closed, the train process can be run to extend the models learning. Running the Analyze process will utilize the training data to flag the probability of error in your GL reclassifications.
Analyze Accounting Data

GL Account Detail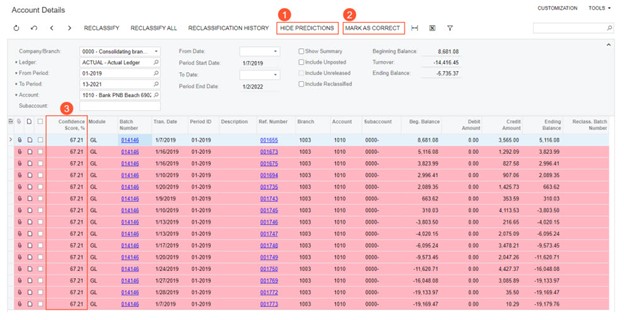 Show/Hide Predictions – controls the visibility of the anomaly detection results.
Mark as Correct – indicates a transaction is correct and should not be considered an anomaly.
Confidence Score – an indication of probability the transaction is an anomaly. The score ranges from 0.01 to 100. Transactions scoring 50 or above are highlighted. The higher the score, the darker the highlighting, and the more likely the transaction is an anomaly.
Anomaly Detection Dashboard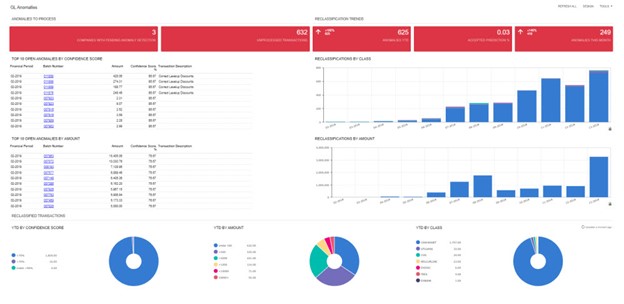 Multiple Base Currency Enhancements (Global Financials)
Acumatica from day one supported multiple base currencies by Tenant and multi-currency transactions. Over the years Acumatica has re-thought the Tenant / Company structure with the introductions of branches and Company Groups. In Acumatica 2021 R2, we saw the introduction of multiple base currencies for companies in a single Acumatica tenant.  In 2022 R1, Acumatica continues to extend the functionality to additional modules and enhance the ability for international companies to perform inter-company transactions, update currency rates, automate buy/sell relationships, and consolidate financial reporting.
Modules Added for Multiple Base Currency Processing in 2022 R1:
CRM
Deferred Revenue
Fixed Assets
Project Accounting
Construction
A Look Back at Multi-Company / Multi-Currency Processing and Cross Company Sales
Streamlined General Ledger Allocation
Automation in Financials (Streamlined Workflow)
The Acumatica Workflow engine has been enhanced in Acumatica 2022 R1 to reduce the number of duplicate updates across document transition states.  In this case, a picture is worth a thousand words.
Old Workflow

New Streamlined Workflow

AP Document Recognition Enhancements
AP Document Recognition was introduced in Acumatica 2020 R2.  In Acumatica 2022 R1, performance and usability have been enhanced.  A new processing engine was introduced that reduces processing time.
Resubmission – The ability to Resubmit documents for Recognition allows users better controls if the process is interrupted.
Search For Vendor – A Search for Vendor after Recognition function was added to handle instances where the vendor cannot be found for a variety of reasons (vendor not setup, vendor name typo, etc.).

Mass-Processing form – The new Incoming Documents screen allows for the drag and drop and multiple documents for submission to the recognition engine.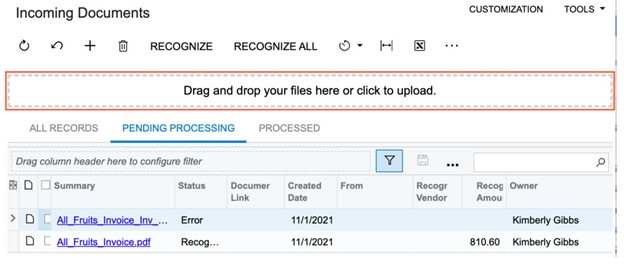 Purchase Order Matching – Acumatica lowers the cost of paying bills by automating the vendor bill entry process.  They have taken this process a step further with the addition of Purchase Order Matching during the recognition process. The matching will function for Non-Stock and Stock Item related transactions. AP Document Recognition accepts input of document using one of three methods:
Drag to Incoming Document Screen
Submit with Outlook Add-In
Forward to Email Account watching for incoming documents
Bank Reconciliation
Mass Processing of Bank Transactions
In Acumatica 2022 R1 the Process Bank Transactions screen has been replaced. The new screen displays All Records and Unprocessed Transactions. The user can elect to Auto-Match all unprocessed transactions in bulk.

Native Amazon Connector for FBA and FBM (Managed Release)
Acumatica's new Native integration with the Amazon Marketplace allows merchants to sell using FBA (Fulfilled by Amazon) and/or FBM (Fulfilled by Merchant) options and seamlessly process transactions between the two systems. Orders placed on the Amazon Marketplace pass to the Acumatica Sales Order screen and once shipped, tracking information is sent to Amazon along with shipping notification updates.
Other Enhancements
Product Availability Sync performance improvement
Shopify Connector Shipment Data Export Mapping Enhancement
Template (Matrix) Item Sync with BigCommerce Enhancement
Employees as Case Contacts
CRM Events
Merging Duplicates and Association of Records
Email Enhancements
New/Improved Import Scenarios

Leads
Contacts
Business Accounts
Opportunities
Cases

New User Defined Field (UDF) Support
Mobile Usability Enhancements
Acumatica has introduced an updated Mobile User Interface which is available on 2021 R2 and further enhanced on 2022 R1.  The modern UI is more user friendly and allows the user to personalize the experience.
Highlights
Improved look and fee
Native Save/Cancel functions
Improved input error information

Moves to tab or location of the missing or invalid data
Shows which line raised the message

Support for Form Fields, Attributes and UDF (User Defined Fields)
Personal Mobile Workspaces

Workspace creation on the mobile device
User-based customizations

Workspaces
Favorites
Pin KPI widgets to the header
Recently visited records
Quick create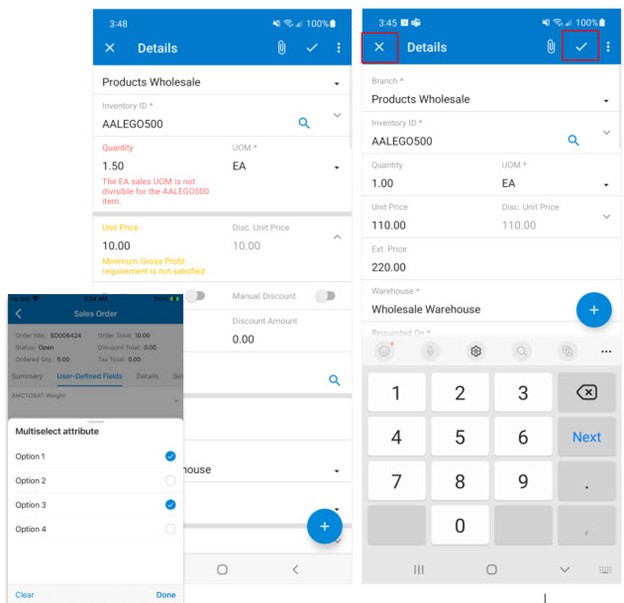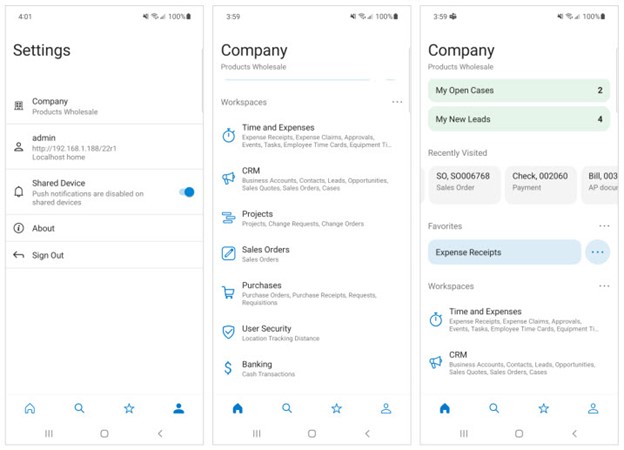 Acumatica eSign Improvements
Workwave Route Manager Integration
Add-in for Outlook Enhancements
Migration of UK Localization to Core Product
UK BACS Payments Integration
EFT via RBC in Canadian Localization
EasyPost Integration Enhancement
Search Performance Management
Faster Grid List Searching
DAC Schema Browser Enhancements
Chart Widgets Improvements
Business Event Improvements
Email Processing
Submitting Performance Logs
Certification Status of Customization Projects
Mobile UI modernization
Personal Mobile Workspaces
Blanket Sales Orders
Acumatica 2022 R1 introduces the ability for users to create a blanket sales order and to schedule multiple shipments. From the Blanket Order, multiple regular or child orders may be generated. The Blanket Sales Order will track the overall quantity issues and display the Child Orders.
In the example below, Allen's Bakery has placed a blanket order for 50,000 12 ounce bottles of Apple Juice.  The Apple Juice is scheduled to be delivered over a period of months. The user can configure and view the shipment schedule by clicking on the Line Details button. As Child Orders are created, they can be viewed on the Child Orders tab and the Blanket Open Qty will be decremented.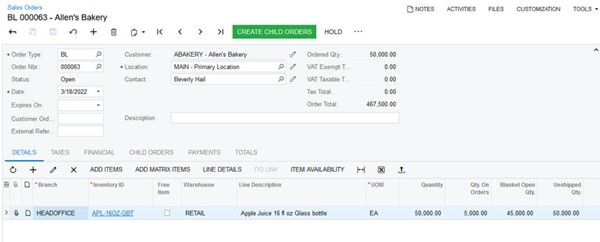 Service Contract Enhancements
Service Contract Renewal
Copy Service Contract
Print Contract Documents
User Defined Fields (UDF) for Service Contracts and Equipment
Customer Location Lookup
Inventory Availability from Appointment Details
Start Appointment without pre-assigned Service
Note and Attachments flow-through from Service Order to Appointment to Invoice
Ability to rollback and redo Staff Schedule
Multiple Base Currency Support
Commitment Change Tracking Enhancements
Change Orders for Project Drop-Ship Purchase Orders
Project Quote Improvements
Progress Billing based on Quantity
Project Specific Taxes
Integrations

HCSS 'DIS' and API Retrieval
GoFormz
New Dashboard Content

Production Meeting
Production Manager
Engineering

Document Visibility Restriction by Branch
MRP

Order Policy – Days Supply
Honor Safety Stock or Reorder Point

APS – Finish/Move/Queue Time

Ability to schedule delays between operations

Operational Control Points (Milestones)
Enhanced Drill Down
Visual BOM to BOM Maintenance
Enhancement Generic Inquiries
Default Manufacturing User Roles
Migration to new WMS Engine
Discover More Tips, Tricks and Other Features for Acumatica
SWK Technologies will help you get the most out of your ERP investment, leveraging our deep technological and industry knowledge as a top Acumatica partner and Community resource. Check out some of our Acumatica videos and other educational resources, and reach out to us when you're ready to learn more tips and tricks to maximize your value return on your software.
Contact SWK here to gain access to more Acumatica tips, tricks, updates and tailored demos.
Get More Acumatica Tips & Tricks