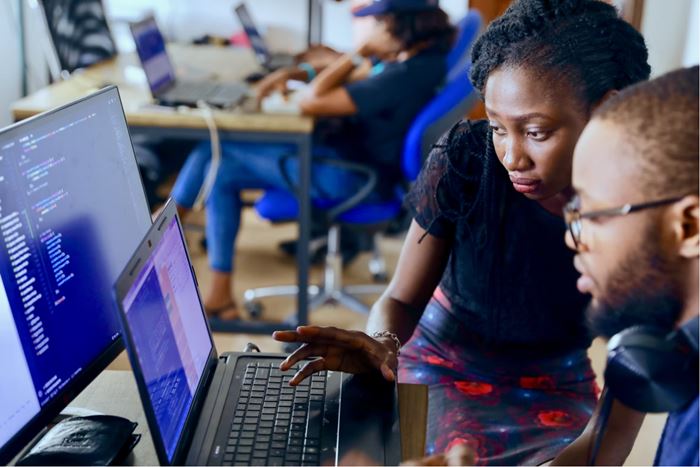 This article will help you explore the native capabilities for Acumatica CRM (customer relationship management) software, as well as some of the many integration options available with the xRP platform. Acumatica Cloud ERP features robust connectivity with multiple web-based APIs that allow you to merge your disparate databases and unify your technology stack. Discover how to achieve this synchronization between your ERP, CRM, WMS and more by continuing to read below:
A Look at Acumatica CRM
The Customer Management module for Acumatica offers integrated CRM capabilities accessible from within your enterprise software system and connected with multiple industry-specific Acumatica Editions (Construction, Distribution, etc.). Here are some of the features available:
Customer Data Tracking & Automation
Acumatica CRM delivers a far-reaching single source of truth for your customer journey, from initial lead capture to service activities. AI-powered automation consolidates the number of manual touchpoints users need to execute on tasks, with contact databases, sales opportunities, marketing campaigns, support cases and more streamlined to reduce time spent on individual operations.
Unified Sales & Marketing
Bridging the critical gap between your sales and marketing teams with Acumatica ensures that client-facing activities are maximized for efficiency, providing valuable data at key points throughout sales lifecycles. Arm your salespeople with the latest insights captured from customer profiles, and tailor your campaigns to make the most impact for the right audiences with historical trends.
Customer Self-Service Portal
Acumatica Customer Portals provide a self-service interface that is available 24/7 and empowers your clients to access the information they need, when they need it. Provide a secure channel that consolidates all of your accumulated documentation, media and other educational resources that help answer the questions your customer base is searching for.
Connected with Financial & Inventory Management
Integrating your ERP and CRM databases allow you to connect the disparate silos of your business, knocking down walls between the back office and forward-facing operations where data is generated faster than it can often be used. The suite-based platform of Acumatica synchronizes data sets from your contact lists, accounting ledgers and inventory fields to give you a complete, integrated view of your sales lifecycles that grants greater visibility into ROI.
Real-time Reporting & Dashboard Analytics
Acumatica Cloud ERP comes equipped with proprietary dashboards that provide insights at a scale far beyond what legacy systems were able to deliver, with multiple plug-and-play widgets translating data flows into visualized reports. Views are tailored by role and secured by permission rules, but grant visibility to each stakeholder when and how they need it, like quick alerts for new leads and accounts that have dropped from contact.
Support Case Visibility
Support and service workflows in Acumatica CRM can leverage the same functionality as your sales and marketing workflows, granting real-time visibility and collaboration for each support case from your ERP. Native mobile device functionality allows you to view cases in any smartphone or tablet using Android or iOS, ensuring your teams remain connected in the field or back office.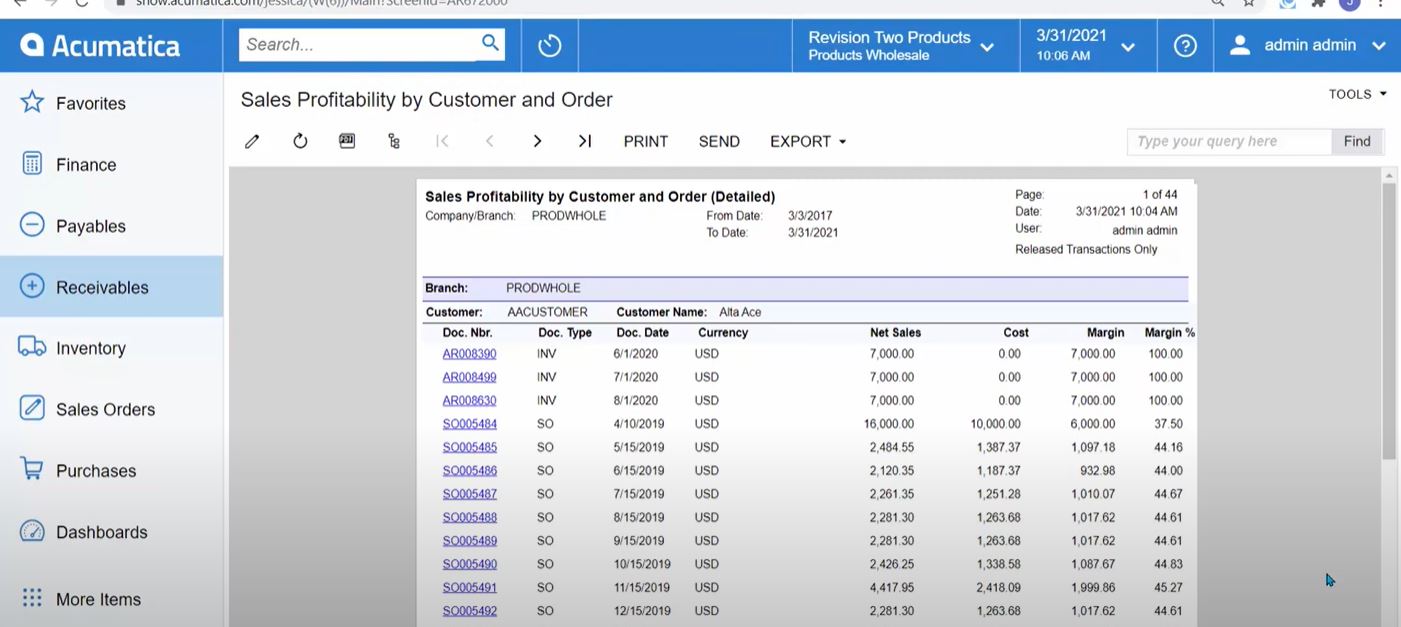 CRM Integration Options from the Acumatica Marketplace
In addition to the Customer Management module, Acumatica enables you to expand CRM capabilities through a robust ecosystem of integrations available, as well as connect additional features to your contact databases. Cloud ERP provide increased flexibility for add-ons and customizations through more modular SaaS architectures and open APIs. Here are several examples from the Acumatica Marketplace:
Salesforce
The Acumatica integration with Salesforce lets you transfer customer contact addresses, leads, opportunities and much more between each system without having to jump in and out of multiple menus. By taking advantage of the Real-Time Sync and OData, you will be able to import and pull up the information inside of your ERP straight from your CRM automatically by following a few easy steps.
HubSpot
Integrating HubSpot with Acumatica extends your marketing automation features and empowers you to more closely connect lead generation with your sales operations. By mapping the data in HubSpot, qualified leads can be imported into your ERP and CRM without needing manual follow-through.
Outlook
Acumatica CRM supports a Microsoft Outlook plugin that connects your sales pipeline with leads created from contacts, contacts created from emails, and more. Details such as contact information, tasks and events are automatically updated, and you can directly drill-down into your ERP-stored leads from email addresses while using Outlook to create sales Opportunities and accounts payable (AP) bills.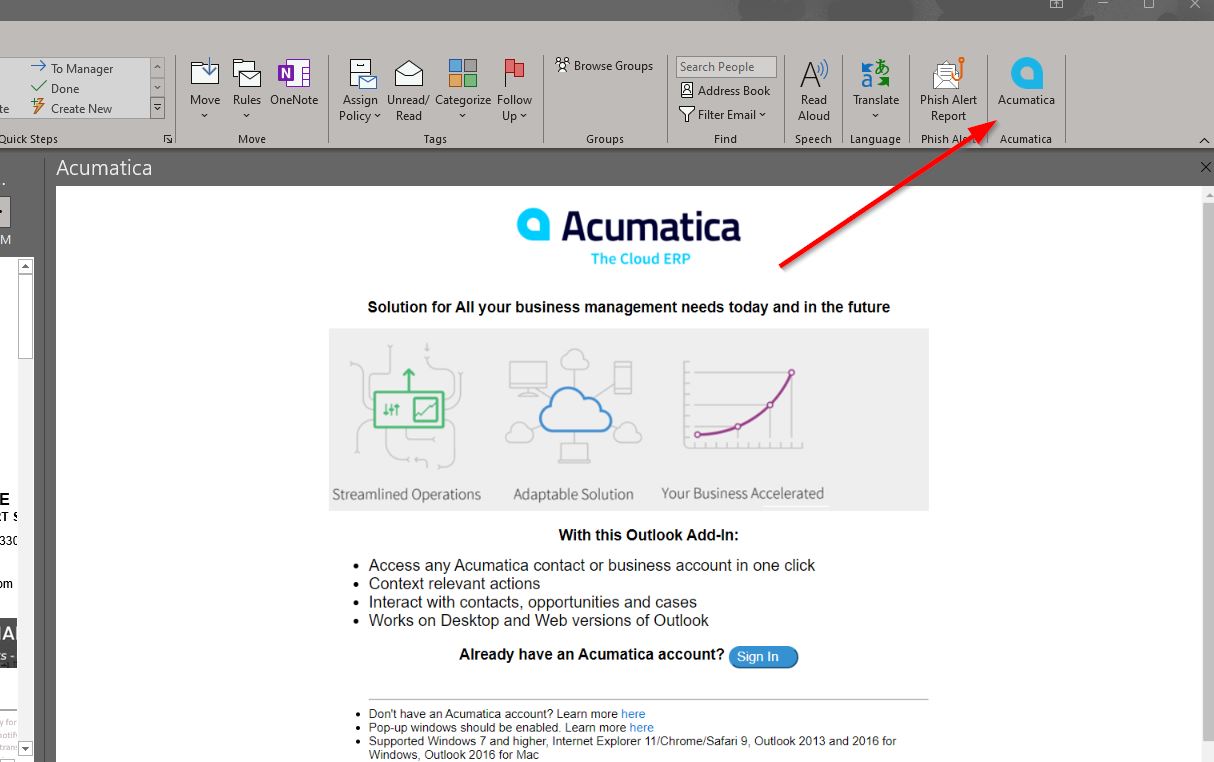 Construction
Here are a couple of Acumatica integrations tailored specifically to extend CRM capabilities for construction, engineering and real estate firms:
TopBuilder CRM
TopBuilder CRM integrates with Acumatica Construction Edition to consolidate job and customer data within a single source of truth, letting you synchronize fields between each system in real-time. This add-on allows you to keep track of bids, projects and other documentation from any device, with automated bid scoring and reporting.
Real Estate Dimensions
Real Estate Dimensions (RED) adds project budgeting, cost control, sales financing and foreclosures, property management and more Acumatica's construction and CRM features. Proactive financial and sales management capabilities allow you to streamline functions including tax reporting, forecasting, commissions, credit collections, job costing, and work orders.
Ecommerce
Here are some examples of applications useful for extending CRM capabilities for ecommerce businesses using Acumatica.
BigCommerce
The Acumatica for BigCommerce Native Connector allows you to integrate your ecommerce software with your ERP, which when included with the Customer Management module will enable you to break the silos between your digital storefront and your client databases. Produce a single, unified omnichannel workflow with bidirectional data synchronization that lets you streamline how you handle online transactions.
Address Validation
Built natively with the Acumatica xRP platform, Address Validation reviews your contact addresses against databases referred by USPS, UPS, FedEx and other major shipping carriers, and updates them in your ERP and CRM automatically. Erroneous or duplicate data can be pruned instantly with a one-click verification system that quickly purges these bad contact fields.
Field Service
Here is an example of Acumatica CRM integrations for businesses requiring field service management features:
Opmetrix
Opmetrix delivers a mobile CRM app that allows field service teams to stay connected with the back office, providing continuous access to sales and merchandizing data while traveling and onsite. The integration with Acumatica automatically collects and delivers transactional, pricing and inventory information at any time, from anywhere and on any device.
Building a Technology Stack with an Acumatica Partner
The native cloud architecture of Acumatica grants you access to a vast marketplace of integration options, from best of breed applications like Avalara and Microsoft 365 to function-specific add-ons like Procore and Velixo. Combining these third-party apps with your ERP (effective) empowers you to create workflows in which data flows seamlessly from one system to another without needing excessive manual entry. This suite strategy enables you to maximize your ROI on your technology infrastructure by migrating focus from individual CRM, WMS, MRP, etc. to a unified software and IT ecosystem.
Engaging an Acumatica partner like SWK Technologies makes it easier to achieve this ideal technology stack by mapping out your implementation project objectives around your specific business goals, critical needs and current pain points. With industry expertise augmented by our significant development and support resources, we can arm you with the tools and guidance you need to customize your disparate solutions into a united system.
Discover More CRM & Integrations Options for Acumatica with SWK
There are many options available when looking for the right CRM capabilities with Acumatica, and SWK is here to help you narrow down the choices to the best fit for you. Reach to us today and start exploring the possibilities for Acumatica CRM along with any other integrations you need to maximize your technology stack ROI.
Contact SWK Technologies today to learn more about your options with Acumatica ERP, CRM and whichever other solutions you need.
Take a Look at More Acumatica Integrations and Modules