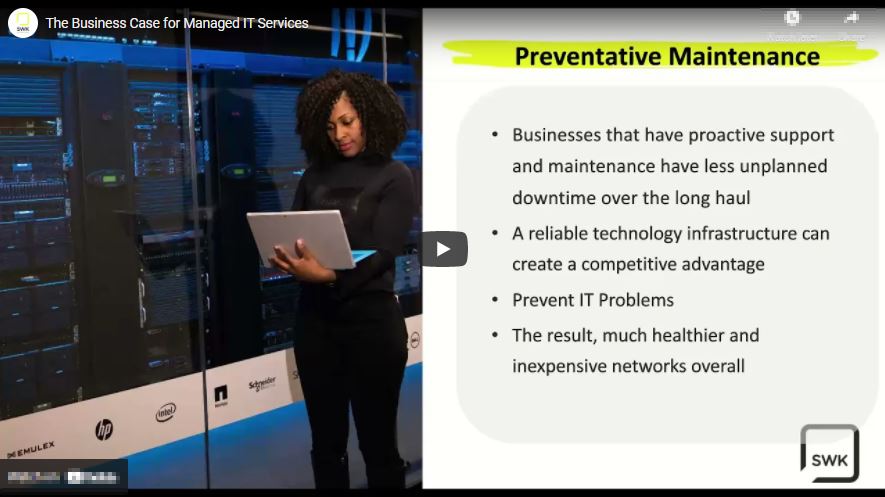 Check out SWK's video webinar to better understand the Business Case for Managed IT Services provided by an outsourced partner. Watch as SWK Technologies VP John Eslinger explains the purpose of managed services, the difference in IT support models, and which solutions SWK's Managed Cloud Services will provide through our Network Assurance plans. Read through a teaser transcript of the video below:
The Business Case for Managed IT Services Video Transcript
Speaker – John Eslinger, Vice President, SWK Technologies
What are Managed IT Services? – 04:56
What are managed IT services? Essentially, it's an outsourced IT support model. Traditional IT is having trained IT professionals on your payroll, but salaries are skyrocketing, and it can be hard for a small to medium-sized entity to justify the cost of a fully burdened resource on staff. Many 25 and under employee businesses need access to world-class IT services just like their larger counterparts, but they can't keep a W-2 employee busy 40 hours per week. Even many 50 and under employee businesses wrestle with that ROI decision. Many will try an independent IT consultant – they have attractive rates and they're very responsive at first, but as they get more business, they may grow less responsive over time, plus you're limited to the knowledge of an of a single individual.
Traditional IT vs MSP – 05:54
Perhaps you've tried that model and feel like you've outgrown your current IT support mechanism. MSP, or a managed service provider, is the outsourcing of those functions. Let a company like SWK Technologies' Manage Cloud Services division take over your IT support needs. You'll get better response times, you'll be able to tap into the knowledge base of many, and it's not an all or nothing proposition. We work with many customers that may have one, two, three, or more IT professionals on staff – they still partner with us, and we enable their success.
Network Assurance – 06:40
The two primary offerings from MCS are called Network Assurance (NA) and Network Assurance Core (NAC). The only real difference is that Network Assurance comes bundled with some monthly prescribed on-site hours. Network Assurance Core does not include on-site hours, we deliver the majority of our services remotely, but when we can't solve a problem remotely, we dispatch an engineer onsite, and it's billed on a time and materials basis. Most of you know that 90-95% of support requirements today can be addressed remotely, so many of our customers find the NAC agreement to be just what they need.
Plan features – 07:25
The next six bullet points on this slide touch on some of the common features that both of our service plans provide: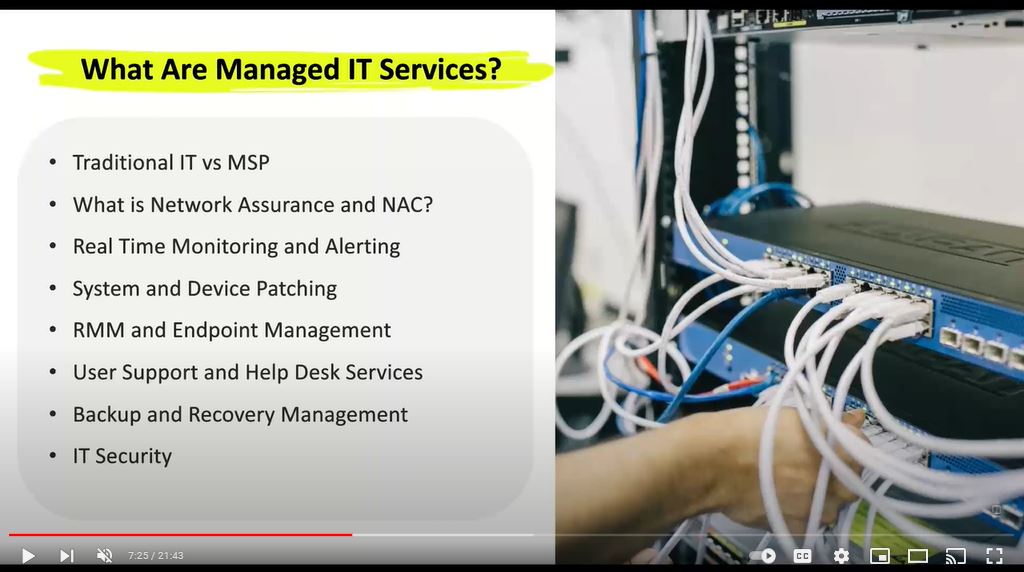 Real-time monitoring and alerting – 07:35
Real-time monitoring and alerting – we deploy intelligent lightweight software agents onto all of your critical systems, your servers, your workstations, laptops. These software agents allow us to monitor critical system performance parameters, like memory, disk and CPU utilization. These agents allow us to see when one of your servers goes offline. These agents provide alerting to our network operations center (NOC) and become the trigger for our support staff to jump into action to solve problems, sometimes before you're even aware of them.
System and device patching – 8:19
These same intelligent lightweight software agents give us the ability to perform automated patching of your servers and workstations. And it's not done in a haphazard manner whereby we push out every patch that comes down the pipe from these software publishers. SWK takes painstaking care to vet these patches and security fixes to make sure that we're putting the right fixes onto your systems.
RMM and endpoint management – 08:50
These lightweight software agents that I speak of are called RMM, or remote monitoring and management agents. These are also the same tools that allow our world-class help desk team to jump into action when your end users submit a support request. They allow us to quickly and easily jump into an end user's laptop or pc and take control of their keyboard and mouse and help them solve problems quickly and close out support requests in a timely manner.
User support and help desk services – 09:21
SWK Technologies has invested in a world-class help desk operation. It would rival the best in-house IT help desk operation you can think of. We have numerous engineers with skill sets at various levels who do a great job of triaging your requests as they come in and making sure that they get assigned to a resource that has the skill set most appropriate to your request.
Backup and recovery management – 09:50
Backup and recovery management – also part and parcel to our managed services is keeping an eye on your data backups, making sure that you have a current and a good copy of your critical data that can be invoked in the unlikely event that you need to declare a disaster.
IT security – 10:11
IT security is ingrained in everything we do, whether it's endpoint management, gateway security to your network, application or data security, we're constantly refining security measures to keep your network and users safe.
Preventative Maintenance – 10:35
Preventative maintenance is a significant component to both of our support levels. Statistics show networks that have a degree of proactive support and maintenance have less unplanned downtime over the long haul. In addition, long gone are the days when IT is viewed as a necessary evil or an expense in your business. Technology is actually an enabler, a success enabler in your business.
Competitive advantage – 11:12
Reliable technology infrastructure can even create a competitive advantage, and a good example of that is allowing you to bring new products to market faster, helping you take advantage of your competitors' unplanned downtime. You may even gain a customer for life because they don't invest in reliable technology infrastructure the way that you do.
Prevent IT problems – 11:40
Preventative maintenance also enables us to prevent IT problems. As I mentioned, these intelligent software agents that we deploy are looking for trends and patterns that are predictive of failure, and through that monitoring we're able to take issues and resolve them before they become problems. The result is a healthier and less ex less costly network overall.
Business Technology Review – 12:12
Business Technology Review (BTR) – these are periodic meetings that will drive your Network Assurance experience. This is one of the key differentiators between SWK 's Network Assurance and any other managed IT support plans. It's ingrained, it's embedded with our SWK technology alignment process.
Periodic meetings – 12:33
Together, we'll review the results of our performance. Whether you want to meet with us once a year, once a quarter or once a month, we'll take a look at the previous period – what we've done well, what we could do better, what are your business goals and objectives for the coming quarter, for the coming year.
Review topics – 12:54
We'll help you develop a one-, three- or five-year roadmap for technology. All of this is done to make sure that the investments you make in technology today are aligned with your business goals and objectives for tomorrow. Every adjustment is a step towards our ultimate goal of a more secure and efficient network. We'll help you with that budgeting process, we'll help you with your mobile workforce, consolidation, reviewing your satisfaction – these are all topics that are on the table during these meetings. Technology propels business, it enables your success.
View the Entire Business Case for Managed IT Services Video
Want to watch the video in its entirety? Download the recording and view the full video with the transcript as your text guide. Click here to download the entire Business Case for Managed IT Services video.