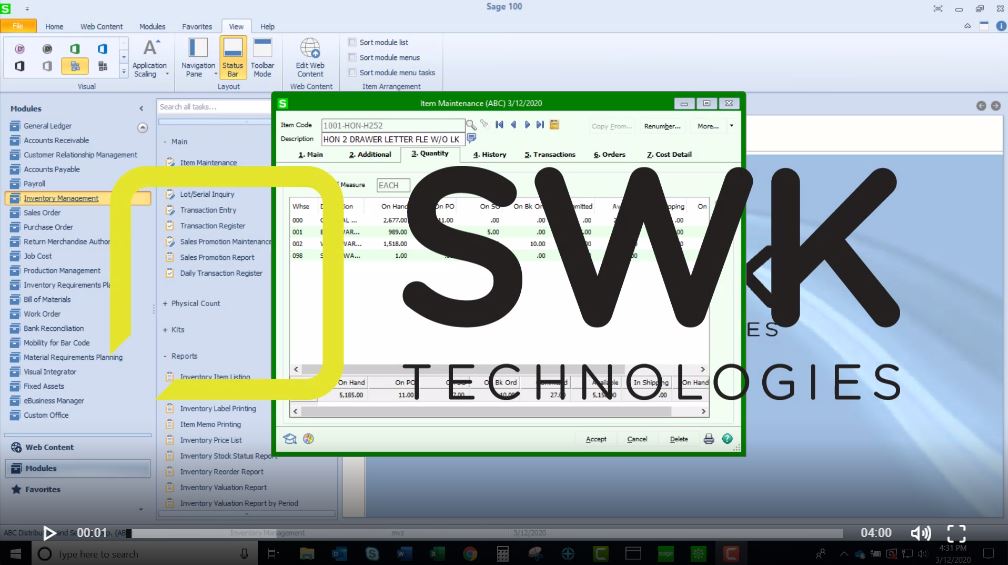 This Sage 100 video will help your company's controller better understand the intricacies in managing the data integrity of your ERP's Purchase Order (PO) module. The burden of compiling, organizing and preserving Sage 100cloud data often falls on your accounting department, expanding their role beyond just financial reporting to many tedious administrative tasks. This tutorial will show controllers how to successfully navigate the operational and IT hurdles impacting their role, get the most out of their software automation, and make their job much easier when it comes to PO data.
Watch the Sage 100 video, Controller's Guide to Managing PO Data, below:
Sage 100 – Controller's Guide to Managing PO Data Transcript
Welcome to SWK's video series on Sage 100cloud. This video is part 2 of the controller's guide to managing Sage 100's data.
Today's controller's responsibility continues to evolve and data integrity is often included in their role along with financial reporting. Sage 100's data must be managed and somebody must take charge. This video will make some recommendations on areas in Sage 100, the Purchase Order module, that a controller would manage.
I've organized all of the tasks that we will be reviewing on a handy Visual Process Flow so everything is easily accessible. We're looking at Sage 100 version 2020, the subscription.
Let's first start with the purchases clearing report. this is found in the period end menu in Purchase Order and it is going to show us all of the Purchase Order lines where the quantity received is different from the quantity invoiced. Of course, we would expect to see the last receipt date to be fairly current, we would also expect to see where the quantity received is probably greater than the quantity invoiced. No matter if it's higher or lower, we need to investigate why this is still outstanding.
This is basically saying that our accounts payable department hasn't caught up with our receiving department. The end of this report has a total, and this should agree with your purchases clearing account found in the current liability section of your balance sheet. If this doesn't reconcile there's another thing for the for the controller to investigate.
Many times, I've worked with companies that haven't paid attention to open Purchase Orders and I find oftentimes that creates a problem because you can no longer rely on the information that is in the inventory module where it gives you the summary of quantity on hand, quantity on purchase order, quantity on sales order, etc. I feel that it can be the controller's responsibility to make sure that open Purchase Orders are being satisfied.
So, I've created some filters on my report here so I'm only getting back orders, standard orders and dropships. I would expect to see these orders to be fairly current, and of course there's a lot of reasons why I want to make sure that these are current orders.
First of all, there's a total at the end of the report and this can give me a little bit of an understanding of invoices that will be coming, these are our probably outstanding liabilities, or do we need to look at the Purchase Orders that are beyond their request date and find out from the vendor "is it coming?", do we have a new ETA, and we want to be able to communicate that information of course to the our department that is fulfilling sales orders. So, I feel that this is an important report for the controller to review.
Next, we have a little dashboard, and this dashboard is something that I downloaded from sageintelligence.com, a handy little website that has quite a few templates for Sage Intelligence. Basically, I had to download this from the website there was a handy little wizard that walked me right through it, I had to do nothing to this report other than run it. And it's collecting the data and it's going to provide me with a dashboard, and some of that is going to be what Purchase Orders are late and what vendors aren't performing.
So again, if we're not paying attention to our open Purchase Orders, we really can't get a good idea of evaluating our vendors. In the bottom left here I have the top vendors by late delivery. You'll see that I have Container Corp, well looks like I need to work on them, Stephenson Supply is a is another problem. If I come up to this sector over here, you could see I'm looking at my top five products by backorder value, so again, it allows me to quickly look at areas in my inventory based on what's going on with purchase orders that can help me identify problems.
Of course, because this is Sage Intelligence, you can modify these with your Excel skills or of course take a few training lessons on Sage Intelligence and make this really work for you. I've also created a small report here that I had to create from scratch and basically, I just took the receipt history file and compared the request date, or the required date rather, to the received date and just with a little bit of Excel skills, this is all the data points that I pulled from my receipt history files. And then here I'm just comparing receipt date and required date and finding that it's on time.
You could see I have an awful lot of Purchase Orders that come early and I have some that come late, and here are my vendors. So again, it gives me another tool of meant for managing my vendors. I could take this a little farther and chart it out with some Excel skills and therefore I'm charting my vendors that are the best performers. Just something else to help you streamline your business needs.
Let's come back to our Visual Process Flow and I have one more report that I'd like to show you, and it's the estimated cash requirements. I rather like this, again, it requires your Purchase Orders though to be in pretty good shape, because it is giving me some forecast buttons, it's allowing me to include open invoices, and when I run this report we're going to see the value of the Purchase Orders less the amount that has been received on invoices, and then it's forecasting it out, again helping me with cash flow.
You could see here that based on the due date of 6/30 it's going to be in the 6/30 bucket, here 5/30 it's going to be in the 5/31 one bucket. And of course, this is giving me some totals in my buckets again as I am looking at managing my cash this becomes one more tool to help me manage Sage 100. Of course, your Sage 100 data has to be good for these reports to work for you.
Just another little note because this is a personalized Visual Process Flow, I was able to add a couple of other tasks from other areas in Sage 100 to make them easily accessible. I just chose vendor maintenance, open sales order view and open Purchase Order views because I thought those would be handy, but you could put whatever tasks that you would like that would be helpful for you as you are managing Purchase Orders. We do have a Visual Process Flow video that shows you how to modify a Visual Process Flow so you can make something that works the best for you.
At SWK we're committed to helping our customers get the most out of their software investment. Please contact us at info@swktech.com to start a conversation on your solution. I hope you have enjoyed this video. Thanks for watching!
Stay Up to Date on the Latest Sage 100 News with SWK Technologies
SWK delivers the latest news, updates, and tips & tricks for Sage 100 and Sage 100cloud users to help them capture the most value from their software. View any of our Sage 100 video resources to learn more about what your Sage ERP can do for you. Contact us if you have any questions on how to best use your Sage 100 or Sage 100cloud software.
Talk to the Sage 100 Support Experts