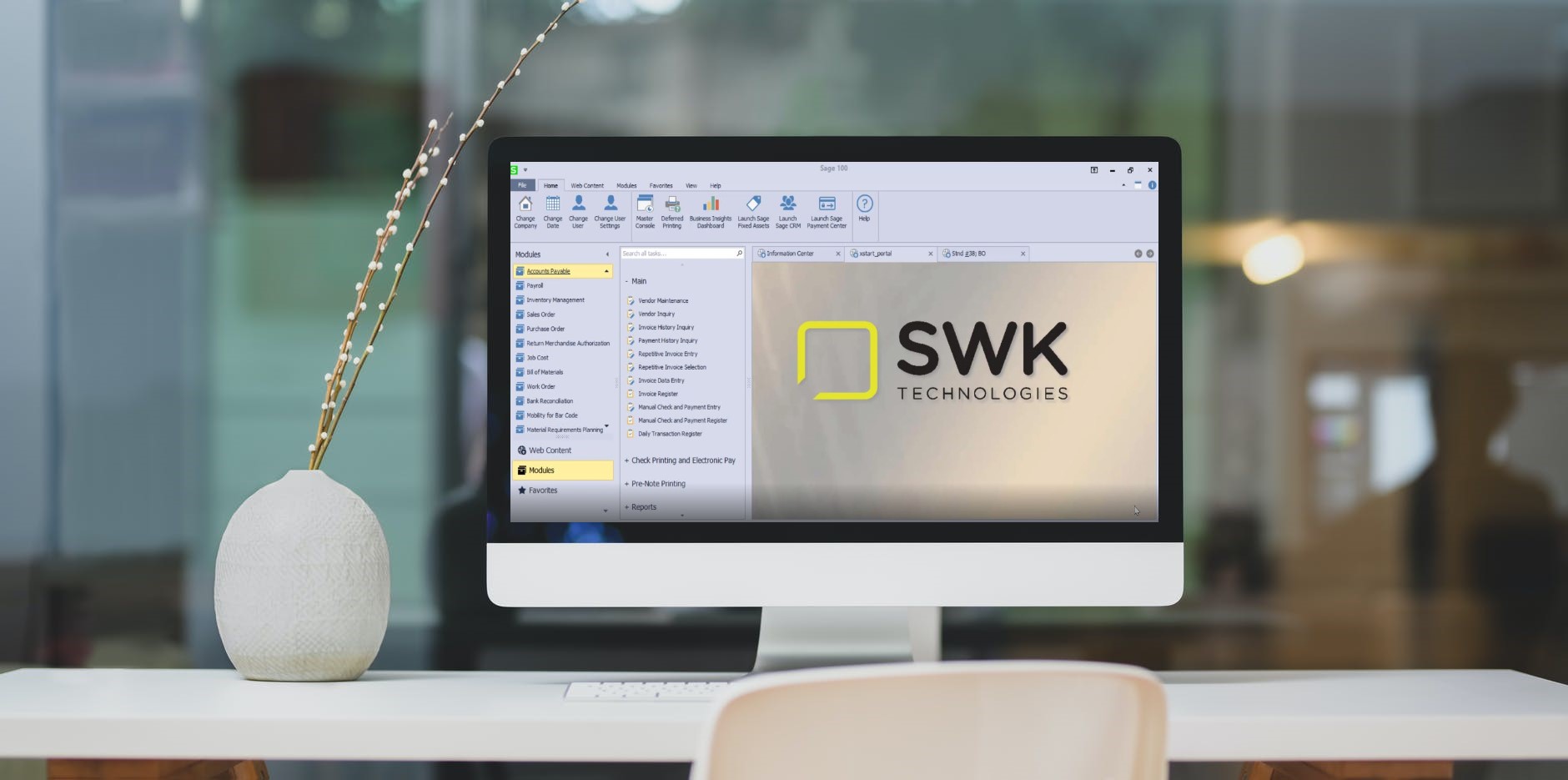 Sage 100cloud  is a feature-rich ERP solution providing the cash management tools you need to run your business.
In this Tips and Tricks video, SWK SVP of STAT, Merilyn Van Zwieten, demonstrates these tools, organized on a single screen using Visual Process Flows.
The Visual Process Flows tool in Sage 100 consolidates multiple workflow activities in a single collection, including sales order transactions, form printing and much more. It is customizable and enables you to easily find the tasks you need to accomplish without having to traverse the menu system.
The process flow shown here launches a custom Sage Intelligence report, a Bank Reconciliation report, and a Purchase Order report, demonstrating how a controller might use Sage 100 (formerly known as MAS 90) to manage cash on a day-to-day basis.
Sage 100 – Cash Management transcript:
Welcome to the SWK video series on Sage 100cloud. This video is for the company's controller and demonstrates the cash management tools found in Sage 100cloud, organized on a single screen. The version we're looking at is 2020 with a subscription license, and everything presented has been created with the standard tools and reports of Sage 100.
To begin with, we are looking at a visual process flow. You will find the visual process flow module – the fifth one down on your list on the left side of your screen. The collection of tasks here have been organized using the Visual Process Flow Manager found in the module setup menu. This is allowing us to collect all of the necessary reports and views that we might want to deploy when managing our cash.
We're going to start with this first button and look at a summary. This is coming from Sage Intelligence, and it is a very simple dashboard that is going to show us the cash balances in each of our checking accounts and savings accounts, And, it's going to give us a visual representation of the aging for our accounts receivable and accounts payable. This is coming up in Excel, and here we go. We have our account balances. We have a little bit of additional information, such as next check number and some information from the last time that we did a bank reconciliation. And, you can see here that the aging is found for both accounts receivable and accounts payable.
We'll come back to our screen, and the next thing we're going to look at is the cash flow estimate. This is a report found in the bank reconciliation module, and we have some options here of how we want it to predict our cash flow. It defaults to the last day of the month and the 15th, and we you could see that we have four different buckets. We have some options here, such as cash required. We could choose it based on the invoice due date or the average number of days it takes me to pay each vendor. I have the same on the cash expectation side of things: the AR invoice due or based on the average days that a customer pays me. If I choose, I can include the open purchase order numbers and in my selection here, I have selected only three of my counts, A, B and D. Because it is not a range, I'm putting separators. I'm creating the equal to, and then putting separators, making sure to put a separator after the last value. We have two other buttons that are important to note. The disbursements button allows me to enter cash requirements that are not typically found in Accounts Payable, such as payroll or loan payments, or in my case I added utilities, because in my example utilities are taken directly out of my bank account, and I don't record it until I do my bank reconciliation. I have the same thing for receipts, but in my example I don't have any.
Let's take a look at the report. See what we have. You'll see that I have my three bank accounts with the total account balance. This is the expected cash I should be receiving from my customers. Here's my requirements for Accounts Payable,
Payroll, and the other items that I had put in under the Disbursements button, and I expect to have through 5/31 $410,000 worth of cash. This number is coming up to the next column, and the same thing occurs for the next three until I get to the very end for 7/15, where I anticipate having $343,000 of cash.
Now we have for accounts receivable and accounts payable just summary numbers, and if I want to see the detail, which customers are we talking about. We're going to go to the reports down over here. This first is the cash requirements, and this is going to show me what I anticipate paying my vendors and, of course I have some options here, such as printing in a summary format, aging credit memos — and those are options that you should try and see what works the best for you.
Let's take a quick look, and you can see it as taking each vendor invoice and placing it in where I anticipate paying that. I have another report, and this is where it's going to show me what I anticipate receiving from my customers. We'll take a look at this, and it's going to put it in something like an aging format, but it's really the prediction of when I will be receiving cash from my customers, and this way I have the detail.
Now some other things that might be important as you're considering your cash management is perhaps open purchase orders. So, I have added to my cash management dashboard here – I have added my open purchase orders, just my standard and back orders – and I could see that I have total orders of $127,000. And, I have something similar if I'm looking at my sales orders and, of course, I can put other filters in here, such as, maybe I only want to see the sales orders for the next 30 days. And, my last option is: this would launch financial statements in the general ledger module, and then I would print these reports as, I normally do. So, what this visual process flow has done, it has organized all of the tools that I need when I am managing my cash under one simple screen.
If you need help developing a screen like this or developing a dashboard in your Sage Intelligence, we would be delighted to assist you.
Thanks for watching our video.
Stay Up on the Latest Sage 100 News with SWK Technologies
SWK delivers the latest news, updates, and tips & tricks for Sage 100 and Sage 100cloud users to help them capture the most value from their software. View any of our Sage 100 video resources to learn more about what your Sage ERP can actually do.Contact us if you have any questions on how to best use your Sage 100 or Sage 100cloud software.
Talk to the Sage 100 Support Experts