The Business Case for Managed IT Services
The current state of IT poses ever changing and evolving demands. Cyber risks are at an all-time high and it's important that businesses be able to keep themselves productive, secure, and within budget. When faced with these challenges businesses turn to Managed IT Services to provide them with the expertise needed to stay up to date with today's complex IT landscape as well as crucial services, including 24×7 server and workstation monitoring, preventive maintenance, automated patching, and threat removal.
Join SWK's VP of Managed Cloud Services, John Eslinger, as he explains the value of Managed Services. Learn how SWK's deep ERP and industry knowledge makes us unique and why leveraging our team of experts alone, or alongside your IT staff will result in a healthier and more cost-efficient network for you to run your business.
A peek into what we will cover:
The State of IT
What is Managed Services
Preventative Maintenance
Technology Allignment
Business Technology Reviews
What all this means to you
and more!
Watch the Webinar Recording
The CEO's Guide To Co-Managed IT
If you're trying to decide on whether or not to add IT staff, outsource IT, or augment your current IT staff this white paper will help.
Download the white paper to learn:
Signs That You May Be Pushing Your I.T. Lead And/Or Department To The Limit
One Of The Biggest Dangers You Face
Exactly How Can Your Company Be Damaged By Failing To Invest Properly In Cybercrime Prevention And Expertise?
Co-Managed IT: How Growth Companies Are Solving Their I.T. Resource Dilemma
Scenarios Where Co-Managed IT Just Makes Sense
Who Co-Managed IT Is NOT For
What Other Executives Have To Say
Is Co-Managed Is Right For You
and much more!
Fill out the form to access the white paper: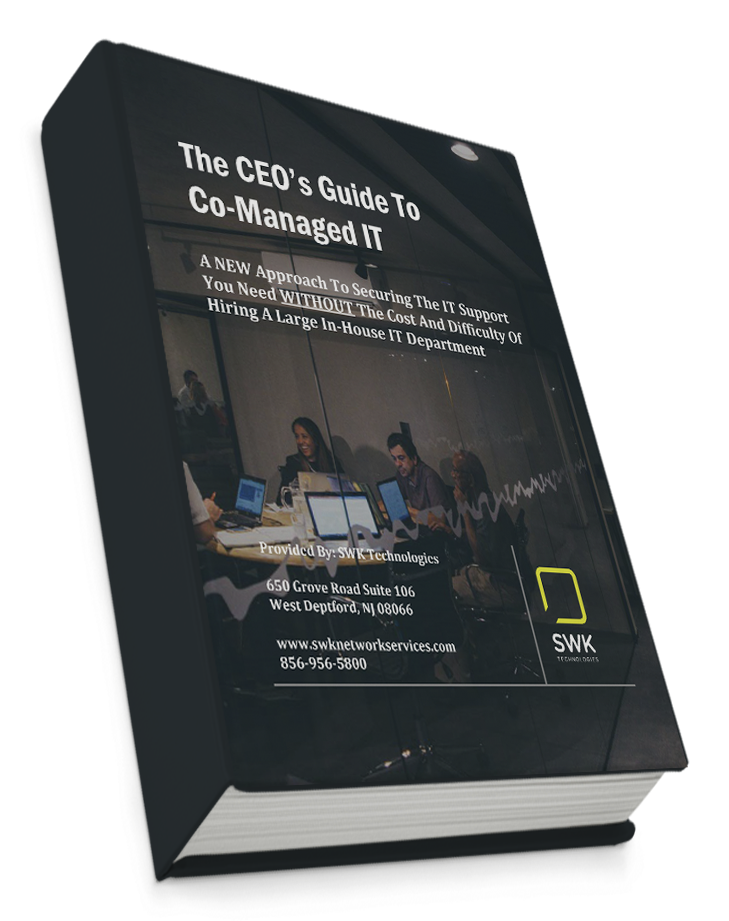 HOW CAN SWK TECHNOLOGIES HELP YOU?
SWK Technologies is a business application and consulting company providing strategies and solutions to meet our clients' information and business management needs. We make technology work for you, and provide the experience and expertise to get the job done by working with both your needs and the business management software that actually support your ways of doing business.
Contact us: info@swktech.com