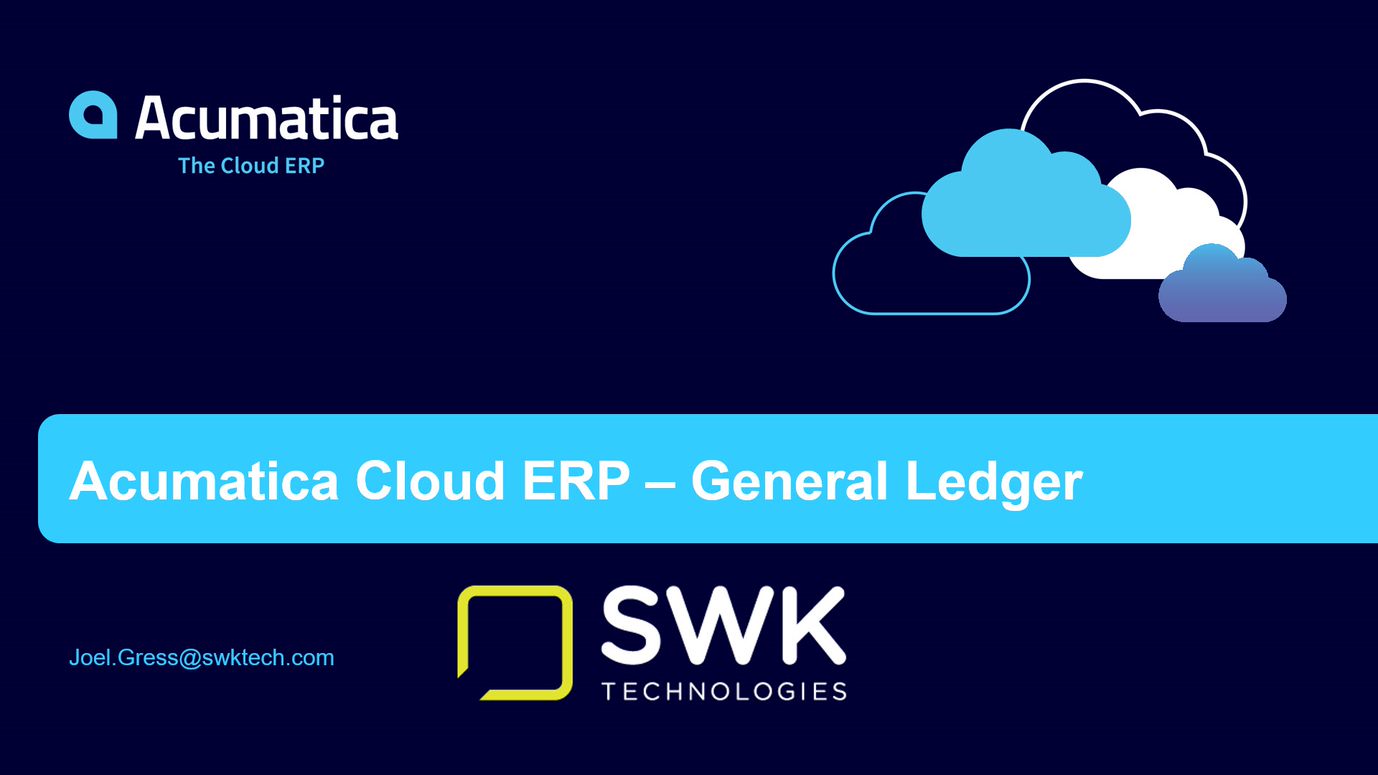 Watch This 35-Minute Demo of the Acumatica GL Module
SWK's Acumatica General Ledger Overview is an extensive 35-minute demo narrated by our VP of Product Marketing – Acumatica, Joel Gress, and contains a detailed outline of the functionality and capabilities users can leverage. Included with the core Financial Management package that powers Acumatica Cloud ERP's primary features, the GL module acts as your accounting system of record for tracking all end-to-end transactions and generating consolidated reporting. Watch the video to see this solution in action or continue reading below to learn more:
Skip to the Sections that Matter to You
This demo provides an in-depth walkthrough that covers the multiple key features available in the Acumatica General Ledger module, and breaks down their functionality step-by-step. If you are looking for specific information, please use this summary to skip forward to the parts that interest you.
Timestamp information is located to the right of each item. Please select that time when you are watching the video. Refer to the timestamps containing module drill-down (ex: "Finance -> Transactions -> Journal Transactions…") to follow along with each menu or submenu in Acumatica.
What is Acumatica General Ledger?
The introductory section explains what Acumatica General Ledger is at the high level and what are the key features it offers your business.
Account and Subaccount tracking (0:21)
Tip: Subaccount / Dimensional reporting can be used to slice and dice data into more granular fields (0:45)
Jumping Into the General Ledger Module with Dashboards
This section dives into the first level of Acumatica Cloud ERP by showing you how dashboards work in the system and how they can be used to more efficiently track KPIs. For an expanded overview of how dashboards work for you, check out our Acumatica Controller Dashboard Video Blog.
How to use Acumatica dashboards (0:55)
Tip: Use Design Mode to add, remove or modify your personal dashboard widgets (1:20)
Alert on Overdue Accounts Receivable payments (2:05)
Tip: Click on a Widget to drill-down into Data Views (2:17)
Tip: Click on the side panel to view individual fields in Customer Details (2:25)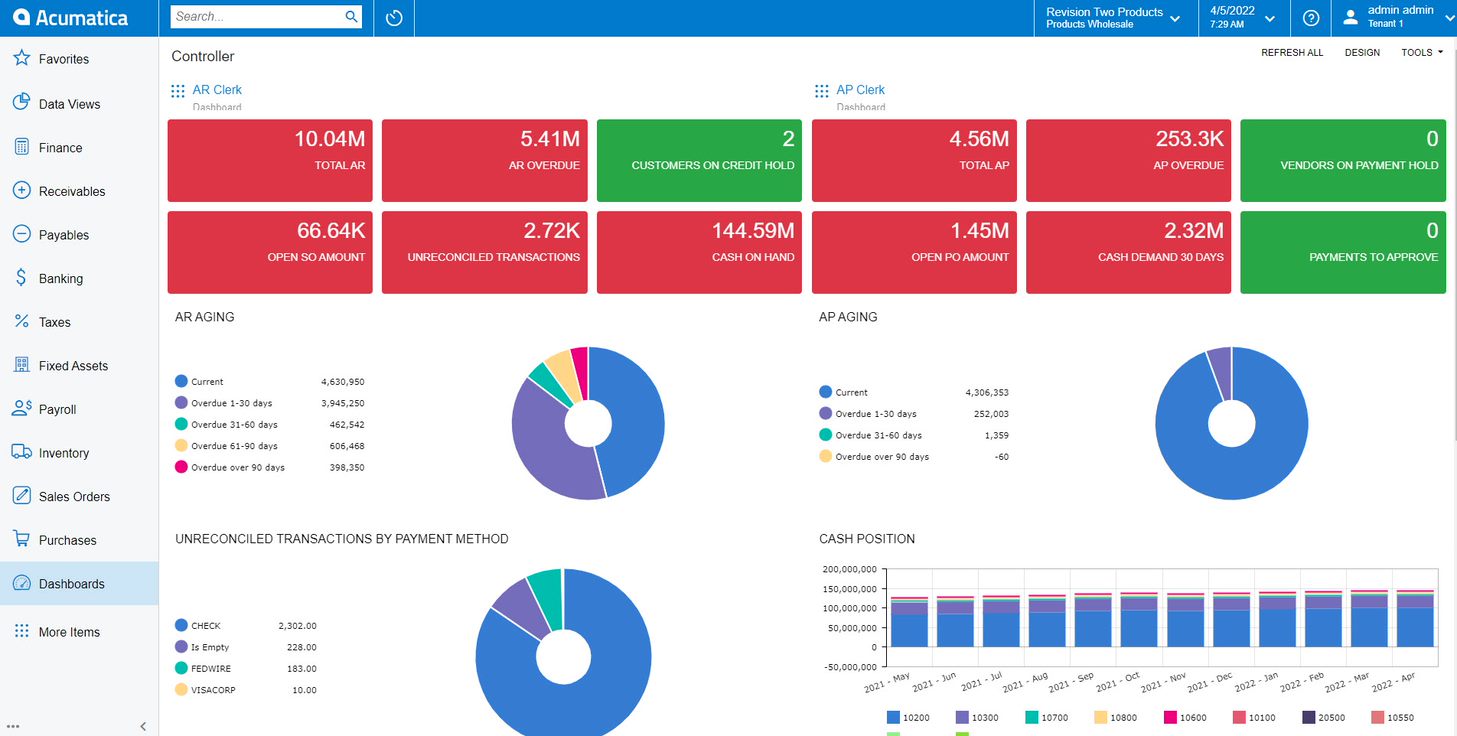 Working with Tasks & Activities
Tasks & Activities in Acumatica allow you to create workflows between users with additional notifications, documentation, communication threads and links to appropriate menus included. This section goes over how to access Activities through Customer records and gives a detailed demo of a Task workflow.
Customer Details -> Customer Record -> Activities (2:48)
Tip: Drill-down into individual Customer Records tabs to traceback discrepancies (3:12)
Using Create Task to assign Activities internally (3:40)
View Activities through Purchase Orders (4:40)
Tip: You can attach files such as images to POs (4:58)
Tip: Tasks can be assigned individual Owners, Due Dates and more as well as tied to Related Activities and Tasks (5:15)
Financial Reports
Acumatica Cloud ERP has extensive reporting capabilities, and this section covers the key features for generating and managing financial reports in detail along with a few examples of usage.
Finance -> Financial Statements -> Profit & Loss Rolling 12 Month report (6:35)
Tip: Click on blue hyperlinked text to drill-down into individual reports and screens (6:56)
Acumatica General Ledger Details report (7:23)
GL Journal Transactions entry screen (8:16)
Tip: Users can drill-down into transactions or up into source documents from any Acumatica module from a Journal Transactions screen (8:27)
Expanding Group branches for Consolidated Reports (9:22)
Creating report Templates (10:00)
Tip: Reports can be scheduled to be sent automatically to assigned users and on specific intervals (10:13)
Journal Transactions & Entries
This section dives deeper into the core of Acumatica's reporting functionality with a look at Journal Transactions, the primary menu for General Ledger journal entries. Consistent updates to this area have introduced features that make it easier to optimize transaction tracking and reporting at the user level.
Finance -> Transactions -> Journal Transactions (10:38)
Tip: To the left of any menu under an Acumatica Tab is a star that allows you to Favorite that menu (10:55)
Additional features in Acumatica Journal Transactions (11:26)
Tip: You can create your own custom filters to add extra dimensions for your drill-down searches (12:17)
Actions submenu (13:25)
Menu items (13:50)
Record Notes (14:35)
Tip: Notes can be linked to transactions, Tasks & Activities, users, files and more from within Acumatica (14:44)
Uploading and attaching Files (15:57)
Detail Grid and Common Toolbar features (16:48)
Tip: Along with the Export to Excel grid function, Acumatica also lets you import lines from an Excel file when fields are mapped between both applications (17:39)
Tip: Click on the Help [circled question mark] icon in the top right of your Acumatica screen to access videos, articles and other educational resources contextually related to the current module (19:30)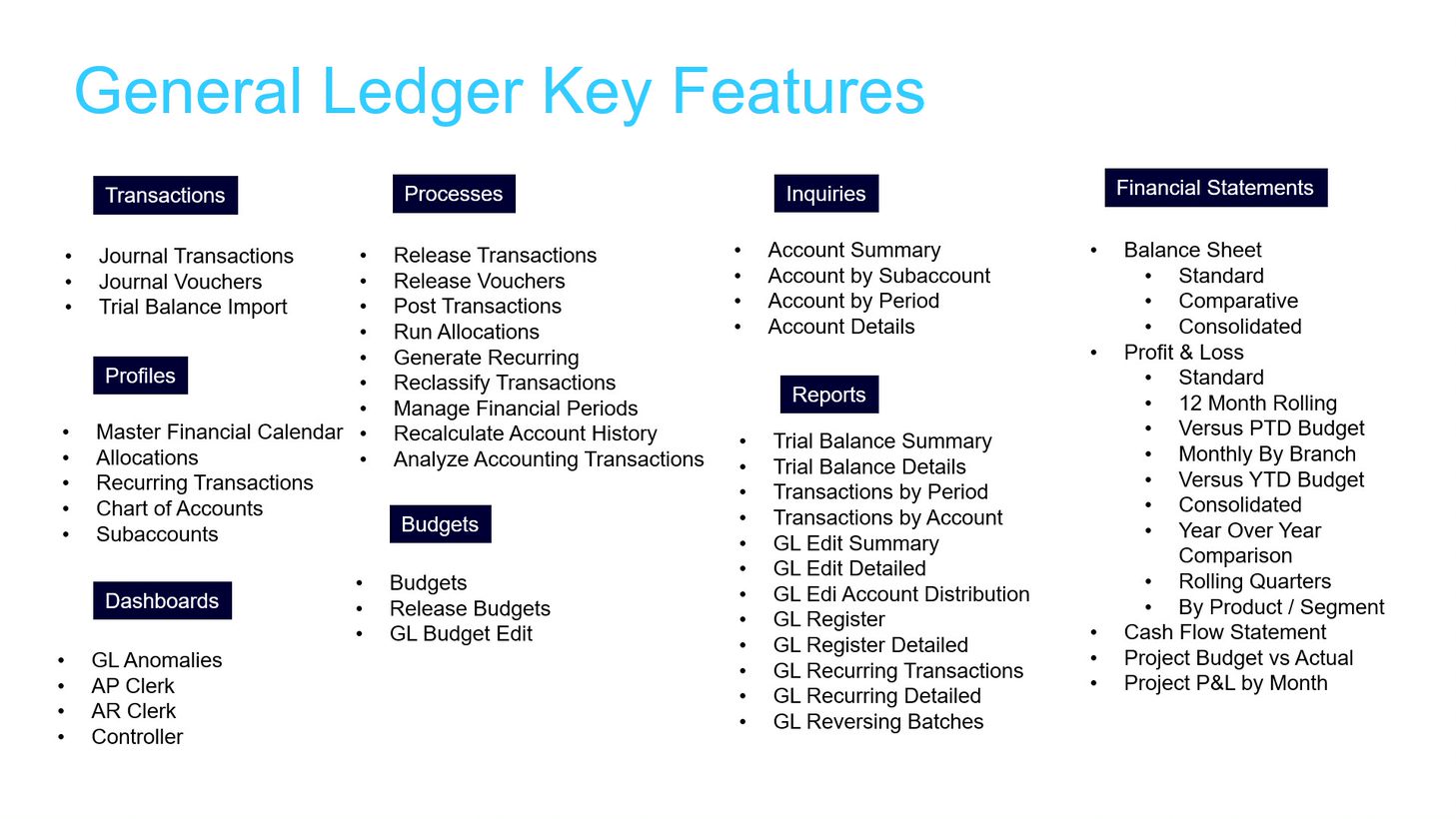 Allocations
This section goes over how Allocation rules are set up and executed on within Acumatica. These allow you to automate the distribution of recurring allocations made periodically with multiple methodologies and data sets.
Finance -> Transactions -> Allocations (20:03)
Example of Allocation rule functions (20:15)
Finance -> Processes -> Run Allocations (21:22)
Tip: The grid Schedules function allows you to automatically schedule actions anywhere it appears in Acumatica (21:37)
Recurring Transactions
To save time on having to manually recreate repeated Journal Transactions, the Recurring Transactions menu in Acumatica General Ledger enables you to schedule out future journal entries on these recurrent transactions. This section covers how to create a Recurring Transaction entry, including the data requirements and workflow features.
Finance -> Profiles -> Recurring Transactions (21:52)
Breakdown of Recurring Transaction fields and features (22:25)
Tip: Generated Documents in a Recurring Transaction each create a Journal Transaction (22:50)
Creating a Recurring Transaction journal entry (23:10)
Budgets
The budgeting features in Acumatica Cloud ERP allow for an unlimited number of budgets and forecast reports to be generated using historical or imported data. This section covers the features and configurations options of this menu, as well as how it connects with modules including GL, AP and AR.
Finance -> Budgets -> Budgets (24:00)
Breakdown of Acumatica Budgets fields and walkthrough (24:05)
Tip: Tree View mode organizes Accounts and Subaccounts into consolidated nodes (24:31)
Preload Budget Articles function (25:56)
Tip: The Preload Budget Articles Wizard enables you to automatically update existing budget articles, upload those not included or both simultaneously (26:46)
Manage Budget function (27:34)
Acumatica Budget Configuration options (28:21)
Tip: Use Export to Excel to make manual changes to your budget and import the spreadsheet file to Acumatica using Load Records from File (28:47)
Updating budget fields and distributing changes (29:00)
Tip: Acumatica will provide an alert prompt if manual changes have not been distributed (29:32)
Finance -> Budgets -> Release Budgets (30:07)
Tip: Release Budgets will automatically update your financial reports with your budget changes (30:15)
Journal Vouchers
This covers how to create and process Acumatica Journal Vouchers, which enable users to enter a batcher of documents of different types.
Finance -> Transactions -> Journal Vouchers (30:37)
Tip: Acumatica automatically populates the remaining Voucher fields after a user enters the required key values (30:53)
Processing a Journal Voucher (31:05)
Tip: Transaction Codes are associated with individual Acumatica modules (31:13)
Tip: The Split feature lets keep unevenly distributed lines in the same document (31:44)
Releasing the Journal Voucher (31:58)
Master Financial Calendar
This section goes over the Master Financial Calendar in Acumatica Cloud ERP, how to create and define financial periods, and how this data connects to your General Ledger module.
Finance -> Profiles -> Master Financial Calendar (32:54)
Defining financial year periods in Acumatica General Ledger (33:04)
Tip: Use Period Management to create and interact with your financial periods (34:03)
Multi-company financial calendar management (34:20)
Closing financial periods in Acumatica (34:49)
Discover More Tips, Tricks and Other Features for Acumatica
SWK Technologies will help you get the most out of your ERP investment, leveraging our deep technological and industry knowledge as a top Acumatica partner and Community resource. Check out some of our Acumatica videos and other educational resources, and reach out to us when you're ready to learn more tips and tricks to maximize your value return on your software.
Contact SWK here to gain access to more Acumatica tips, tricks, updates, and tailored demos.
Learn More About Acumatica General Ledger