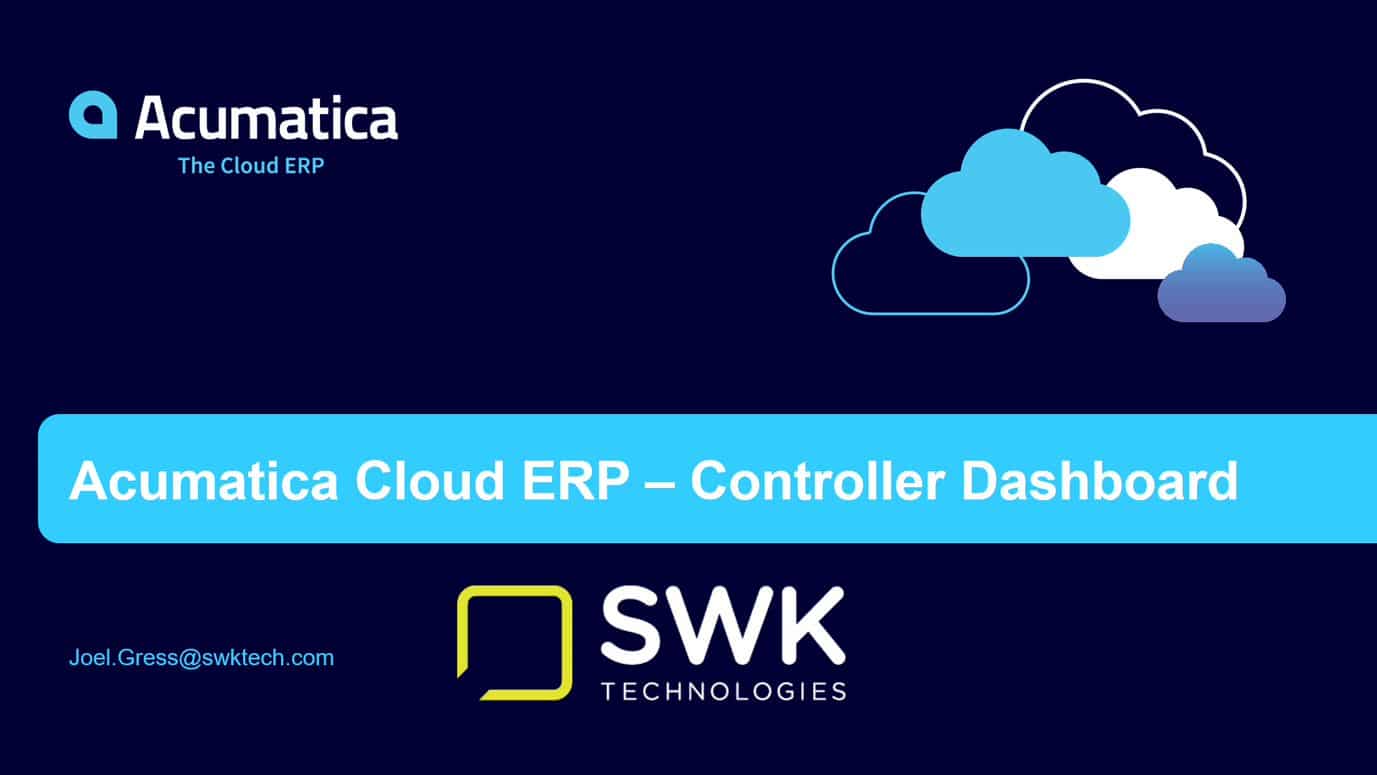 Discover how the role-based dashboard for controllers in Acumatica helps you save significant time (and stress) by consolidating and streamlining data feeds, communications and more. Watch this demo by SWK Technologies VP of Product Marketing – Acumatica, Joel Gress, to see it in action:
Acumatica Controller Dashboard Demo Transcript
The Acumatica controller dashboard.
As a controller, I used to start my day by sorting through emails, task lists, and the sticky notes around my monitor and all over my desk, not to mention the overflowing inbox. With Acumatica Cloud ERP, I now start my day with a dashboard that provides me the insights, alerts and ability to take direct action or to assign tasks to my team.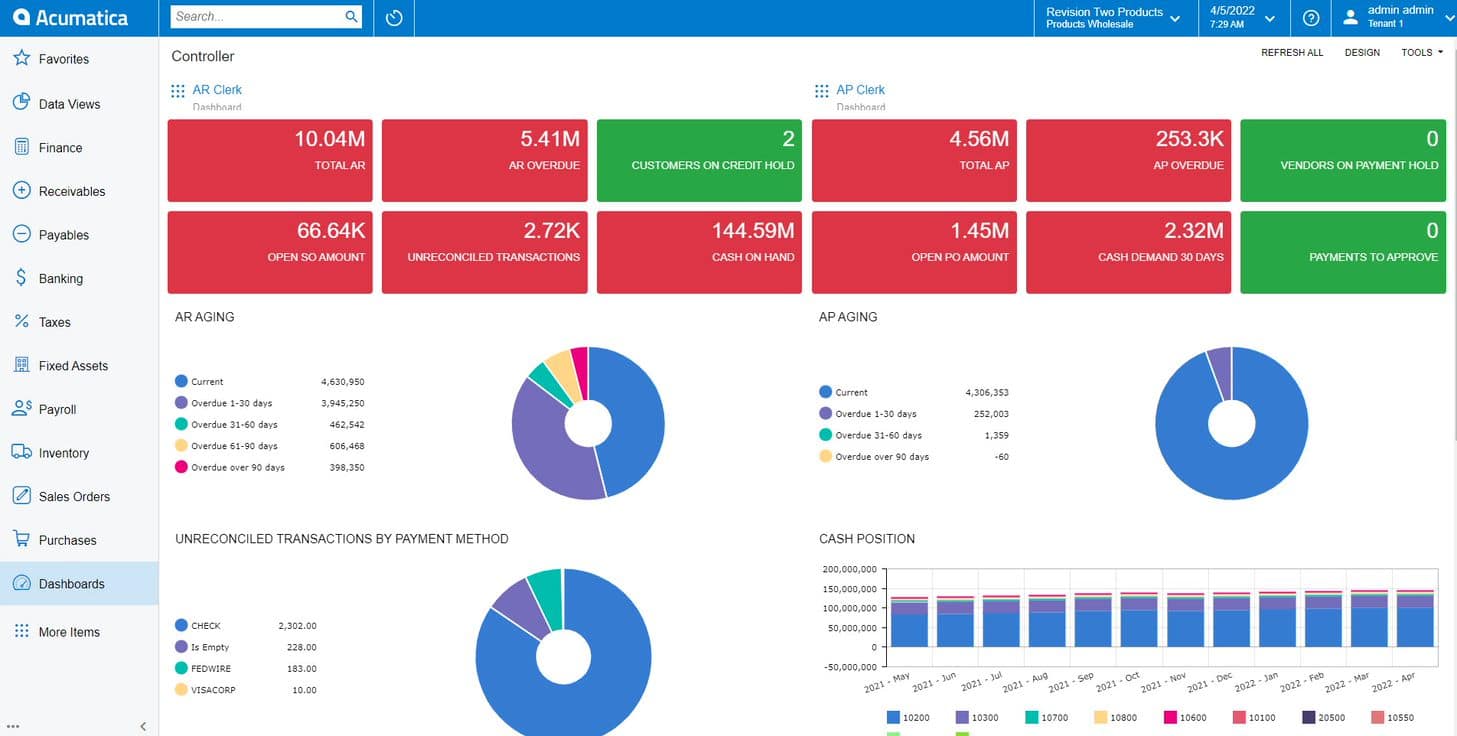 I can control the content on my dashboard by going into Design Mode and modifying, adding or moving the widgets around as I need, so that I always have the information I need in order to keep track of the company.
As a controller, I'm always interested in my cash balance. Here I can see, in my main company or in my main checking account, I have $99 million dollars. I also have $31 million in my savings.
If I look at my cash on demand, in the next 30 days it looks like $4.5 million is going to be needed. I can see I've got $3.8 million in overdue AR. Of that, $398,000, close to $400,000, isn't over the 90-day mark. Let's dig in and take a closer look at this.
I can quickly see that Widget Credit Card makes up the majority of my past due AR balance. Let's take a look at some of the invoices and see what's going on. I'll click on my side panel, and I can scroll through each of the individual invoices.
Note as I click, the Reference No. is changing as well as the contents within the screen. This is a quick and easy way to get a view into what's going on with the various invoices.
Well, I'm not seeing much here that's helping me figure out why Widget hasn't paid their bill. Let's go ahead and check out the Customer record and see if we've got any activity there.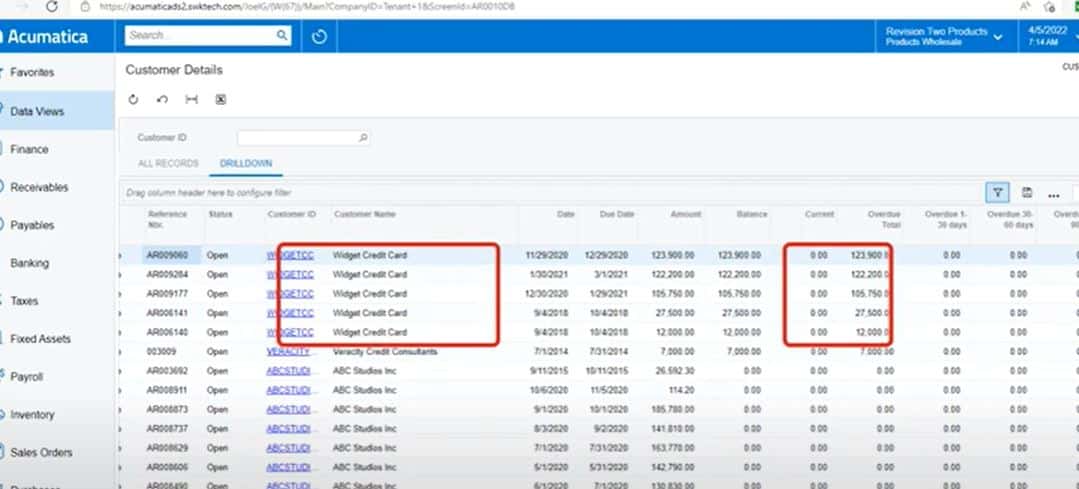 I can see their balance is $580,000 and if I go to Activities, oh boy, look at this. Their credit card expired and they were notified quite a while ago. Let's dig a little deeper.
I can see their default payment method is credit card, so that makes sense why they're past due. I also see they have a parent company, but we're not consolidating all of their balances and their statements.
Let's see what the balance is on the parent company. Looks like they're pretty current, that's good news. So, I assume this is going to work out okay.
Let's create some activities for the team members. First off, let's Create a Task. Let's this to Max Baker. There's a quick message for Max, see if he can get this done right away. Let's give him a deadline of this Friday.
I think, for now, let's put this customer on credit hold. Go ahead and save that, and then I'll just add a note, so everybody knows I was the one that put them on credit hold.
Well, that should help clear up the majority of the balance past due on the AR side. Let's take a look at some of this AP that we have going on.
I can see our AP balance is $1.22 million. Let's dig in. I see Conjet has a pretty big balance with us. A couple of items here, let's see what the side panel has to say about these bills.  Looks like we've got a couple of products from them, and they were all on purchase orders.
I see I've got some Activities on the purchase order. Product Damaged. Product was "Received but damaged," okay. Looks like we've got a picture here as well. Well, that's not good, I don't think we should be paying for this equipment.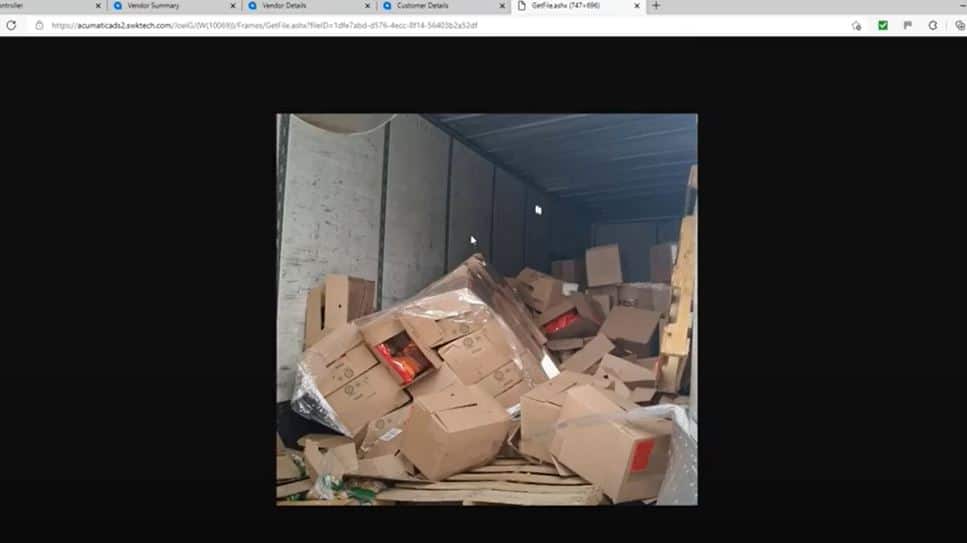 Let's go back to the Vendor record and create some action items for some team members.
On the Activities tab, I can add some Tasks. Let's assign them to Max Baker, and give Max a due date again of this Friday. Let's make sure our AP team knows as well. This one gets assigned to Michael Andrews, we'll let him know that Max is looking for a credit memo.
Looks good. Let's move this due date out. That should give them plenty of time to get this resolved.
This concludes our review of the Acumatica controller dashboard, and methods you can employ to streamline your business.
Discover More Tips, Tricks and Other Features for Acumatica
SWK Technologies will help you get the most out of your ERP investment, leveraging our deep technological and industry knowledge as a top Acumatica partner and Community resource. Check out some of our Acumatica videos and other educational resources, and reach out to us when you're ready to learn more tips and tricks to maximize your value return on your software.
Contact SWK here to gain access to more Acumatica tips, tricks, updates, and tailored demos.
Get More Acumatica Tips & Tricks
---