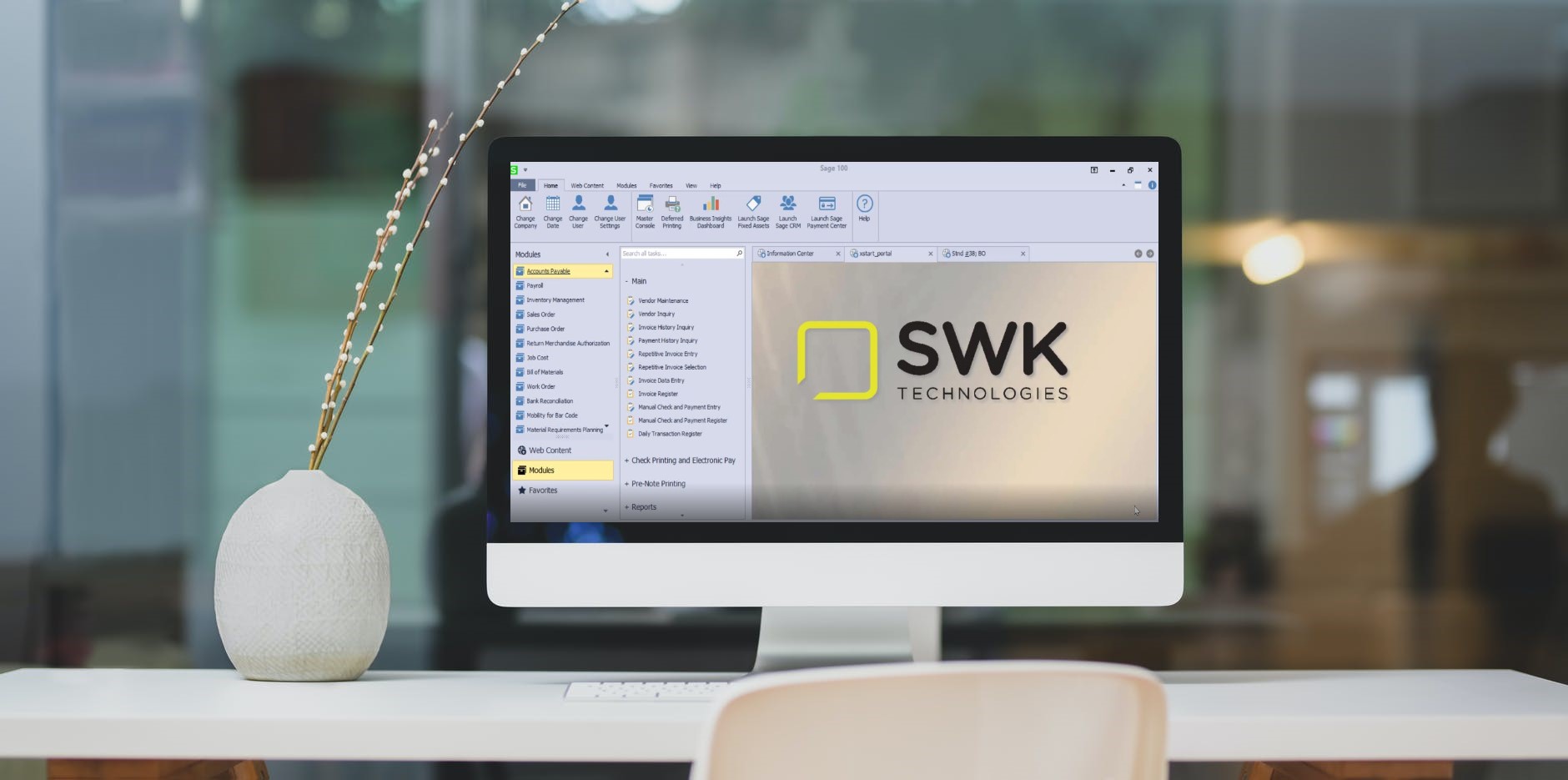 The Sage 100 Accounts Receivable module is intuitive, quickly and easily presenting the information you need for effective cash management. Repetitive invoicing is built-in, enabling you to set up recurring invoices for your customers — functionality that can be used to bill for service contracts or rent.  Learn how to create and use Accounts Receivable Repetitive Invoices in this helpful Sage 100cloud tutorial by SWK SVP of STAT, Merilyn Van Zwieten:
Sage 100 – Accounts Receivable Repetitive Invoices transcript:
Welcome to SWK's video series on Sage 100. This video will demonstrate the repetitive invoice functions in Accounts Receivable. We are looking at version 2020.
Under the Main Menu in AR, we will launch the repetitive invoice entry to setup our templates. The flashlight
icon will display a list of the existing templates. I have modified my list a bit to include additional information, so your list might look slightly different from mine.
A customer number is first selected and then we add a reference number. It's user's choice when assigning the reference number. Note that next to the reference number is a memo icon. I think that this is a terrific place to add a copy of the agreement or contract or whatever it is that we have, so we have easy access from within Sage
100. We can add a customer now or a customer's purchase order number or the agreement number, whatever makes sense
here, because that can be added to the invoice form.
Another user choice here is the Select Cycle. I like to use this cycle to indicate the date of the month that I am going to produce these invoices. It's handy if you're going to have things generated throughout the month.
The next two fields are controlling the time period an invoice should be generated when invoices are selected. The dates here will control whether or not an invoice should be generated. The last date billed is also important. When you generate your recurring invoices, if the Select Date is less than the last build date, an invoice will not be generated.
The remaining fields and tabs are just like the standard invoice. Note that credit card information can be attached to the invoice, and in that case the customer's credit card will be charged when the invoice is
updated. Clicking on the printer icon will produce a list of the repetitive invoice templates.
If I add a Selection Date, it will look to that Selection Date for showing me what invoices will be generated. And, let's take a look at that. My data happens to be in 2020, or I'm sorry, in 2025. And, let's see what happens when we select the 15th for being our Selection Date. We look in here, and we'll see that from Division Number
1, I'm going to have two invoices generated. And if I look at Division 2, I have another two invoices.
The next thing I'm going to do is I'm going to select my repetitive invoices. Here's where I can add my invoice date and also my selection date, and I'm going to change my selection date to the 15th just as we had reported. And I'm going to change my invoice date to be the 15th also. I'm going to ask for all cycles, all customer numbers, and all reference numbers.
Now you'll note that when I click "Proceed" I now have a clear button, and if I want to remove any prior selections, I would just click on this. But clicking the printer icon is then going to show me the invoices that have been produced. And, let's take a quick peek. These are just standard AR invoices, and you'll see that I have four invoices, just like the report had shown me.
Now let's say I'm reviewing my invoices, and I want to change something. I merely come to invoice data entry and all the invoices are here, and I can make the necessary changes. Just remember if I make a change here this is not going to change the template. I'm going to have to go back to the template to make that change. What I would do now is simply update this invoice run like I normally would. I'm going to have a register and a daily transaction register.
Managing the repetitive invoices is made easier with a customer repetitive invoice view found in the Explorer menu. Let's just launch this real quick and see what it looks like. I've made some changes to the standard one for information that I think is important, such as times billed, the invoice total, the comments. Of course, you can make this any way you want. We do have other videos that demonstrate how to work with Explorer views.
At SWK we are committed to helping our customers get the most out of their software investment. Contact us at info@swktech.com to start a conversation on your solution.
I hope you have enjoyed this video. Thanks for watching!
Stay Up on the Latest Sage 100 News with SWK Technologies
SWK delivers the latest news, updates, and tips & tricks for Sage 100 and Sage 100cloud users to help them capture the most value from their software. View any of our Sage 100 video resources to learn more about what your Sage ERP can actually do.Contact us if you have any questions on how to best use your Sage 100 or Sage 100cloud software.
Talk to the Sage 100 Support Experts