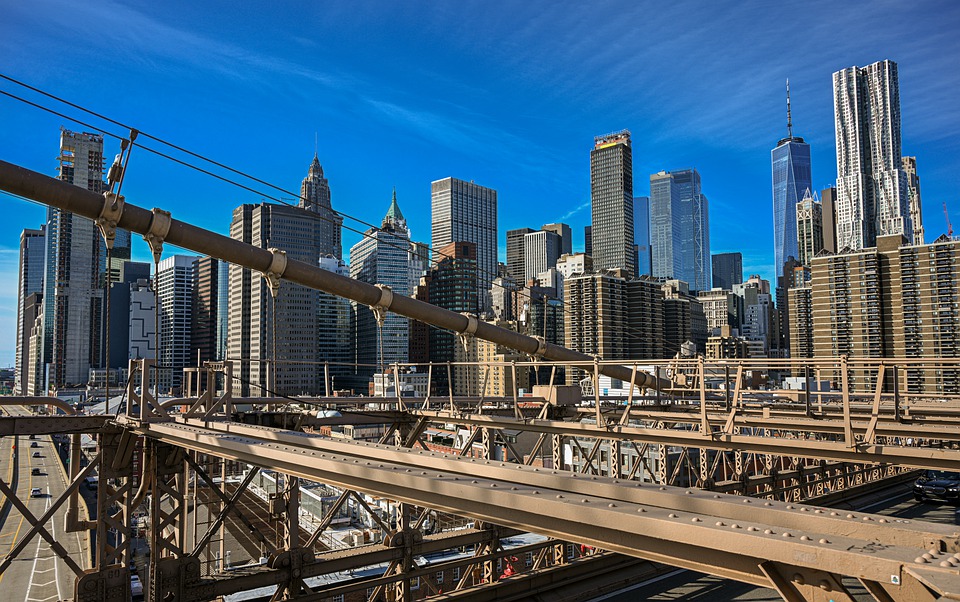 Why the New Bill is Important for the Construction Industry
By now, the construction industry is well aware of the $1.2 trillion Infrastructure Investment and Jobs Act. On August 10, 2021, 50 Democrats and 19 Republicans in the U.S. Senate passed the bill — sending it to the House of Representatives, where it passed 228 – 206 on November 5, 2021 after months of deliberation and negotiation.
What contractors, engineering firms and others in the sector needs to know is that, as Moody's Investors Service notes in its Sector In-Depth report on Building Materials in the U.S., the "passage of a multiyear federal infrastructure investment bill will have a profound effect on building materials and U.S. construction activity."
The Impact of the Infrastructure Bill on Construction Spending
What's in the Bill?
The Infrastructure Investment and Jobs Act allocates $1.2 trillion in new spending for roads and bridges, railroads, the power grid, broadband, water infrastructure, cybersecurity and climate, public transit, airports, the environment, and much more. Here is a comprehensive list of the allocations:
$110 billion for roads and bridges, including for new construction, repairing of existing infrastructure, and initiatives for congestion relief.
$66 billion for railroads, including upgrades for passenger and freight rail systems.
$65 billion for the power grid, including initiatives to increase protection against hackers.
$65 billion for broadband, including $14 billion intended to help reduce Internet bills for low-income households.
$55 billion for water infrastructure, including $15 billion for lead pipe replacement and $10 billion for chemical cleanup.
$47 billion for cybersecurity and climate change, including a Resilience Fund intended to protect infrastructure from cyber attacks and natural disasters.
$39 billion for public transit, including funding for upgrades to public transit systems and creation of new bus routes.
$25 billion for airports, including $5 billion devoted to upgrades for air traffic control towers and systems.
$21 billion for the environment, including funding for cleanup activities of superfund and brownfield sites, abandoned mines, and old oil and gas wells.
$17 billion for ports, with half of the funds going to the Army Corps of Engineers for port infrastructure, and while other monies will go to the Coast Guard, ferry terminals, and reduction of truck emissions at ports.
$11 billion for safety, with the majority of the funding intended to address highway, pedestrian, pipeline, and other areas in highway safety.
$8 billion for water infrastructure in the western U.S., seeking to mitigate drought conditions in the western half of the country through investments in water treatment, storage, and reuse facilities.
$7.5 bill for electric vehicle charging stations, directed towards building significantly more charging stations for electric vehicles across the nation.
$7.5 billion for electric school buses, with priority for bus fleet replacement in low-income, rural, and tribal communities which will convert to zero-emission buses.
What exactly is a "profound effect"?
What contractors need to know about the infrastructure bill is that this potential spending—added, as Moody's Investors Service reports, to growing demand for single family homes, low housing inventory, steady infrastructure spending, and low interest rates—could result in a 5% growth in 2022.
This good news is echoed by the White House Fact Sheet introducing the bill: "The Bipartisan Infrastructure Deal will grow the economy, enhance our competitiveness, create good jobs, and make our economy more sustainable, resilient, and just."
What About Higher Prices, Supply Shortages, and Labor Scarcities?
No doubt, the infrastructure bill's potential impact on the construction industry is huge, but there are other factors to consider. For example, 2021 supply chain challenges due to the pandemic, natural disasters, a container ship grounding in the Suez Canal, cyberattacks, and a global chip shortage have resulted in higher material prices, supply chain challenges/shortages, and labor scarcities.
A Forbes article emphasizes the pandemic's role:
"The lumber shortage is just part of the litany of insufficiencies in today's market. The price of all building materials, as well as many resources we use every day, are in constant fluctuation. But the Covid-19 pandemic added increased emphasis on shortages due to factory closures, logistical issues and lack of labor force. With construction and real estate specifically, shortages can lead to delays in projects, which adds additional costs into the mix."
There are ways to manage these admittedly difficult challenges. Passing the bill with its infusion of infrastructure funding is one industry-wide method, but, on an individual business level, the best way is to implement a cloud-based ERP solution with industry-specific software designed for the construction industry.

Volatility in the Construction Industry is No Problem with ERP
Cloud construction management software in a cloud ERP solution is exactly what it sounds like: software designed to meet the unique needs of the construction industry and able to flex with ever-changing circumstances.
Construction ERP software gives construction firms access to real-time data. The data syncs across programs and devices to form a centralized, single source of truth for employees in the front office, back office, and on job sites. Seamless integrations with essential third-party applications provide extended functionality. And mobile technology makes project information—such as budgets, billing, commitments, compliance, job costing, and change management—available whenever, from wherever, on any web-enabled device.
Construction firms' decision makers, then, have the insights and visibility they need to manage the workflow and business process pain points caused by a fluctuating market. A future-proof platform will set them up for success, even in uncertain times.
Build Back Better Bill
The Infrastructure Investment and Jobs Act is not the end of the Biden administration's efforts to improve the economy, and the Build Back Better bill will seek to do through social programs what the Jobs Act will do for infrastructure. A few of the proposed allocations included in the BBB bill will impact construction firms directly, while others will create more opportunities for employees, subcontractors, vendors and clients that could affect both short- and long-term strategic objectives. Some of the allocations that should be watched include:
$150 billion for affordable housing, including construction of new homes and rehabilitation of existing properties
$400 billion for childcare and universal preschool, aiming to save American families more than half of their typical spending on early childcare
$40 billion for higher education and workforce programs, including apprenticeship programs for underserved communities
$100 billion for immigration reform, which will be used to help reduce backlogs and make border processing more efficient
$130 billion in ACA credits
Acumatica Cloud ERP Can Help
What the construction industry needs to know is that Acumatica Cloud ERP and, specifically, the Acumatica Construction Edition are tailored for construction businesses. They connect companies' disparate systems—including sales, payroll, inventory, and project, service, and materials management (and more)—to ensure seamless communication and collaboration across the organization.
SWK Technologies, recipient of the Distribution Partner Acumatica Cloud ERP 2021 Award for Excellence and consecutive Partner of the Year 2018-2019, considers Acumatica a state-of-the-art solution that delivers value to contractors, subcontractors, developers, and more. The top features of the Acumatica Construction Edition include Financial Management, Project Accounting, Field Service Management, Inventory Management, Order Management, and Acumatica CRM. The video below provides an in-depth product tour of Acumatica's Construction Edition:
Contact SWK to Learn More About Acumatica for Construction
As we wait for a decision on the Infrastructure Investment and Jobs Act, SWK Technologies is here to help your construction firm succeed. Contact us with any questions or to set up a demonstration tailored for your unique needs.
Contact SWK today to learn more about Acumatica or to see a customized demo for construction.
Contact SWK for an Acumatica Demo