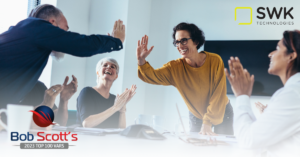 June 22, 2023 (EAST HANOVER, NJ) — SWK Technologies, Inc. today is pleased to announce its inclusion in Bob Scott's Top 100 VARs for 2023 for the eighth consecutive year. This annual ranking highlights the leading organizations specializing in the sale and implementation of Enterprise Resource Planning (ERP) and accounting software.
"We want to congratulate this year's class of Bob Scott's Top 100 VARs," said Bob Scott, executive editor of ERP Global Insights (formerly Bob Scott's Insights). "This selection represents recognition of leaders in this important field."
Over the past several months, SWK has garnered numerous awards within the ERP VAR domain. In 2023's first quarter alone, SWK was named the Acumatica Partner of the Year and the Sage Intacct Partner of the Quarter, and received awards from top ERP independent software vendors (ISVs) and IT media including DataSelf Top Business Partner, WorkforceGo! Hotshot Partner of the Year, and Velixo Worldwide Partner of the Year. The company was also listed on CRN's MSP 500 list for the eighth year in a row.
The headline of the ERP Global Insights issue featuring the Top 100 VARs, is A Tougher Year Ahead? How Will a Slowdown Affect Cloud Sales. The publication includes insightful interviews with ERP VAR executives discussing companies that suffered during the COVID-19 pandemic, the transition to remote work, and the impact of high-profile layoffs at major tech companies on Cloud ERP sales. To access a downloadable version of the issue and a complete Top 100 VARs, list click here.
About SWK Technologies
SWK empowers business leaders to fulfill their vision of a smarter and easier way to run their organizations. SWK offers managed cloud services (MCS) supported by dedicated regional teams coast-to-coast across the U.S., core accounting and financial software, and process automation solutions. Additionally, SWK helps small and mid-sized enterprises streamline operations and reduce manual tasks and gain valuable insights into critical data by modernizing and integrating accounting and finance systems, automating processes, managing talent, and leveraging a scalable infrastructure to securely access data and applications from anywhere. SWK Managed Cloud Services, the cloud hosting and managed services division of SWK Technologies, is an award-winning IT solution provider and network defense resource. SWK's parent company, SilverSun Technologies, Inc., is publicly traded (NASDAQ: SSNT).
MEDIA CONTACT:
Antonio Carrion
SWK Technologies, Inc.
(973) 396-1747
antonio.carrion@swktech.com
About Bob Scott
Bob Scott has been informing and entertaining the mid-market financial software community via his email newsletters for 24 years. He has published this information via the Bob Scott's Insights newsletter—now known as ERP Global Insights—and website since 2009.