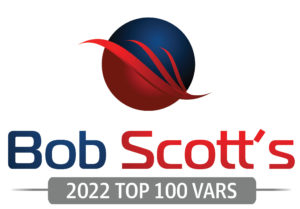 June 28, 2022 (EAST HANOVER, NJ) — SWK Technologies, Inc., a leading technology solution provider, has been named to Bob Scott's Top 100 VARs for 2022. This annual listing ranks the biggest ERP (Enterprise Resource Planning) software resellers and consultants worldwide according to revenue.
SWK placed number 25 out of the 100 value-added resellers in the accounting software and services market listed. SWK was also one of the few listed to be publicly traded, through SWK's parent company, SilverSun Technologies, Inc.
Cloud ERP was a big trend among this year's list, according to Bob Scott's report, with all of the top 50 VARs featuring at least one SaaS or cloud-connected solution among their portfolios. The global pandemic accelerated cloud adoption and digital transformation worldwide as businesses everywhere were forced to shift to working remotely, some for the first time ever. Systems like Acumatica, Sage Intacct and even Microsoft 365 have proven integral to keeping teams connected and productive during the new era of remote and hybrid work.
"We want to congratulate this year's class of Bob Scott's Top 100 VARs," said Bob Scott, executive editor of ERP Global Insights (formerly known as Bob Scott's Insights). "This selection represents recognition of leaders in this important field."
SWK Technologies features a multiple award-winning ERP VAR practice, which was also named to Bob Scott's VAR Stars in 2021 for the seventh consecutive year. SWK has also placed on CRN's Solution Provider 500 from 2016 to 2022, was named Acumatica Partner of the Year in 2018 and 2019, received the Avalara Top Partner Award for 2021, and named Overall Partner of the Year by Scanco for 2022. Additionally, SWK joined the Sage Partner Cloud in 2022 as a Strategic Hosting Provider with SWK's proprietary hosting service, Secure Cloud Hosting, being added to the Sage Price List and made available for white label resale by certified Sage VARs.
A special report that includes names of the organizations selected for this year's Top 100 list, ranked by revenue, is downloadable here on the ERP Global Insights site.
About SWK Technologies, Inc.
SWK Technologies, Inc. delights its customers and partners by providing solutions and expertise that transform their businesses and enable success. SWK's Strategic Technology Advisory Team (STAT) provides business management consulting services that help maximize value derived from technology investments. SWK Managed Cloud Services, the cloud hosting and managed services division of SWK Technologies, is an award-winning IT solution provider and network defense resource. SWK's parent company, SilverSun Technologies, Inc., is publicly traded (NASDAQ: SSNT).
MEDIA CONTACT:
Antonio Carrion
SWK Technologies, Inc.
(973) 396-1747
antonio.carrion@swktech.com
About Bob Scott
Bob Scott has been informing and entertaining the mid-market financial software community via his email newsletters for 21 years. He has published this information via the Bob Scott's Insights newsletter—now known as ERP Global Insights—and website since 2009.