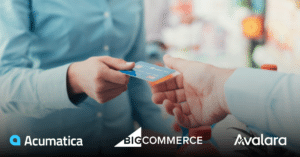 Discover the world of eCommerce mastery with SWK's latest multi-part educational series, Be An eCommerce Master. Explore the possibilities of a dynamic technology stack that optimizes your online B-to-C and B-to-C sales, integrates and elevates operations across the enterprise, and delivers an unparalleled online customer journey. 
SWK's partnership with BigCommerce, Acumatica, and Avalara in this series brings you cutting-edge insights into eCommerce, Enterprise Resource Planning (ERP), and sales tax compliance and automation. Together, these solutions form an impressive suite to empower your sales, marketing, accounting, finance, information technology, and operations teams.
The series will include a variety of topics that will support your eCommerce practice including: 
Top challenges and solutions for eCommerce practices

Tightly integrating eCommerce with accounting/ERP software

Assessing eCommerce, ERP, and multi-state tax compliance solutions that fit your budget

Comparing systems and integrations

Sales and Marketing best practices for storefronts, online visibility, and competitive advantages

Operational and information technology best practices for logistics and fulfillment, cybersecurity, customer support, and more

eCommerce as part of your digital transformation
As part of the series, you'll have access to easy-to-read infographics, comprehensive solutions overview and product tours, deep dive white papers, extensive first- and third-party research and analysis, and live webcasts where you can participate in Q&A sessions.
"This is perfect timing for this series as we finish up the summer and start thinking about preparedness for the holiday season," said Antonio Carrion, Chief Marketing Officer at SWK. "For those with a fully formed solution stack, SWK and BigCommerce will share B-to-C and B-to-B eCommerce best practices. For those with partial stacks or discrete systems, we'll explore the immense value of integrating ERP and eCommerce functions, and further alleviating manual workloads by automating sales tax calculations for multi-state transactions so you can focus on selling online!" 
Sign up for our FREE educational series now!
Fill out your information in the form below to get started.
Register for the eCommerce educational series