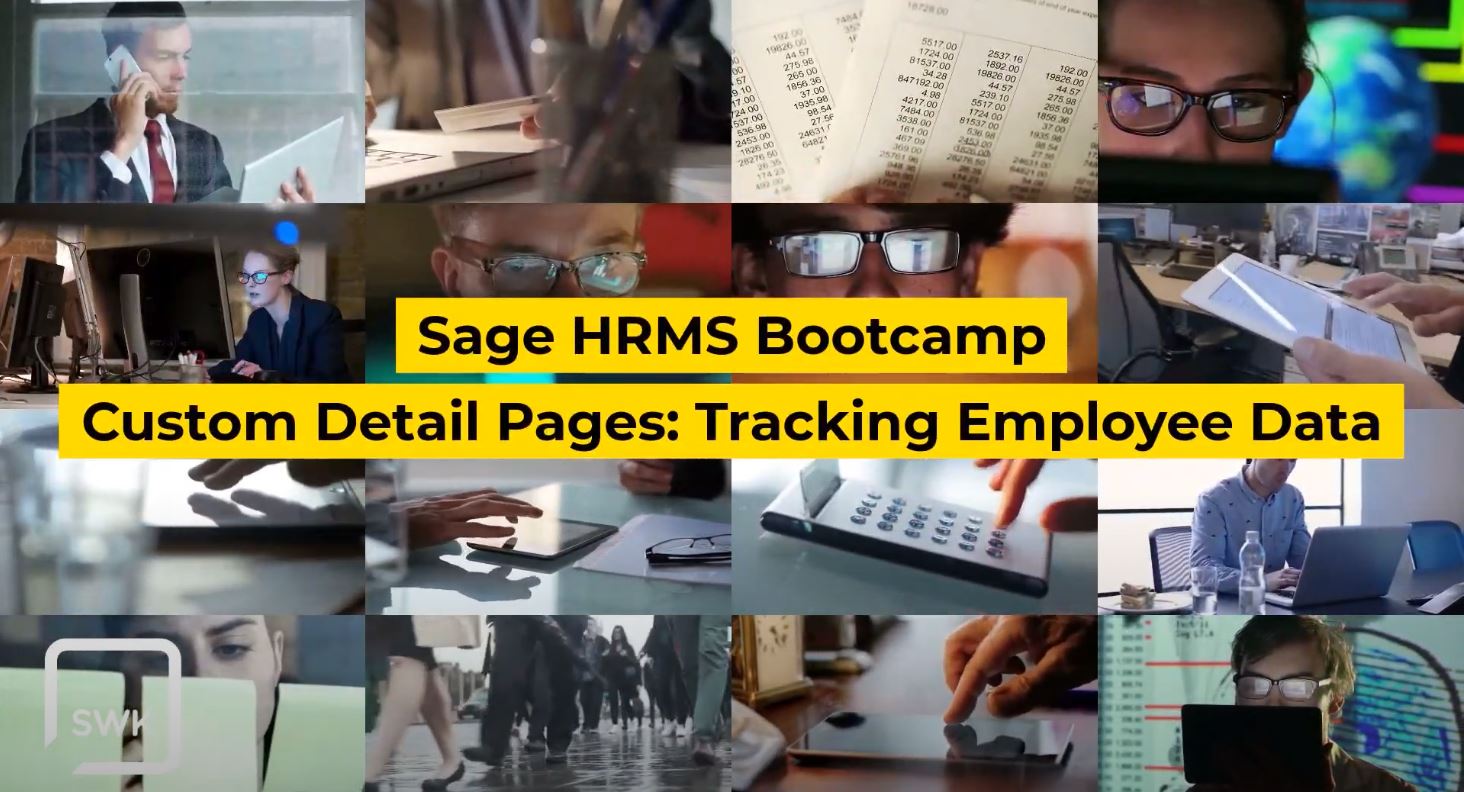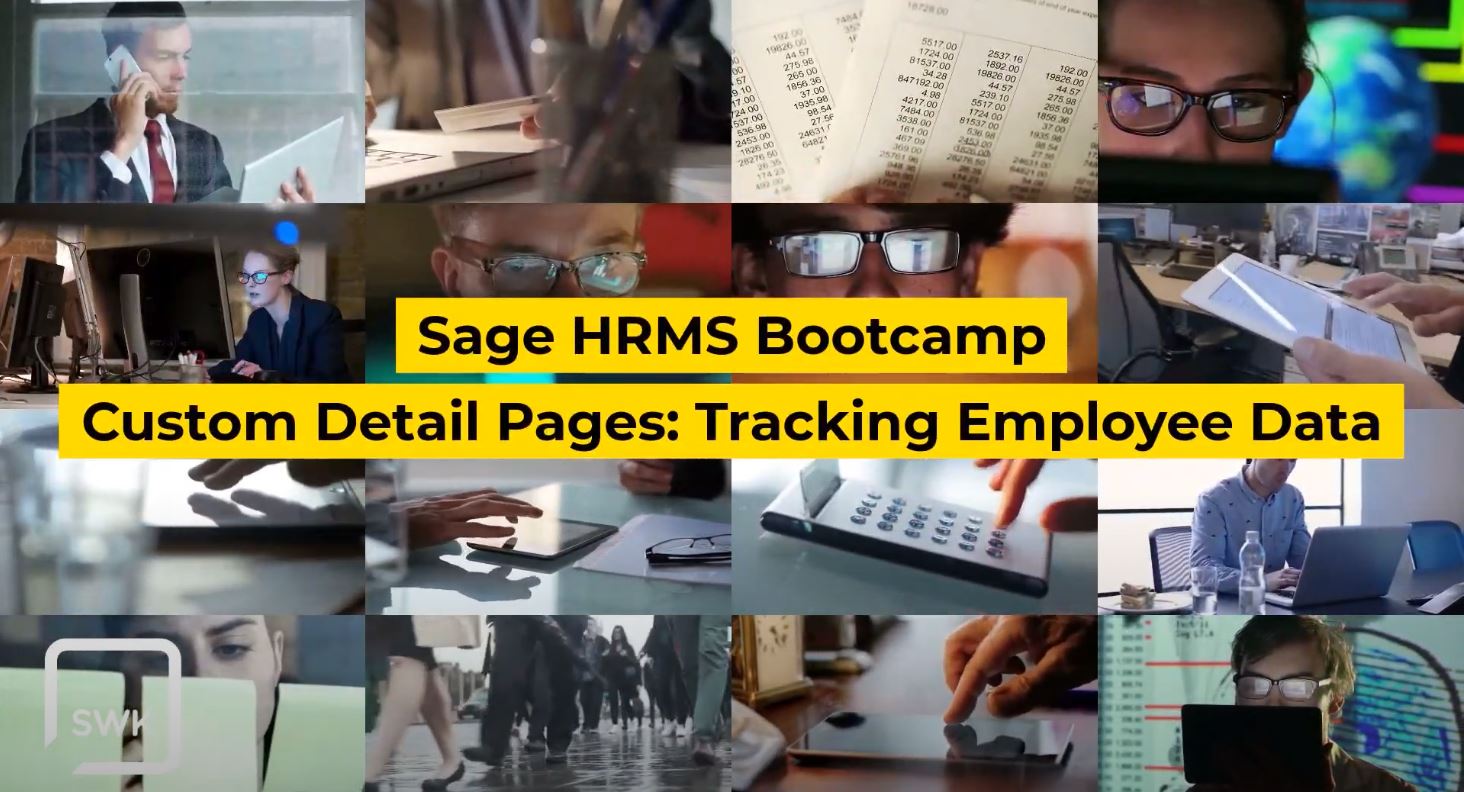 This video clip taken from SWK's Sage HRMS Bootcamp series will take you through a demo of the Custom Detail Screens feature, which allows users of this HR and payroll solution to significantly streamline how you view your data. By leveraging the customizable fields in your human resource software, you will be able to consolidate the number of screens designated users have to go through to collect information on any employee. This tool allows you to seamlessly pull up any number of data points provided the right role permissions are granted.
The human capital management (HCM) consulting team at SWK Technologies can walk you through more tips and tricks for Sage HRMS, as well as more ways to maximize your ROI on HR and payroll. Engaging our experts allows them to review your systems and processes in place, and help your map out ways to extract greater value from your HCM operations.
Learn more by watching the Custom Detail Screens Demo clip below:
Sage HRMS Clip – Custom Detail Screens Transcript
Welcome to this brief demonstration of how using Sage HRMS Custom Details will benefit you and your organization. This presentation is brought to you by SWK Technologies. SWK Technologies is dedicated to helping Sage HRMS customers get the most out of their software investment.
When it comes to human resources, there seems to be endless amounts of employee information that companies need to manage. Keeping all employee information in a single source of data is ideal, but so often we find companies using spreadsheets or other databases to track employee information outside of Sage HRMS.
Doing this is inefficient, time-consuming and error-prone. Instead, why not use the unlimited data expansion capabilities of Custom Details, and reduce or even eliminate maintaining employee data outside of Sage HRMS?
For example, a common use of Custom Details is tracking employee-issued company property. When John Baird was hired as an engineer at Dunedin Enterprises, the company provided him with a laptop and a cell phone. Let's navigate to John Baird's Custom Details screen for company property.
Looking at this Custom Details screen, you see there are two records added for John Baird, one for laptop and one for cell phone. If we open one of these records, you will see that there have been custom fields that have been added to Sage HRMS for the purpose of tracking company property.
For example, date provided, date returned, provided by, and returned to, a property description, model and serial numbers. The grayed-out fields on this Custom Detail Screen are existing fields in Sage HRMS, that are there for informational purposes and may be useful in viewing this Custom Detail Screen.
Custom Details can be single record or multi-record. This company property Custom Detail is an example of multi-record details. As you can see, there's more than one record for John Baird.
A single record detail is a record where there's only one screen for the detailed information. An example of a single record detail would be the company car information. When I select this record, you can see that there is no option to add multiple records.
The fields that you add for Custom Detail Screens can be any data type. They can be Required, it can also have a lookup table that lists the possible field values in a drop down. Additionally, existing data fields in Sage HRMS can be displayed on a Custom Detail Screen as informational. You can use security to decide which users have access to Custom Detail Screens and which fields on a Custom Detail Screen may be displayed.
Thank you for watching, as you can see Custom Details in Sage HRMS is a useful feature that can make tracking and reporting on any employee data easy and efficient and you can track it all in one place. If you'd like to learn more let us know, we love helping you get the most from your Sage HRMS software investment.
Discover How to Get the Most Value from Your Sage HRMS
SWK Technologies can show you many more ways to leverage Sage HRMS for automating human capital management and maximizing your ROI on your software. Reach out to our HCM team to get a free assessment of your technology and discover what other benefits you may be missing out on.
Sign up here for a free assessment of your HR and payroll software and discover how to find the right fit for your business.
Sign Up for a Free HR/Payroll Technology Assessment!