Inventory Control and Distribution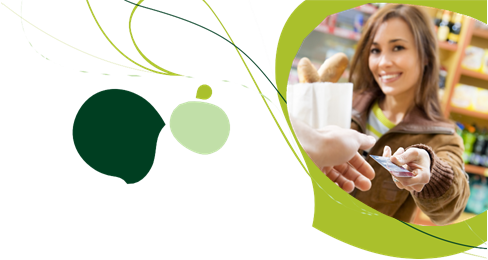 Sage 100 Payment Solutions (Paya)
A complete payment processing solution, Sage Paya gives Sage 100 ERP (formerly Sage ERP MAS 90 and 200) customers the benefits of comprehensive business management coupled with the benefits of secure credit purchase processing—all from Sage. What's more, having all payment processing with Sage lowers processing fees and results in a lower total cost of ownership.
Studies show that more and more purchases are being made with credit cards each year, and vendors who accept credit cards can increase their sales by 15 to 50 percent. Sage 100 ERP customers can take full advantage of this opportunity with the ease and efficiency offered by fully integrated credit payment processing.
Sage Exchange is a fully Payment Card Industry (PCI)-compliant payments platform, which facilitates integration of data between Sage 100 ERP and the Sage Exchange payments platform. It also provides developer tools, which enable other software companies to easily integrate with Sage Exchange and avoid costly Payment Card Industry-Data Security Standards (PCI-DSS) certification requirements.
Sage Paya provides a complete credit card processing solution for all types of businesses. Merchants can process and preauthorize credit card payments, and perform voids or refunds when necessary. Risk mitigation features protect both you and your customer from unauthorized credit card usage.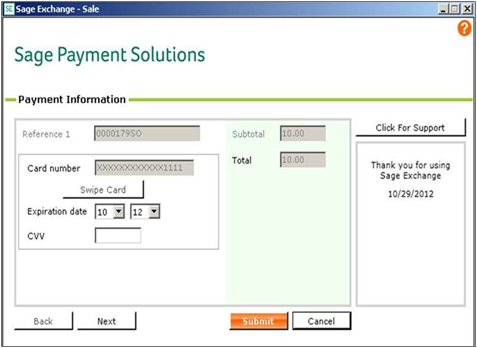 Benefits
Automatically connects to Merchant Accounts for credit card authorizations and settlements
Process payments using Sales Order, Accounts Receivable, and eBusiness Manager modules
Complete, secure, 24/7 online transaction reporting
Reduce merchant transaction fees using the Sage Exchange card swipe capabilities
Simplify your recurring invoicing and turn it into a reliable cash flow stream
Credit card numbers are safely stored in the Sage Payment Solutions Vault
Credit Verification Value (CVV2) is fully supported to help verify card authenticity
Compliant with Visa and MasterCard Payment Card Industry (PCI) data security standard
Multiple address verification options add an additional layer of credit card authentication
User-level password protection combined with strict adherence to PCI security standards helps ensure your system is secure
Compatible with Sage 100 Standard, Advanced, and Premium ERP
Increases operational efficiency with full online reporting, including historical data. Real-time reports allow you to see:
Settled
Deposit
Statements (current and historical).
Transaction
Returns and ACH information
Want More Inventory Control and Distribution Information?
Cut costs, manage your inventory, and streamline your warehouse operations like never before.
120 Eagle Rock Ave, Suite 330 East Hanover, NJ 07936 • 877.979.5462 • info@swktech.com
©2012 Sage Software, Inc. All rights reserved. Sage, the Sage logos, and the Sage product and service names mentioned herein are registered trademarks or trademarks of Sage Software, Inc., or its affiliated entities. All other trademarks are the property of their respective owners.