By Joel Gress, VP of Product Marketing – Acumatica, SWK Technologies, Inc.
On April 21, 2022 the Acumatica User Group Southeast sponsored by SWK Technologies held its first event in over two years. In attendance was a great group from across the Southeast and a few traveling from as far of New York. The event opened with a warm welcome and a collective exhale as we all adjusted to being in-person for the first time in what seemed like an eternity.
Before the event I shared with my wife some concerns over bringing a group together for what may be the first time for many in over a year.  I mentioned that before the pandemic I felt strong and on top of my game.  Like a sharp tool.  Now I feel a bit dull. She looked me and said, "Awe, honey, don't worry. You're still a tool."
With that, I set out to create some rules of engagement to ease everyone's nerves and ensure we all remember how to behave in a community setting.
Rules of Engagement
Don't be a tool.
Make it a positive experience for the people around you, and it will be a positive experience for you.
Engage and give everyone an opportunity to contribute.
Go with the flow and have fun!
I thought it was important to also remind everyone of why we attend these types of community and networking events.
Meet with experts and influencers
Stay updated on technologies and trends
Gain insights and perspectives
Make others aware of your business
Learn about other businesses and organizations
Build strong working relationships
Get inspired!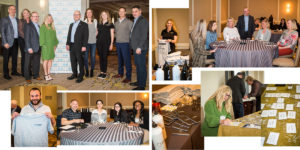 To stress the point, I asked everyone in the room to raise their hand if they had been in their position or field for two or more years.  All hands were raised.  I then proceeded to ask, keep your hands up if you have five (5) years, ten (10) years, fifteen (15) years.  When I hit twenty (20) years there were hands still up and a request to not go beyond 20 years. We all laughed and were equally inspired by the mass of knowledge in the room.
The next slide showed the logos for all of the companies in the room to give some perspective on diversity of industries represented.
With that we were ready to engage. To get the Acumatica juices flowing we started with a "What's New in Acumatica 2022 R1" (see my overview blog post).  Rather than walk through the slides we turned it into a discussion.  With 228 pages in the release notes, 67 new features and over 200 other enhancements, there was no way we could cover everything.  I opened the first slide and the discussion began, which feature up here looks interesting?  Who can tell us about this feature?  Can anyone give us an example of how they might use this feature or it might make their life easier? And so, the conversation went.
I took the opportunity to dig into a few of my favorite features (GL Anomaly Detection, Workflow Enhancements, Blanket Sales Orders, and Mobile UI Enhancements) being sure to leave the bulk of the time for discussion topics that were submitted in writing before the event, during the event, and a few shout-outs during discussions.
AUG Discussion Topics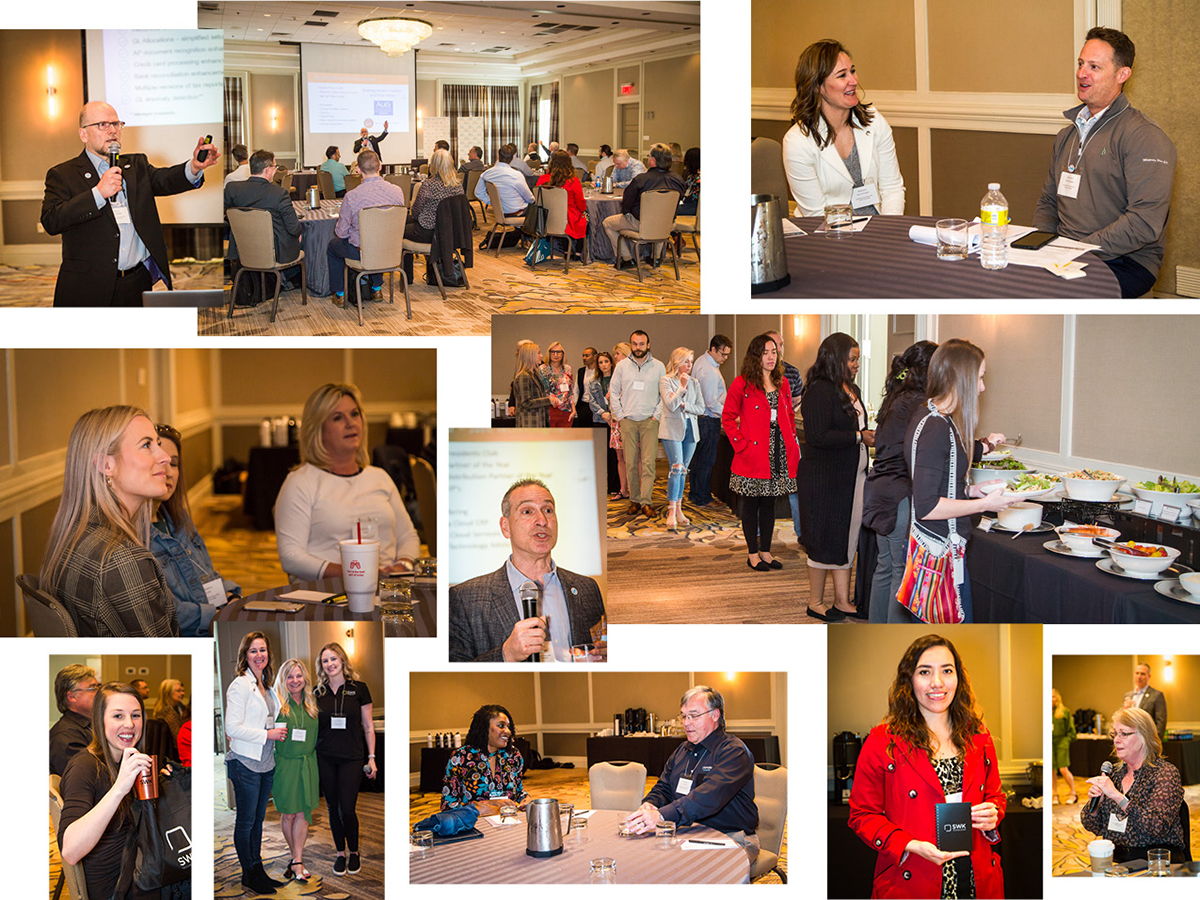 Discussion topics rules were simple. I would read the topic and ask the community to provide answers along with my own commentary.  Below is a listing of many of the topics. Some of the shout-outs or organic conversations may not have made it on the list, but I think you will find a good sampling of the incredible dialog that took place.
Community members that provided responses and engaged in conversation received some vintage AUG T-Shirts and other swag.
Here are the raw discussion topics from our Acumatica User Group meeting. I did not include the answers because you really needed to be at the event and part of the conversation.
We usually send out AR Aging reports as our monthly statements. Is there a way to automate this process in Acumatica?
We print on blank check stock the entire image of our check. Can someone recommend a good MICR printer?
When billing a project hourly/T&M, where some of the charges are from subcontractors, is there a way to show the subcontractor billing details from the AP Bill on the Project Bill?
Can you have more than one person on an Approval Map step?
Does anyone have a recommendation on how best to handle Rebates to a Manufacturer, getting Reimbursed?
Can we restrict which types of orders a user can see/create on the Sales Orders screen?
Are Mass Updates in a GI good to use?
Does AP Document Recognition perform PO Matching?
What is the best way to handle reconciling customer credit card payments against deposits from the processor?
There are different types of pricing models used across different companies. Examples are  Cost-plus pricing , Competitive pricing, Value-based pricing, Price skimming, Penetration pricing, Keystone pricing, Dynamic pricing, etc. (source: https://www.shopify.com/blog/pricing-strategies#8) How does one company can go from one model to the next as they decide to change their model?
Is it possible to have a different rate or flat commission based for specific product groups?
How would you reduce the salesperson commission rate when discount given to the client by salesperson outside promotional events?
When a salesperson places an order, there is a need to know if the vendor has enough material inventory on hand to fulfill the stock for the orders prior to order placement. Can a vendor's discontinued or out of stock item notifications somehow be integrated?
How to manage shipping and handling charges and surcharges based on each particular ship via, UPS or a freight company? In other words how to integrate shipping companies' charges to be included on client invoices?
Roadmap for Acumatica Understanding all the Modules and High Level Capabilities Forums for Discussion with business issues and how to address
Discuss ways Acumatica customers can reap benefits of upgrading to a newer version.
Any examples of Acumatica customers' suppliers or 3PL partners directly accessing Acumatica (limited roles and screens) to provide data, make updates, do transactions, and/or validate information?
What are some use cases for side panels? How do you set up a side panel?
Ability to have multiple shipments on a sales order and have multiple ship to addresses
When launching a startup, what are some of the pitfalls to avoid?
The mobile UI, is this view only or can it Edit or Execute functions?
Sometimes there seems to be a lack of reports available for an item. Example: what parts have replenishments settings and whare they? What do you recommend in such cases?
How can we increase API call efficiency?
Does Acumatica have any price plans customized to fit the needs of clients who have to make thousands of API calls daily/hourly?
Is there a way to renew shipment tickets without creating an actual pick ticket?A review pick ticket option in a screen rather than a report
Acumatica Retail-Commerce Customer of the Year 2022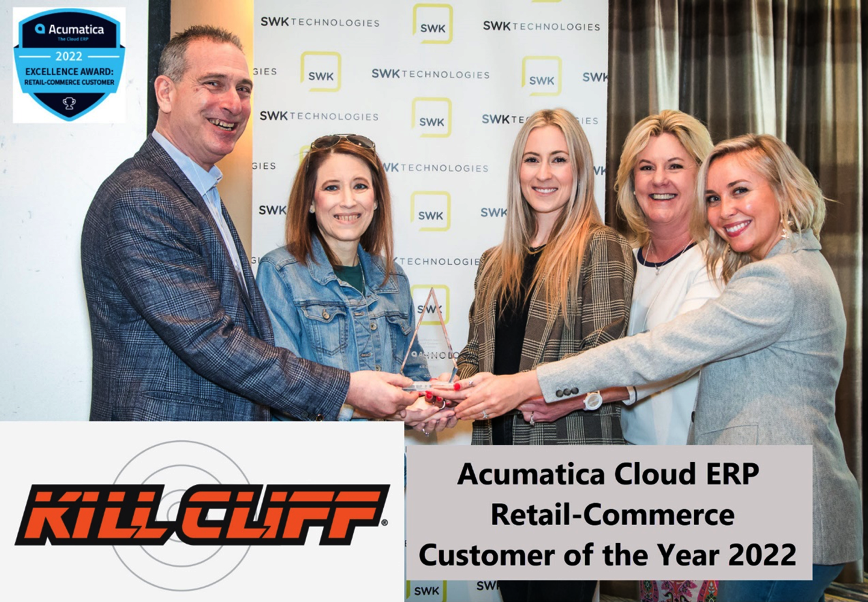 Even with all the discussion and networking, we found a bit of time to present Kill Cliff with the Acumatica Retail-Commerce Customer of the Year award. In this picture we have Mark Meller, CEO of SWK, with several team members from Kill Cliff holding the award. Read more about the award.
AUG Summit 2022 Southeast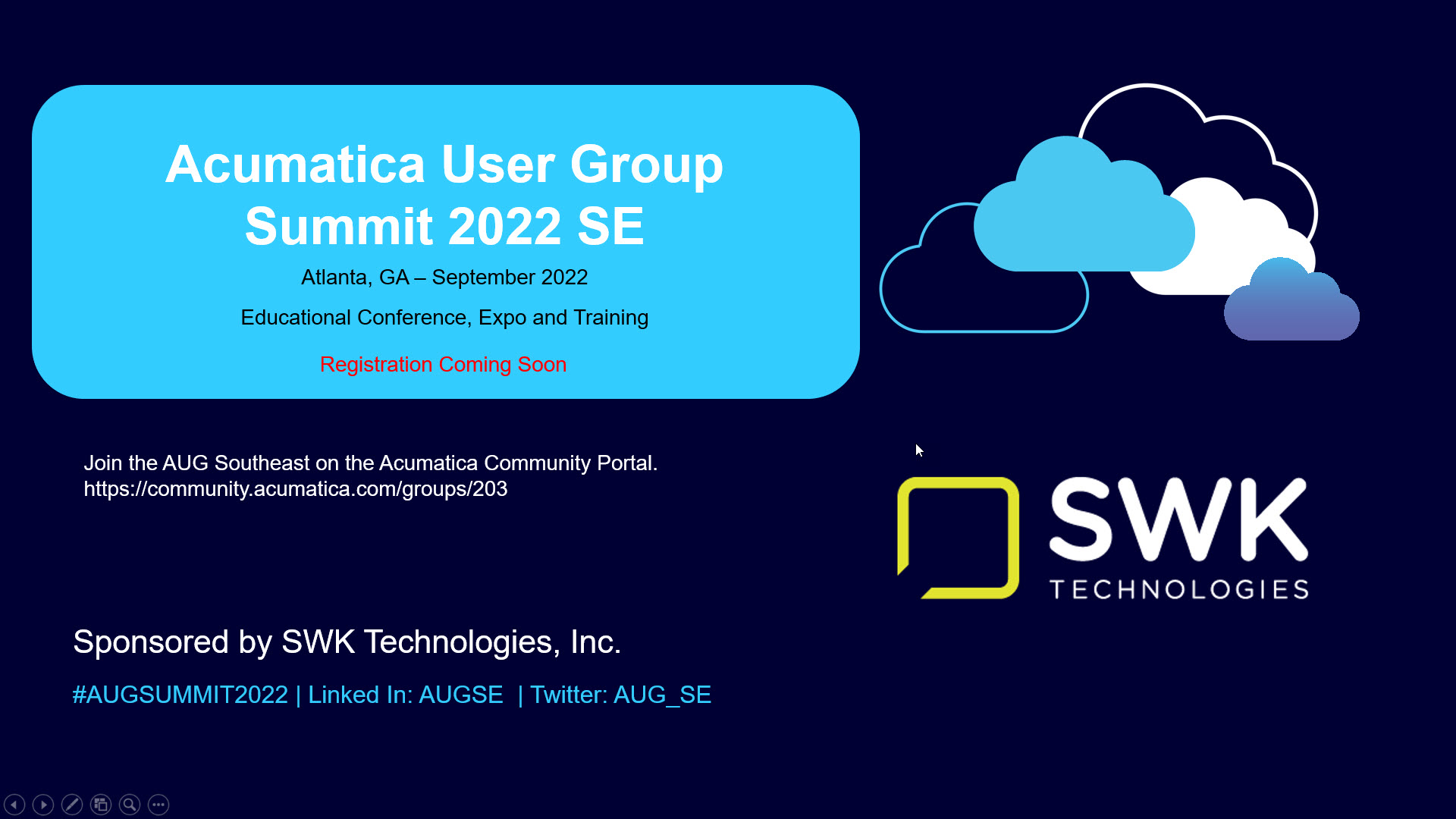 Closing out the event we announced plans for the Acumatica User Group Summit 2022 SE in September with the goal of gathering the Acumatica community for a mix of education and discussion. The three (3) day event will kick off with an educational conference, including presentations by Acumatica ERP Experts and Customers. The session will focus on how to improve your utilization of Acumatica Cloud ERP. Read the full AUG Summit 2022 announcement and follow the Acumatica User Group SE on Linked In and Twitter to stay informed.
Follow Acumatica User Group Southeast on Linked In and Twitter.