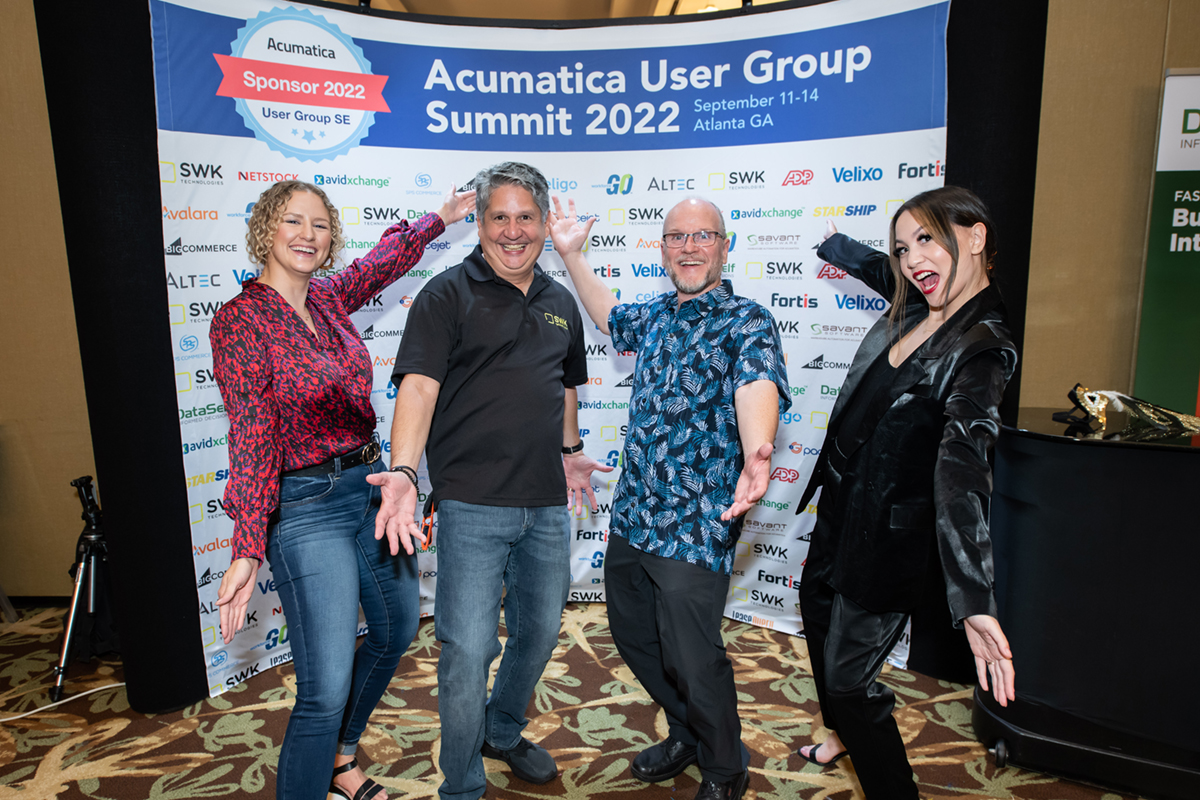 What Acumatica Customers Want and the Future of AUG Summit
By Joel Gress, VP of Product Marketing – Acumatica, SWK Technologies, Inc.
Yay!  We made it.  The first Acumatica User Group (AUG) Summit presented by AUG Southeast (AUGSE) is officially in the books.  It was a heavy lift getting here and well worth the effort. As the dust settles, the persistent question is, will there be an AUG Summit 2023? Before we get there, let's talk about why we have an AUG Summit, what goes into the event, and what attendees have to say about it.
Check out the highlight reel from AUG Summit 2022 SE!
The Why
I have hosted several smaller AUG events (20+ to 40+ attendees). You can read a recap of the most recent smaller AUG event from April 2022 here.  The smaller events are engaging and full of dialogue between users. Many happy faces and appreciative attendees.  A great first step in a journey towards better understanding and utilizing Acumatica with a hint of wanting something more.
A few consistent themes came out of the smaller AUG events.
(1) The wisdom of the crowd was limited by the size of the crowd. Some of those providing answers would walk away without getting answer to their questions. These were usually the more sophisticated users who have been on Acumatica for several years.
(2) Many of the questions involved what would normally be addressed in a product presentation or deeper training session. The solution may involve core Acumatica or third-party products. The users need to understand their options.
(3) Learning how others use Acumatica is important. Having a dialogue around product usage and adoption is invaluable. As one customer put it, we prefer to learn from the mistake of others. Another commented, "We don't know what we don't know." Hearing how others use the system or solve common problems is key.
(4) Customers often shared that attending as a prospect would have better prepared them for the implementation. I often reply by asking, would it have impacted your selection of Acumatica. The resounding response, "No. It would not change Acumatica as our choice. It would have made us better participants in the implementation and our module selection would have been more appropriate." Smarter buyer and better implementer.
With this knowledge in hand, it was clear to me that a cadence of smaller regional events with a larger national user event that addressed these points was needed. Survey feedback indicated that users are willing to attend an event one to two times a year and that they will travel within the continental US to attend if they see the value in the event. The AUG event cadence and AUG Summit concept was born!
Key Event Components
Larger Audience – National AUG Summit Annually
Awareness Training, Vendor Expo and General Training Sessions
Customer Panel, Receptions with opportunities to socialize
Include Prospects – it makes them better informed future customers
Event Cadence
The Balancing Act
When you involve multiple parties in an event, you end up with multiple priorities. When participation by all of the parties is needed to make the event successful, you need to find the proper balance for these priorities. In the case of AUG events the balance is between the Customers/Users, Prospects, Partners (VARs), Sponsors (ISVs), and the Publisher, Acumatica. The overarching question: how to pay for the event and bring value to everyone?
Customers/Users want to be in a safe, learning-focused environment that is filled with other customers, engaging conversations, and learning opportunities. They want to learn about product advances and third-party solutions in a sales-free atmosphere.
Partners (VARs) want to have face time with their customers to ensure they are happy and to help them find solutions and sell products. They also want to keep other partners from winning over their customers.
Sponsors (ISVs) want a large number of Customers/Users who want to assess and potentially buy their products lined up in front of their booth from event start to finish.
The Publisher, Acumatica, wants customers to spontaneously form their own user groups in their spare time out of sheer love for the product.
For me, the priority goes to the Customer/User with a clear understanding that there is a cost to these events that requires support from Partners, Sponsors and hopefully the Publisher. This led me to the following structure to get things started. I fully expect this model to evolve over time.
AUG Event Model
One Customer, One Acumatica Employee and One Partner as regional AUG Group Leaders
Partner performs event planning and coordination
Future transition of all planning and coordination to Customer Group Leader/s
Customer and Acumatica Group Leader review and approve event content
Events open to all Acumatica Customers, Prospects and Partners (includes ISV's)
Attendees' business email addresses are required for registration and validated with Acumatica to confirm they are part of the community
Partners are notified when their customers register
Fee-Based Access for all attendees to help cover costs of facility, food, AV equipment rental, event coordination, etc.

Low Fee for Customers and Prospects
Non-Coordinating Partners may participate by paying a higher registration fee
Example:

Regional Semi-Annual Meet Up: Customer $25 – Partner $250
National AUG Summit: Customer $95 – Partner $495

The Customer-to-Partner ratio will be organically managed based on the fee structure and help ensure a more Customer-heavy event
There will be a minimum of 1 customer for every partner attendee. The preference is for more customers than partners.  For AUG Summit 2022 we managed 1.63 customers per partner.
Coordinating Partner is responsible for deposits, event soft costs, and hard cost shortfalls
Comparing Firsts
I was one of approximately 33 participants at the first Acumatica Partner event in 2010. I became an Acumatica partner in early 2011. In the twelve years since the first partner event, Acumatica has grown to 300+ partners and between 8,000 and 10,000 customers globally. With this in mind, I set the minimum goal for the first AUG Summit at 175 attendees with a maximum goal of 225 attendees. We admittedly feel short with 144 attendees which is 4x the first Acumatica partner event. I will take this as a win. I suspect AUG Summit 2023 has the potential to hit the 200+ attendee mark and would be less of an uphill battle to pull off. It will likely garner more support from the publisher and partner community as a result of customer and partner feedback. One partner attending shared these thoughts, "I love these events. It's great for the customers and partners".
The Event
Acumatica CEO John Case Welcomes Acumatica User Group Summit 2022 SE Attendees
AUG Summit 2022 would not have been possible without the support of SWK Technologies, Inc. and the event sponsors. To host an event of this size requires a commitment to hotel room nights along with food and beverage minimums.  It also requires event management tools, staff to run the event and marketing to get the word out to the Acumatica community. In other words, it takes people and cash! With no baseline from previous events, I estimated attendance based on known Acumatica customer counts by region, and the promise of email invitation support from the publisher. The goal; minimum 175 and maximum 225 with 2 customers for every partner attendee. See "Survey Says" below for event stats.

Thank you, Acumatica User Group Summit 2022 Sponsors. Without you, this would not have been possible.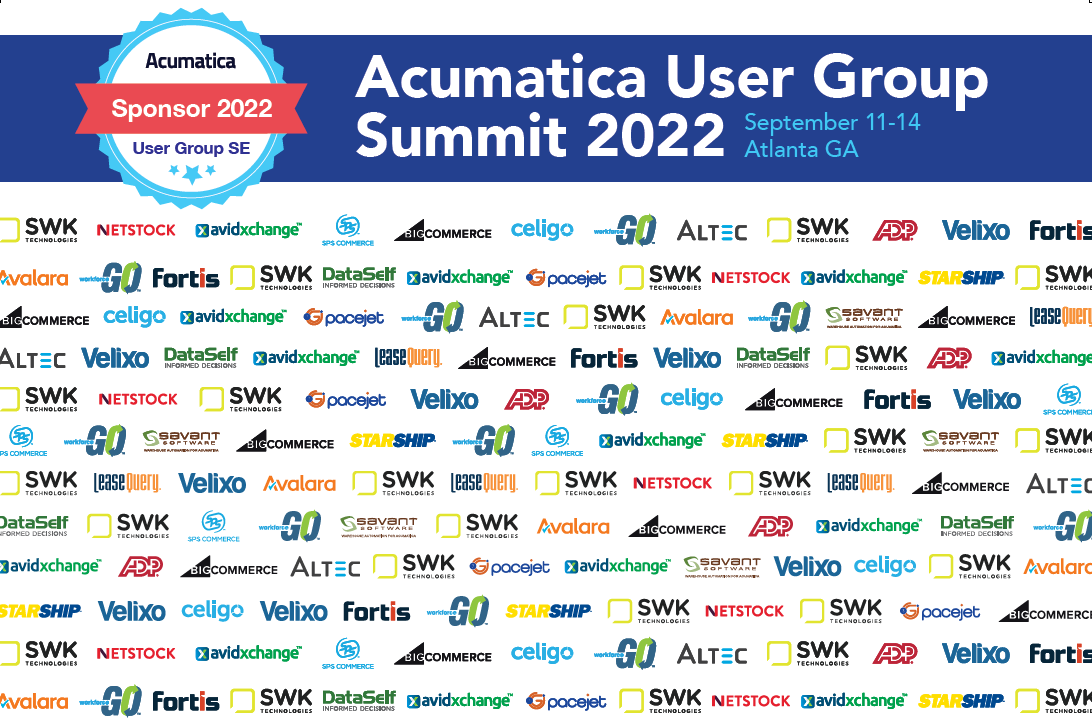 Welcome Reception
The Sunday night Welcome Reception was a late addition to the event. As the registration numbers started to roll in, it became clear that people were traveling from a distance to attend and that there was a need for a pre-event gathering. In the end, we had 144 AUG Summit 2022 attendees from 83 companies traveling from 30 States and 4 Countries.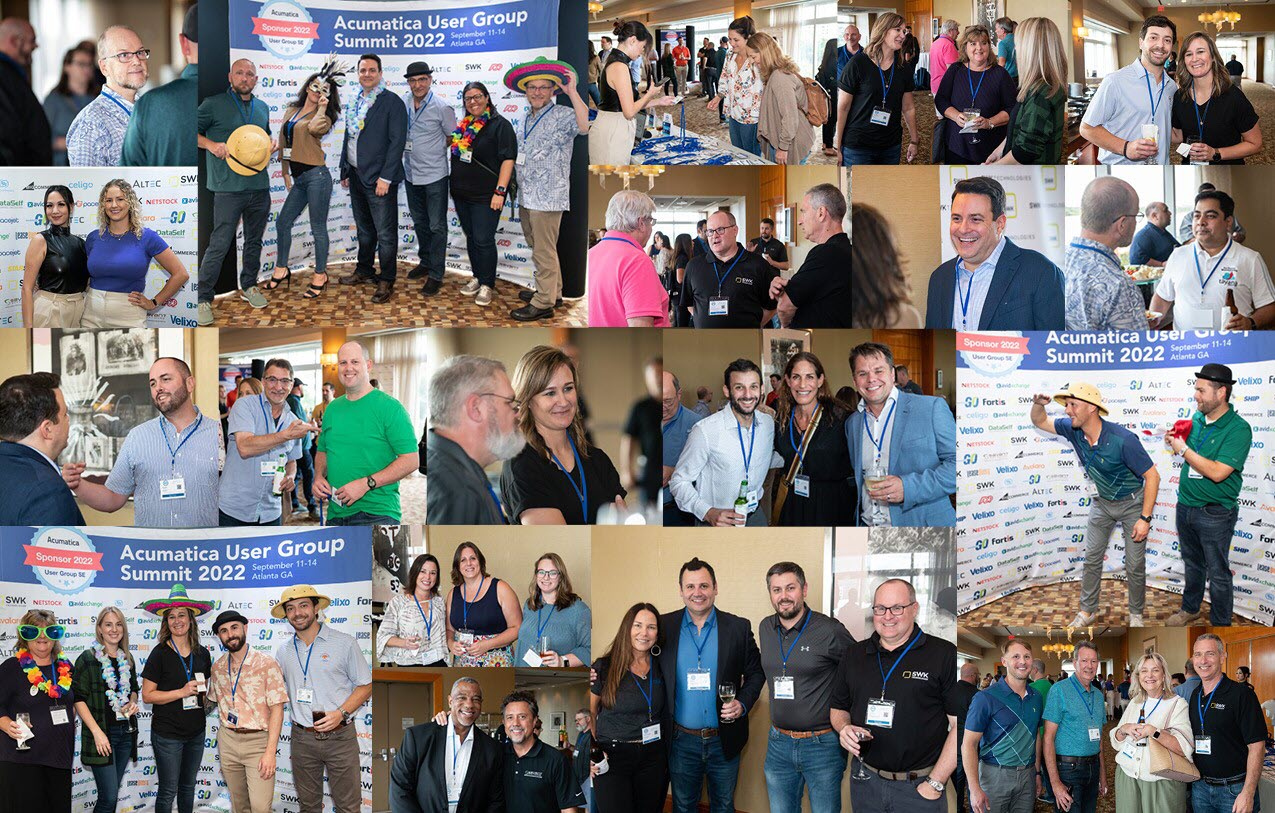 Conference and Expo
The balancing act is reflected in the event layout.  The conference and expo spaces were separated by a moveable wall.  Between tables 14 and 15 in the expo hall there was an opening to allow attendees to move between the event spaces. The goal was to create as open a space as possible while maintaining a separation between the conference and expo to address the customer priority of keeping the event education focused and facilitating the sponsor priority of meeting customers and prospects. The expo is an essential part of addressing customer needs when they extend beyond the core Acumatica product. Customers were free to move in and out of the conference space without entering the expo. The hotel staff commented on the uniqueness of the layout and how much they enjoyed putting it together.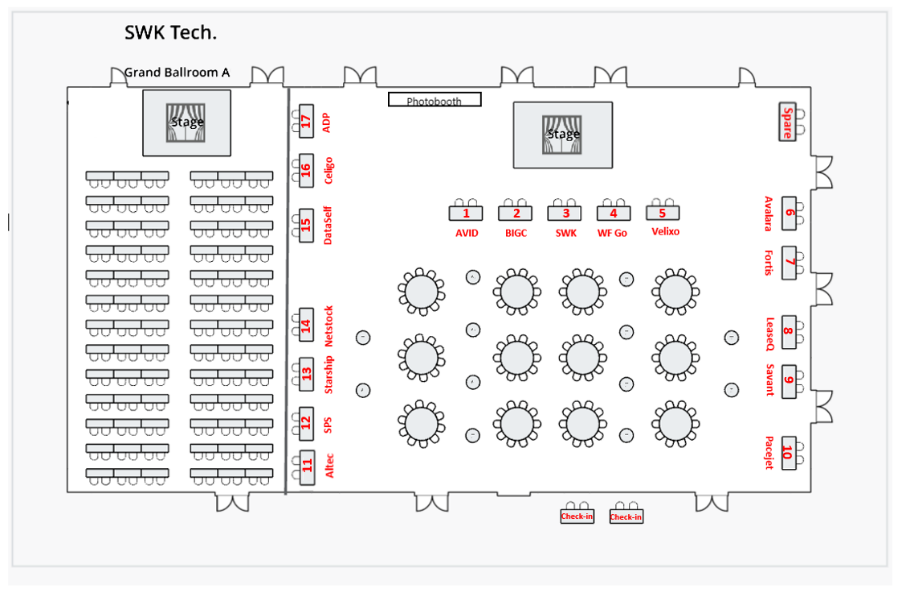 Acumatica 2022 R2 and Roadmap
Debbie Baldwin, Director of Product Management (Manufacturing) at Acumatica provided the Acumatica 2022 R2 highlights and roadmap.  With 60+ new features and 250+ enhancements over the entire product suite, Acumatica 2022 R2 is set to release in late September.
Acumatica 2022 R2 Highlights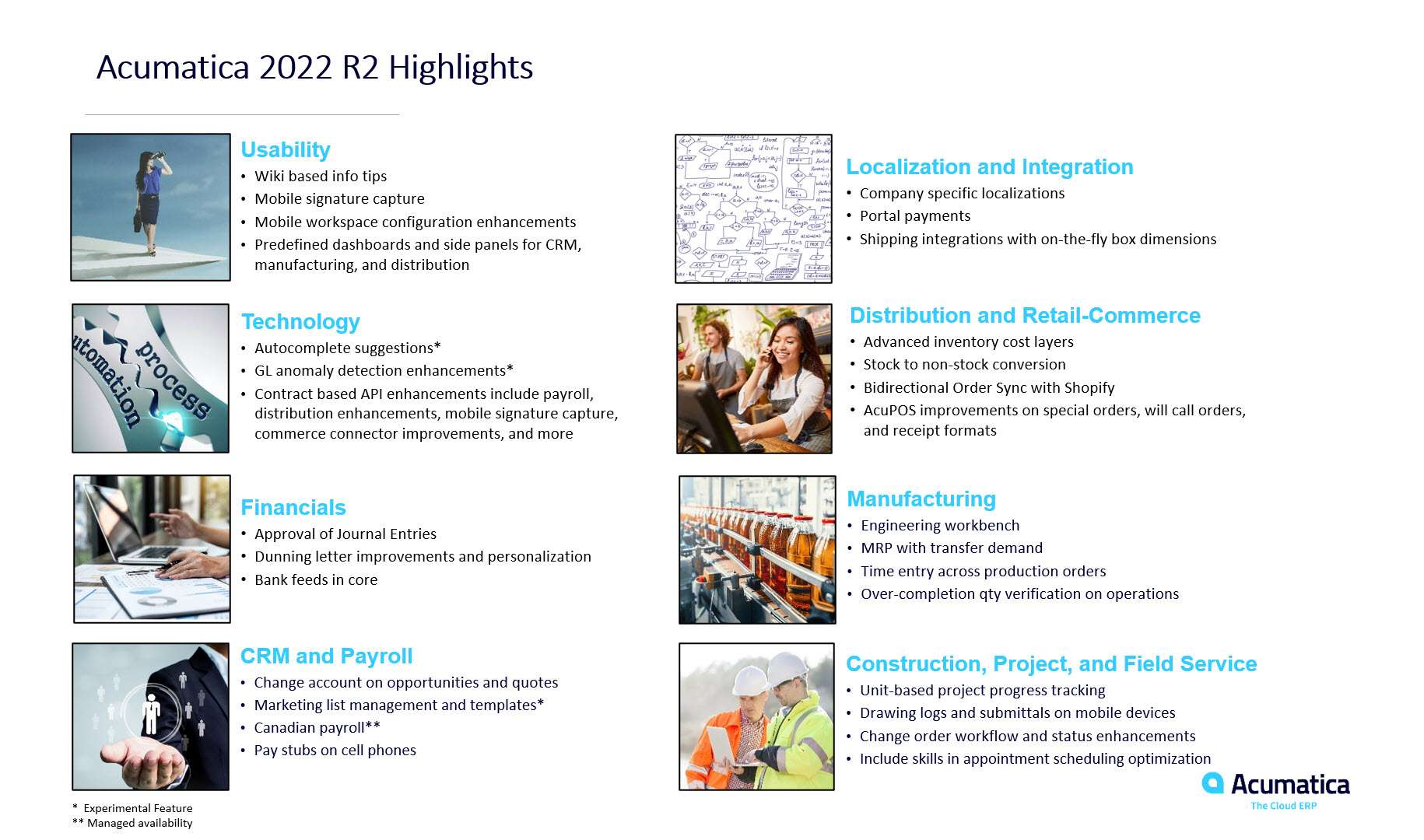 Looking for more details on Acumatica 2022 R2? Visit SWK's Resource Center:
The Acumatica roadmap provides insight into the key areas of focus with an expected timeline for delivery.  Components of the roadmap include:
Adaptive User Interface with modern cross-device visuals and interfaces along with enhanced self-service portals
Interactive Assistance through Machine Learning enabled help and integration community
Connected Cloud with expanded native integration and simplified discovery, licensing, and provisioning
Advanced Reporting with the introduction of a unified data retrieval engine and flexible display engine providing more flexible dimensional analysis
Acumatica Roadmap Priorities

Awareness Training Sessions
Continuing with the education focus and the knowledge that many AUG event questions can be addressed through product demonstration (See "The Why" above), we designed three awareness sessions.  Awareness Training (Thank you, Mary Abdian for providing the terminology to explain the session) is about exposing the audience to various technologies and techniques.  I used the analogy of Jamie Oliver's 30 Minute Meals and Bob Ross's The Joy of Painting. Each are skilled in their chosen profession and can clearly communicate the steps to recreate their masterpieces.  Your success in replicating the lessons may vary but you will walk away with new awareness/knowledge that you can apply to your own delicious Acumatica recipe or artistic creations!
The Awareness Training Sessions:
Paper Overload Got You Down by Seth Kuhn and John Shepperson

AP Document Recognition
System Email Accounts
Bank Feeds for Credit Card Reconciliation
Bank Feeds for Advanced Expense Management

Get Me My Data by James Stange and Craig Smith

Generic Inquiry Creation and Side Panels
Dashboard Creation
Mobile KPI Creation

Show Me Where by Steve Gignac and Joe Santoro

Personalize your workspace
Manage your profile
Modify a standard report and create templates
Manage Dashboard widgets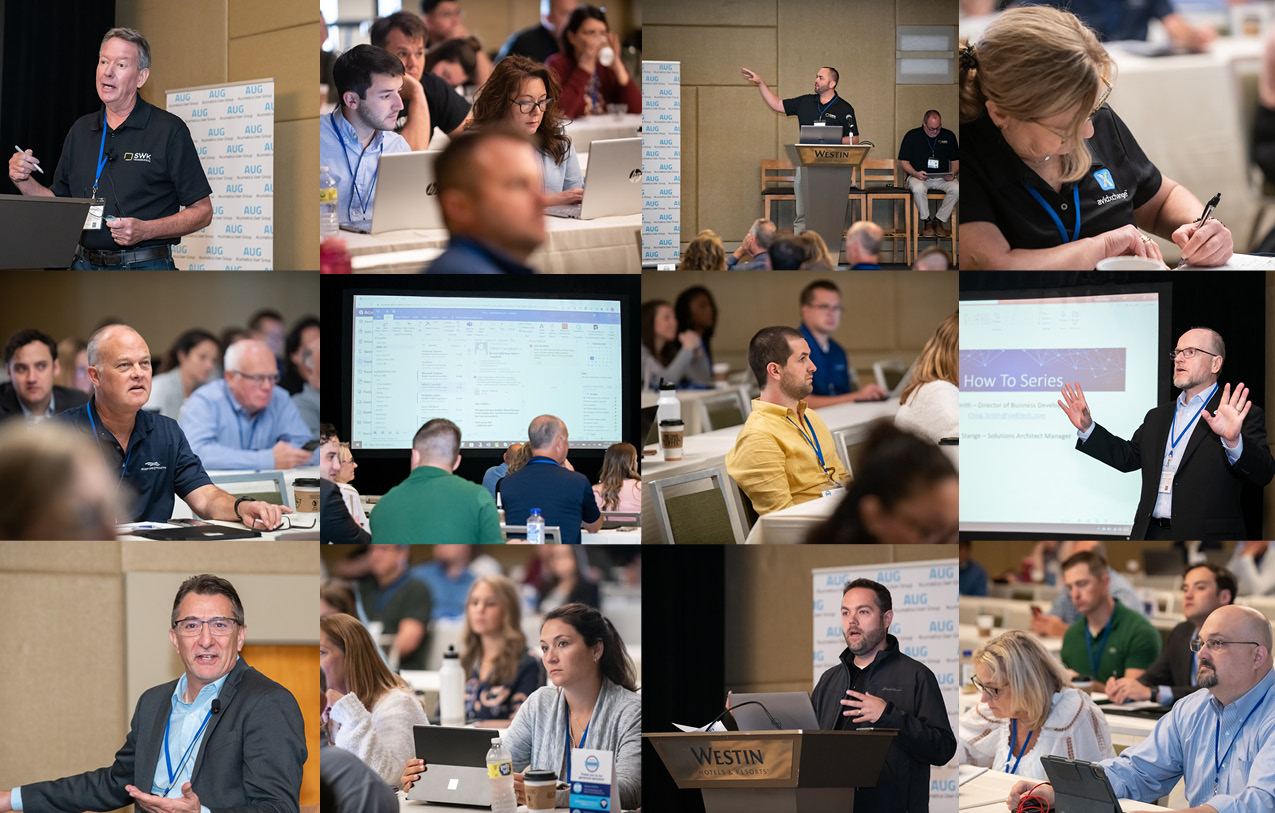 Developer Community Sessions
Brian Stevens, Acumatica Developer MVP from Setech Supply Chain Solutions, did a tremendous job putting together three lessons for the Developer Community Sessions.  All of the sessions were highly rated and often ran long.  It's hard to break up a group when they are enjoying the conversation.
The Developer Community Sessions: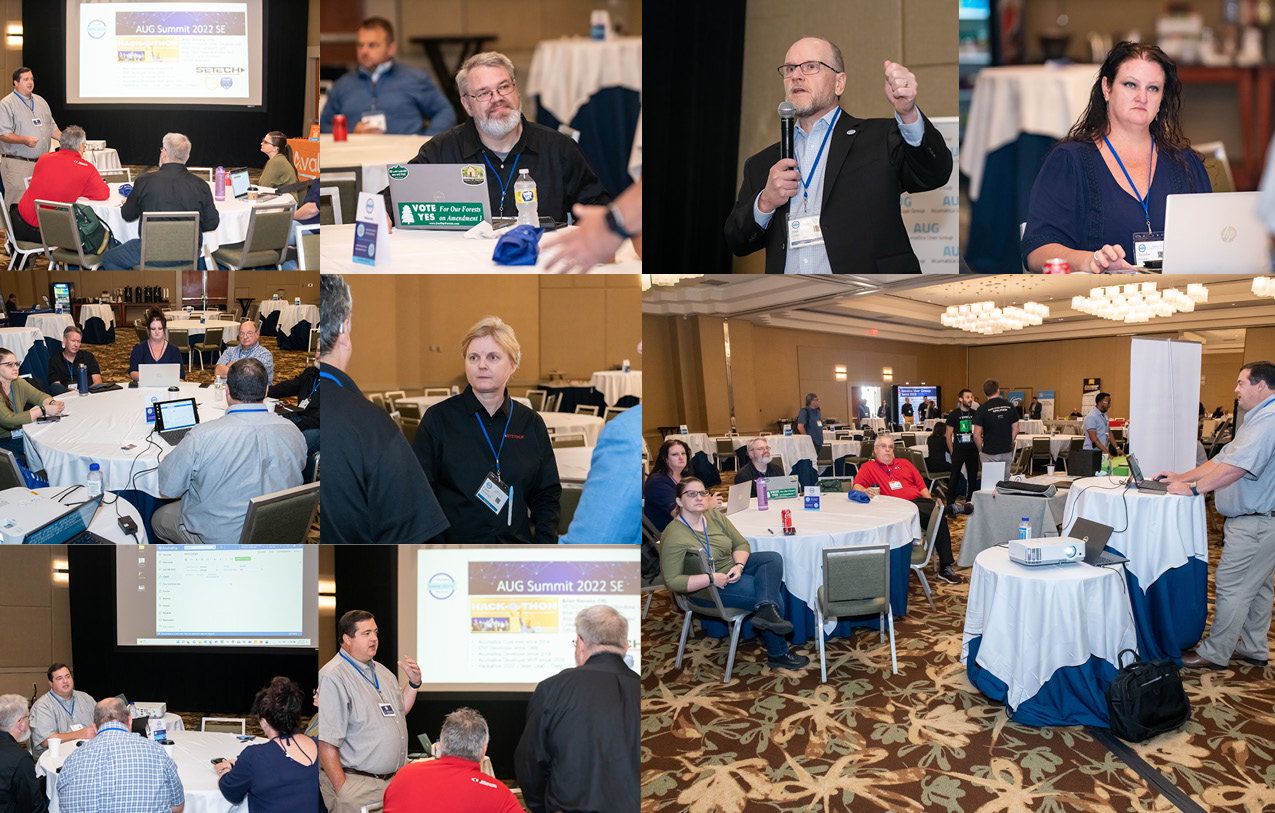 Customer Panel
The Customer Panel was another first.  The first Acumatica Customer Panel run by Customers.  Brett Nothan, IT Director for Setech Supply Chain Solutions, was the customer moderator.  The panelist included Sean Reeves, Director of Operations with Hope Builders, Taylan Sevimli, CTO with Tayse Rugs, Ryan Gilreath, VP of IT with Omnia360 Facility Solutions.
Each panelist shared their insights and brought a perspective based on industry experience and the number of years they have been using Acumatica.
As someone who has implemented ERP systems for companies over the past 26 years, it was great to hear customers answer questions from other customers about user adoption of the new system and how much historical data should they keep when moving to a new ERP.  Both topics I have discussed with customers many times.  I was happy to hear the responses were in synch with my philosophies. Several common challenges popped up during the sessions including how best to use System Email Accounts and Inventory Availability Calculations during the Picking process. The sharing of issues and solutions was inspiring.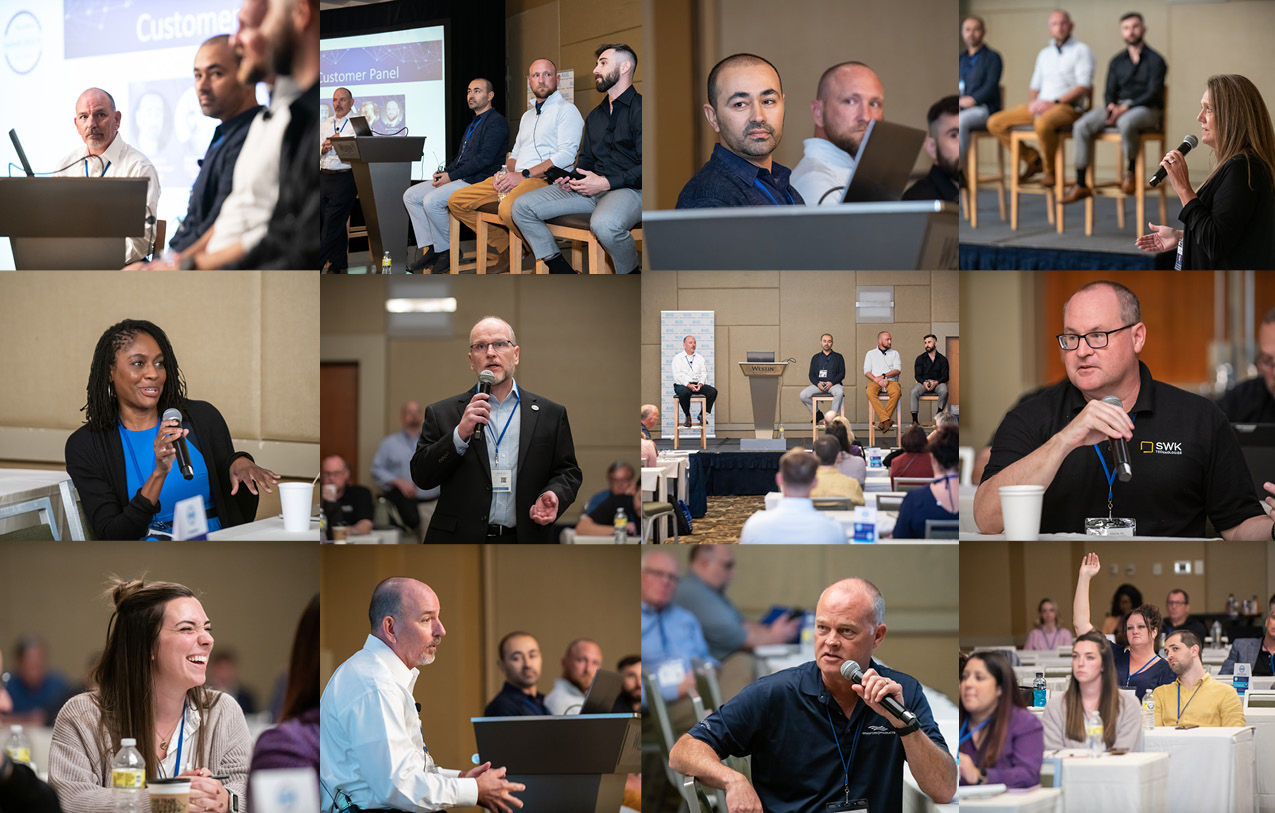 Expo Reception
The Expo Reception provided an opportunity for attendees to mingle with one another, visit with sponsors, enjoy drinks, appetizers, dinner and win prizes.  The concept was intentionally kept loose to allow everyone to roam and engage.  I visited with groups of customers from different companies who seemed to become fast friends. They were comparing notes and sharing laughs. The only thing missing was music.
Acumatica Customer Training
Tuesday and Wednesday, kicked off the Customer Only training sessions with a focus on how to get data out of Acumatica and leverage tools to automate common processes. We offered a mix of full day and half-day training sessions.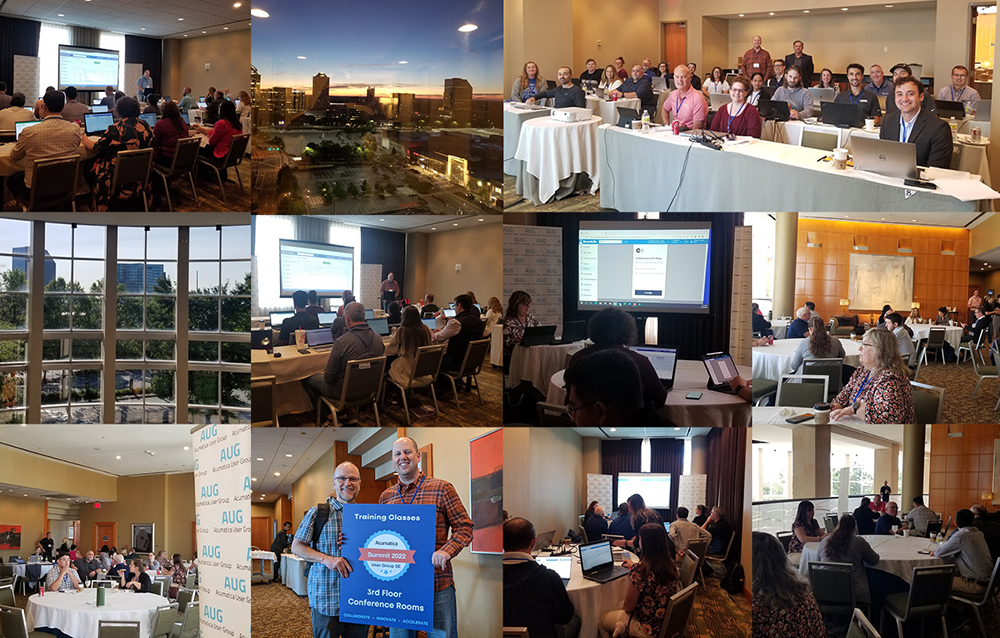 The Training Sessions
Full Day – Introduction to Generic Inquires and Dashboards by Tim Rodman
Full Day – Advanced Acumatica Generic Inquires and Joins by Tim Rodman
Half-Day – Acumatica Bank Feeds Basics by Sharon Conkey
Half-Day – Acumatica Document Recognition Basics by Sharon Conkey
Half-Day – Acumatica Business Events Basics by Megan Perry
Half-Day – Acumatica Workflow Basics by Megan Perry
We filled 130 of 160 available training session slots.  The Generic Inquiry training classes by Tim Rodman sold out with a waitlist. There is an opportunity to expand the offer and potentially reduce the price per student at future events.
Survey Says
The survey results say the event was a success.  100% of respondents would attend another AUG event. In some cases, I was surprised by which components of the event were most important to Customers/Users. For example, Post Event Training and Awareness Training ranked higher than a Customer Panel. The most telling, are the comments on the importance of AUG events.
Attendance Stats
Survey Results

How often would you attend an AUG event?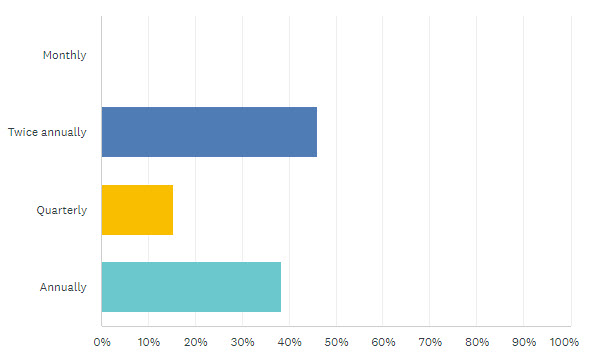 Share in your words the importance/benefit of this type of user group event.
"Being able to talk with other users that may have a similar issue or situation is important because it allows for real world solutions to be discussed. Also, the ability to be help/be helped by peers."
"Any hands-on training is beneficial. And being able to compare how other users are using Acumatica helps us keep open to all the possibilities."
"Connect with other users, training, training, training."
"Very helpful to increase exposure to the tools available to better implement Acumatica."
"I most looked forward to training, and of course having access to the community to ask questions and network. It's helpful to hear about new features recently released or on the roadmap."
"This conference was great exposure to the software. I went in with very limited knowledge, as our instance is not up. After the 2-day session on General Inquiry, I feel prepared to start creating inquiry and developing our dashboards."
"At Acumatica Summit we are in a classroom of 50+ people and get a booklet to follow for the training. I can do that at home. AUG Summit training was smaller, and we had a conversation about the training lesson, which was much more helpful."
AUG Summit 2023?
As the event moved towards closing, multiple Customers/Users asked me about plans for the next event.  Many asked for more Customer Only training.  My response was simple. That is up to you and the rest of the Acumatica Community.  These events require broad support from Customers, Partners and Sponsors to be successful.
I firmly believe that in-person events that foster cost-effective knowledge sharing, formal training classes and open discussion are essential to the success of any ERP Community.  Simply put, educated and informed users are better/happier users.
During the writing of this article, I was contacted by Acumatica to discuss future AUG SE events. It appears the largest user group gathering to date has garnered some attention. The end result, Acumatica has future plans for a customer focused event, which is great news, and the AUG Summit held in Atlanta would represent a competing event.
Acumatica stated that going forward, larger events of this type could not be designated as Acumatica User Groups. It will be interesting to see if this new rule is added to the Acumatica User Group charter. AUG SE has hosted multiple user group events with 20+, 40+, 60+ and 140+ attendees. Likely some of the largest AUG gatherings with Customers being the majority of attendees.
I have asked Acumatica to qualify the dividing line between AUG and Non-AUG events.  Is it truly about the size of the event or does the inclusion of training classes cross the line?  Does it matter if the event is called a User Group versus a User Conference as long as it brings value? When will Acumatica officially announce its Customer event? How will the AUG interact and/or coordinate with the future Acumatica Customer event? Will Acumatica allow Partners and Prospects to attend?
In the end, it is great news that Acumatica has plans to step up and take a more active role in providing Customer focused community events. I will update this post as I receive clarifications from Acumatica on how this impacts AUG and Non-AUG events going forward.
In the meantime, you can follow us on LinkedIn and Twitter to learn about any future AUG and Non-AUG events.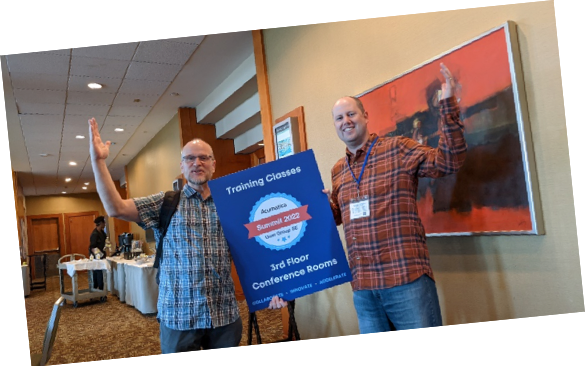 Contact SWK for More Acumatica Training, Tips & Education