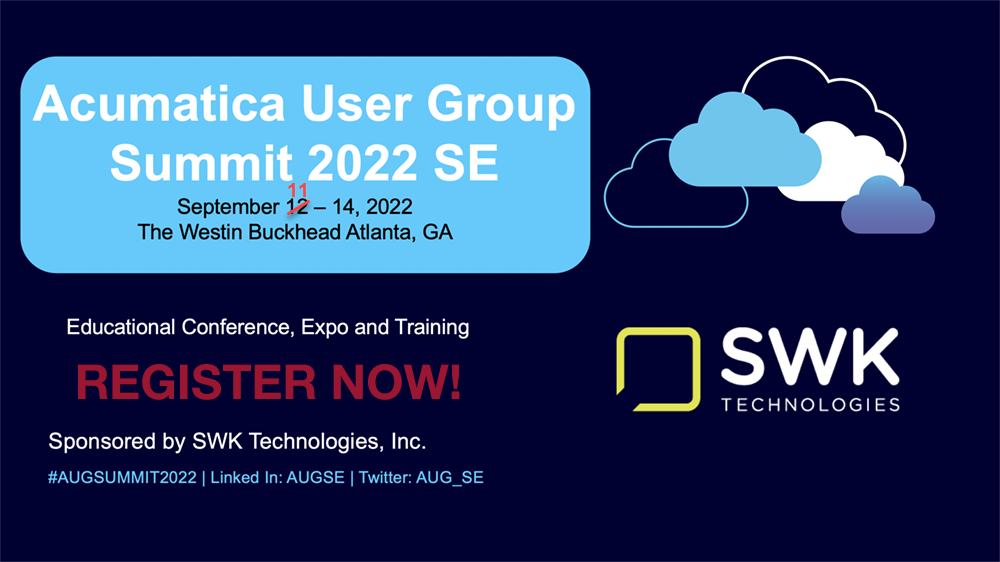 Acumatica User Group Summit 2022 SE
UPDATE: Read the recap article to find out what happened and how it went (includes lots of photos)!
Update: We have added a Welcome Reception on 9/11. Please visit the event Agenda for more details
Update: Click Here to view the AUG Summit 2022 Event Booklet
The Acumatica User Group Summit 2022 SE, sponsored by SWK Technologies, is scheduled for September 11 – 14, 2022 at The Westin Buckhead Atlanta, GA with the goal of gathering the Acumatica user community for a mix of education and discussion. The three (3) day event will kick off with an Educational Conference, including presentations by Acumatica ERP Experts and Customers. The session will focus on how to improve your utilization of Acumatica Cloud ERP.
Throughout the conference there will be a Live Stream Discussion forum for real-time interaction. The forum questions and responses will come from the Acumatica Community.

A Customer Panel representing various product editions and industries will share their experiences and answer questions from the audience.
Developer Session will be run concurrently and held on the Expo floor covering a variety of topics including tips to jump start your development knowledge. The session will be led by Acumatica Developer MVP and Acumatica staff.
The Vendor Expo will run in conjunction with the conference to give attendees access to the top integrated solutions to extend the Acumatica experience. An Expo Cocktail event will close out the conference portion.
Following the conference and expo will be two (2) days of Acumatica Training with a mix of full day and half day training options. Tim Rodman will be offering a full day Introduction to Generic Inquires and Dashboards and Advance Generic Inquiries and Joins. More training sessions will be announced. You can read about why Tim is attending and participating on AUGForums.
Our goal is to create an annual event that focuses on providing cost effective education and training opportunities combined with Acumatica Community interaction.
As with any event, it cannot happen without the support of the community and our sponsors. To that end, we are instituting a small fee to help cover the cost of the facility, meals, equipment and other hard expenses. Due to the generosity of our sponsors in time and dollars, we are able to greatly reduce the fees. A special thank you to SWK Technologies for offering the time of their employees in addition to generous funding to support the Acumatica Community.
You can read a recap of the Acumatica User Group Event in April 2022 here. The event included presentations, open discussions and awards.
To stay informed of future events, join the AUG Southeast group on the Acumatica Community portal or follow the Acumatica User Group Southeast on LinkedIn and Twitter.