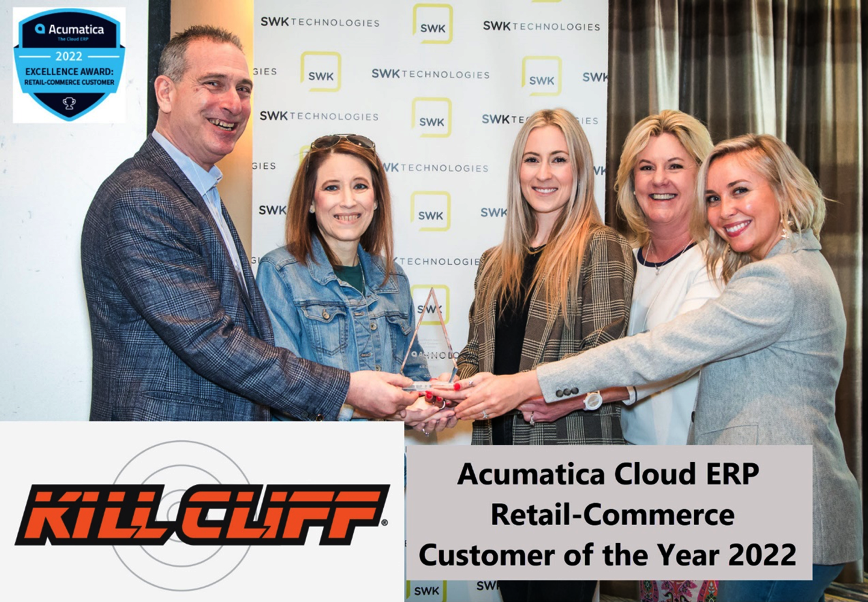 Acumatica announced at Summit 2022 their Customer Excellence awards. Many of the award winners were not able to attend so we arranged for SWK Customer and winner, Kill Cliff Inc., to receive their award during an Acumatica User Group SE event sponsored by SWK Technologies and held in Atlanta, GA.  In the picture above is Mark Meller, CEO of SWK Technologies presenting the award to several team members from Kill Cliff.
Acumatica's native integration with Shopify provides Kill Cliff with the tools to manage their back-office in Acumatica Commerce Edition (Order Management, WMS, Fulfillment, Inventory Replenishment and Financials) and create a fully customizable shopping experience for customers through the Shopify storefront.  The robust integration between Acumatica and Shopify increases efficiency by synchronizing customers, products, inventory availability, sales orders, fulfillment information and other user configured data elements in real-time, scheduled, manual or a hybrid blend of these options.
Kill Cliff, Inc., founded in 2013 by Todd Ehrlich, former Navy SEAL, produces and markets sports beverage products. The company provides clean energy drinks, and other post workout beverages. Kill Cliff offers a functional recovery drink that acts as a sports beverage formulated with functional ingredients that aid in recovering from strenuous activity and physical exertion. Kill Cliff serves customers in the United States. Learn more at https://killcliff.com/.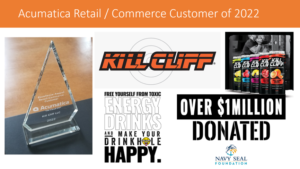 The Customer Excellence Award recognizes the customers who work closely with Acumatica to improve the product as well as the awareness of Acumatica in the marketplace.  The award is designed for those customers who have gone the extra mile by participating in Acumatica's advisory board, refining requirements in focus groups, being a reference, and contributing to customer success stories.
This year's winner went above and beyond in the areas of:
Use of Technology
Community Activism
Unique Product Offering and/or Approach
Congratulations Kill Cliff!