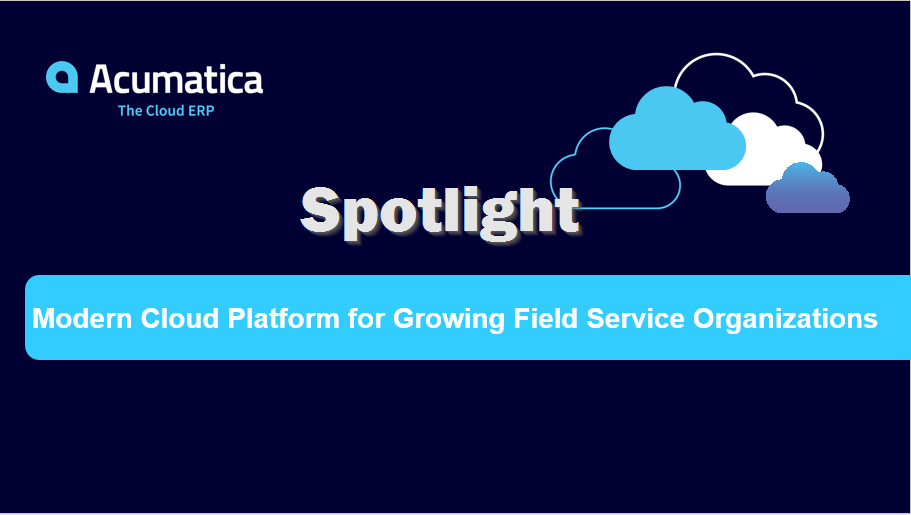 Jeremy Potoka
Cloud Solutions Architect
SWK Technologies
Click here to download the full presentation
Introduction

On Monday, February 25th, SWK and Acumatica teamed up to exhibit at and attend the Field Services Medical Event in San Diego. This is a specific conference for organizations that sell, install and repair equipment in the healthcare space.  This was the first time that we've attended this event, and it was great to meet all the attendees and exhibitors.
We've had success over the past year specifically taking the Acumatica Field Services Edition to Market. This is our fastest-growing vertical and one that has caught our attention quickly.  The ability to connect an organization's engineers in the field seamlessly using the Acumatica mobile application, connected to the back-office folks for contracts management and Accounts Receivable is proving to be a powerful feature set.
I spoke at the Field Services medical event in a TED Talk-type forum. The content from this blog was taken from my session to all attendees.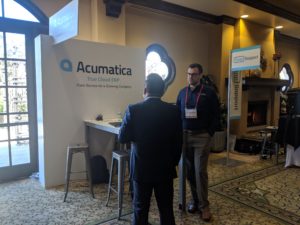 What is your technology blueprint? (Slide 2)

As a Solution Architect, I work with companies of all sizes and types across the country, primarily evaluating the back-office systems. This includes accounting, Inventory, Field Service, Manufacturing and Nonprofits. We've been helping customers evaluate and implement ERP systems for almost 30 years.  For that reason, we always like to start with a business conversation, not a technology-focused one.  Our team is very good an uncovering pain points, breaks in integration and only then make a recommendation on a software platform.
I like to start the conversation with a simple question: "What is your technology blueprint"? It is important to define strategy for technology before you attempt to apply technology to your business.
Today's disconnected Field Service organization (Slide 3)

The field service companies that I work with often look like this (Slide 3 Image). The sales team is using a CRM that isn't connected to their Field Service technicians or accounting.  There are multiple silos of data.  Equipment is managed offline or in a separate system.  Technicians in the field might be using paper and handing packets back to the operations team upon arrival at the warehouses.  Maybe some of the areas are more tightly integrated than this, and others are completely offline.
By asking ourselves the question: "What is our technology blueprint?", we create the opportunity for the organizations to make strategic software I like to think of a metaphor like this: imagine you are putting on a small addition to add a guest room and bathroom for when family comes to visit.  Most of us wouldn't imagine meeting with a builder or architect without thinking about where to put the addition and maybe discussing with our spouse or family where within the existing structure it makes the most sense to create the addition.  We wouldn't just hire a builder and let him put up an addition wherever he wanted.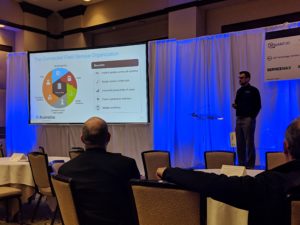 The connected field service organization (Slide 4)

Everyone today agrees that the cloud has changed the way companies can utilize and access technology. Subscription cloud software, however, has fundamentally changed the way we consume ERP, CRM, and mobile field service solutions.  We can purchase and deploy an enterprise level CRM literally within week.  You could purchase a support ticketing system this afternoon and start using it next week.  That's the benefit!  Now the danger is that if we don't consider our technology blueprint, we miss out on the opportunity to do this in a strategic way.
When we do take the time to address our systems architecture, the Return on investment is endless:

We likely deploy fewer applications, making for fewer subscription software costs on a recurring basis
Our systems speak to one another, raising data integrity and eliminating manual workarounds
We make decisions on our needs, not just hot fixes for our wants.
We have easier access to reporting across all functional areas
We have the opportunity to select a single platform that is robust enough to handle our requirements, then integrating ad-hoc as required.
Components of an effective technology blueprint (Slide 6)

By coupling a "technology blueprint" conversation with a powerful platform like Acumatica ERP, customers take advantage of the best of both worlds. 5 key components to an effective technology blueprint are the following:

Modern Technology
A platform that is built for specific verticals (Field Service, Manufacturing, Nonprofit, etc.)
Scalability (Especially when the licensing is for unlimited users!)
Minimal spreadsheets are required, minimizing the amount workarounds and separate silos of data
An easy to use system that users can adopt quickly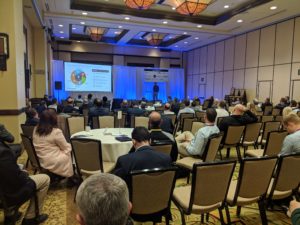 Acumatica ERP – Modern Platform for Growth (Slide 7)

During the Field Services Medical Event, I challenged everyone to start the "Technology Blueprint" conversation with all internal stakeholders upon returning to their offices. Technology has the power to make a good company great. It also has the power to magnify existing breaks in your process and bring to light inefficiencies.  The importance of an effective technology blueprint cannot be over emphasized.
If you need someone to help facilitate that conversation, we'd love to assist. Acumatica is a robust enterprise business management platform that includes vertical specific functionality in the cloud.  As a premier Acumatica partner, SWK Technologies would love to see if it might be a good fit for your organization!
Read how Acumatica stacks up against Microsoft Dynamics GP to learn the five factors to consider when choosing between cloud ERP.
Want to know more about Acumatica Cloud ERP?