Sage 100cloud for Manufacturing
Download Product Brochure
SWK Technologies respects your privacy and we are committed to protecting it. We will NEVER sell your contact information or any related information you submit to SWK Technologies to a third party.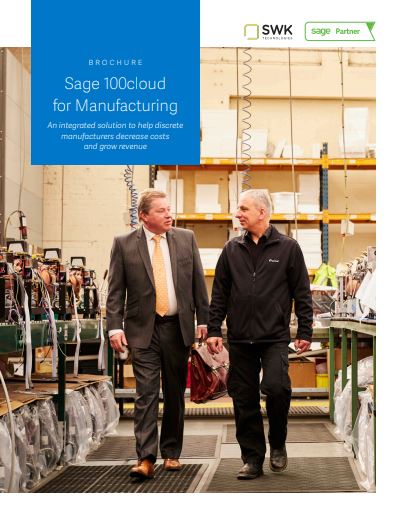 Discover what Sage 100 can do for your manufacturing business
An integrated solution to help discrete manufacturers decrease costs and grow revenue.
Increase Accounting Accuracy
Create multi-level bills tracking labor and related costs & activities (like overhead, direct AP costs, and status)
Produce accurate, informative reports detailing bill structures
Track costs by budget and make adjustments to inventory, materials, and production processes in real time
Seamlessly integrate with your distribution system for a 360 view of your operations
Real-time access to the status of every item
Improve customer satisfaction by setting accurate delivery expectations
Full visibility into inventory stock levels, open purchase & sales orders, production material requirements
Build times, lead times, and supply & demand are combined to calculate need for each inventory item
Key Functionalities of Sage 100 for Manufacturing
See how SWK can #EnableSuccess for manufacturers with Sage 100
SWK Technologies serves thousands of customers – including many discrete and process manufacturers – and we have the stories to prove it. View a few of our Customer Success Stories below to learn how SWK was able to deliver value to these manufacturers with Sage 100 & Sage 100cloud:
Request a Free Consultation from a Sage 100 Expert