Resource and Project Management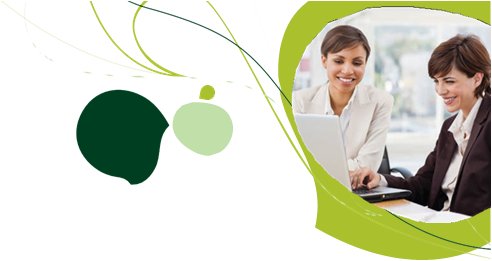 Sage 100 Electronic Reporting
Electronic Reporting*
The Internal Revenue Service Government Regulations outline the procedure for submitting year-end W-2 and 1099 information on electronic media. According to these regulations, companies reporting 250 or more W-2 or 1099 forms must file this information using electronic media. The simple, easy-to-use Electronic Reporting module for the Sage 100 ERP (formerly Sage ERP MAS 90 and 200) system is designed to assist you in complying with these regulations.
The Electronic Reporting module provides the capabilities for reporting wage and payment information from the Payroll and Accounts Payable modules and 1099-INT, 1099-DIV, and 1099-MISC information and submit it electronically in the format required by the federal government.
Several states have also adopted electronic reporting regulations, using the federal reporting requirements as guidelines. Sage 100 ERP users who file W-2s for employees or 1099s for vendors who work or live in the states that comply with either the current federal MMREF-1 format or the TIB-4 format can file their state information using the Electronic Reporting module. This module, connects with the Payroll and Accounts Payable modules, to help you comply with tax regulations quickly and easily.
*This module is compatible with Sage 100 Standard and Advanced ERP.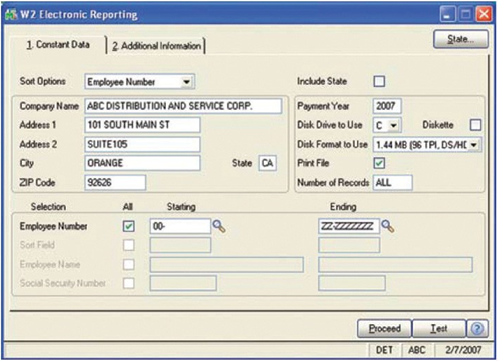 The simple, easy-to use Electronic Reporting module is designed to assist you in submitting year-end W-2 and 1099 information and complying with regulations.
Benefits
Process payroll without the paper— save time, money, and the environment
Increase efficiencies by electronically routing to the specified financial institution
Reduce the risk of fraud and conform to NACHA standards
Provide convenient payroll disbursements more quickly to your employees
Allow your employees to allocate by percentage or amount to multiple accounts
Compatible with Sage 100 Standard and Advanced   ERP
About Sage
Sage is a leading global supplier of business management software and services for small and midsized businesses. The Sage Group plc, formed in 1981, was floated on the London Stock Exchange in 1989 and now employs more than 12,300 people and supports more than 6 million customers worldwide. For more information about Sage in North America, please visit the company website at www.SageNorthAmerica.com. Follow Sage North America on Facebook, https://www.facebook.com/SageNorthAmerica, and Twitter, https://twitter.com/#!/sagenamerica.
Want More Information on Resource and Project Management?
Lead your company to increased efficiency and profitability. Have a complete solution for fully supporting one of your most vital assets: Your employees.
120 Eagle Rock Ave, Suite 330 East Hanover, NJ 07936 • 877.979.5462 • info@swktech.com
©2012 Sage Software, Inc. All rights reserved. Sage, the Sage logos, and the Sage product and service names mentioned herein are registered trademarks or trademarks of Sage Software, Inc., or its affiliated entities. All other trademarks are the property of their respective owners.