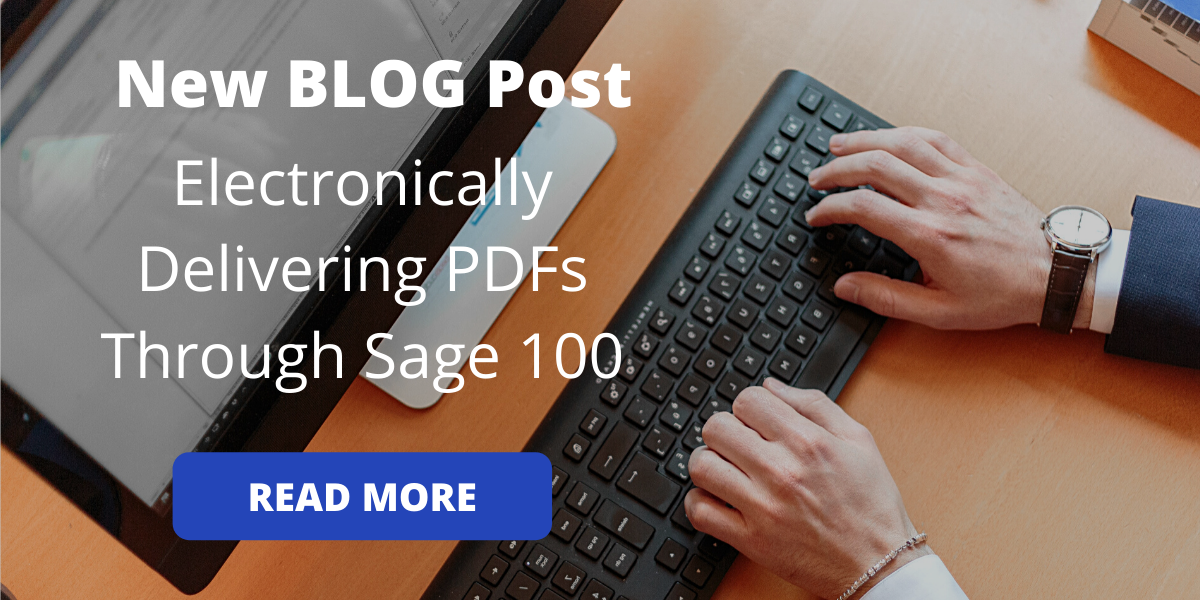 Katie Ford
Sage 100 Consultant
SWK Technologies, Inc.
Learn How to Send Electronic PDF Files from Your Sage ERP
Within Sage 100, you can electronically deliver PDFs and many other types of documents to customers, vendors, and employees. It takes just a few easy setup steps, and then you will quickly be on your way to reducing paper and mailing costs! Here is your guide to sending electronic files through your Sage software:
Configure email server within Company Maintenance
Configure Paperless Office for Electronic Delivery
Set up message to be sent with each type of form
Configure Customers, Vendors or Employees
Process documents and send emails
Configure Email Server
Configuring the email server is the most technical of the setup options. Please share this with your IT department to get the correct settings. Once you have those, navigate to Library Master -> Main -> Company Maintenance and choose the company for which you will be sending emails.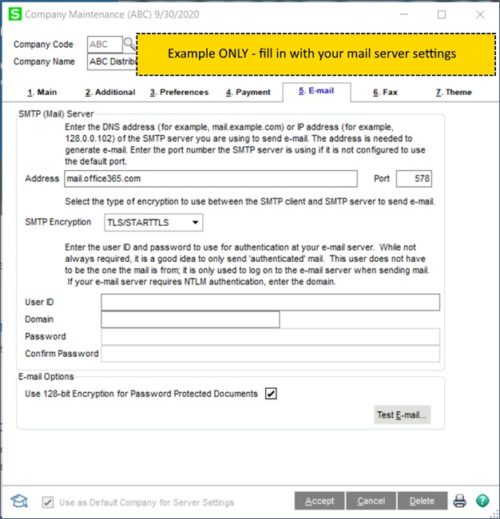 Navigate to Paperless Office -> Setup -> Paperless Office Options and check beside Forms
Navigate to Paperless Office -> Setup -> Form Maintenance

Select the Company Code
In the Module Code and Document fields, select All. The example below is for Accounts Receivable. "All" includes both invoices and statements.
Select the Enable Electronic Delivery check box to specify a default FROM e-mail address. (NOTE: many organizations set this email address as a group email address instead of an individual one)
In the PDF Storage area, enter a valid directory that is accessible to all workstations. This directory should be on the server we recommend a path such as \Sage\Paperless
In the Override Password and Confirm Password fields, enter a password, and then click Accept.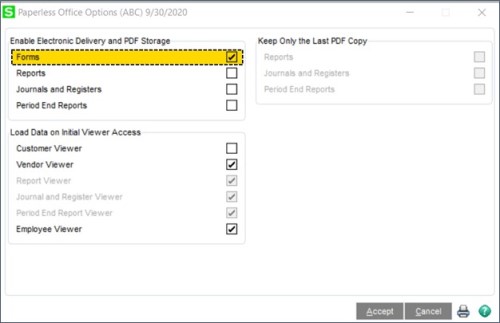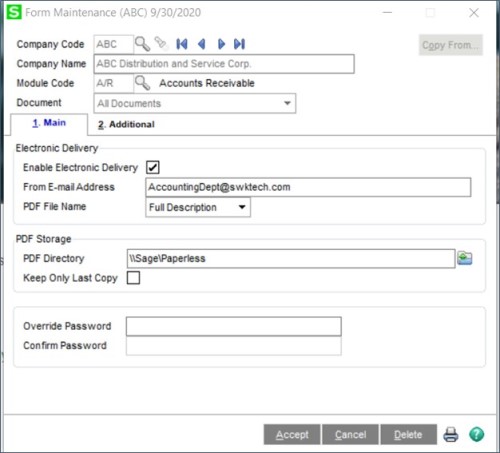 Set up the email message to be sent with each type of form
Navigate to Paperless Office -> Setup -> Electronic Delivery Message Maintenance
Select the document type, company, module, and document
Enter the Subject and message body you would like to send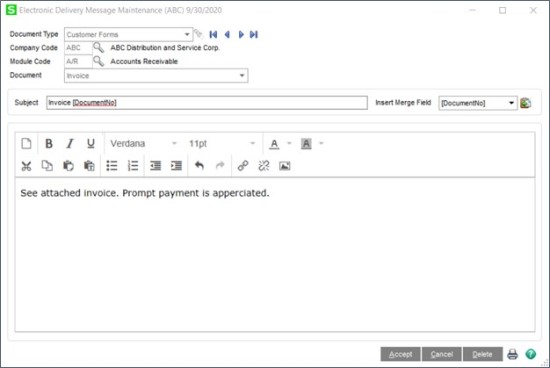 Configure Customers, Vendors or Employees
To follow our example below is how to set up customers to receive invoices via paperless office.
Navigate to Account Receivable -> Main -> Customer Maintenance
Press the Paperless button beside the email address (if you are on version 2020 select Paperless Delivery Options from the drop-down top right)
Select the document, and then check beside Email
Go to the E-mail tab and make your selections. Many clients use the Additional E-mail addresses to CC: their group email address.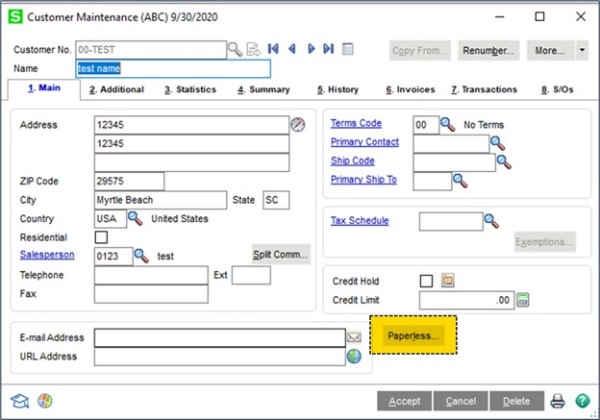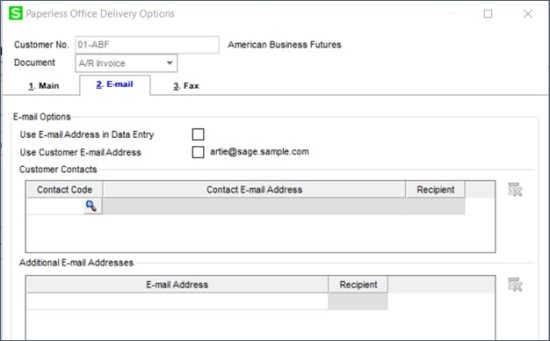 Process documents and send emails
You can email your documents by using the print task. As an example, with Sales Order printing.
Navigate to Sales Order -> Main -> Sales Order Printing
In the Paperless Office Output list, select Electronic Delivery Only
Click the Print button, and the sales order form prints as a .pdf file or electronically delivered depending on the delivery option selections.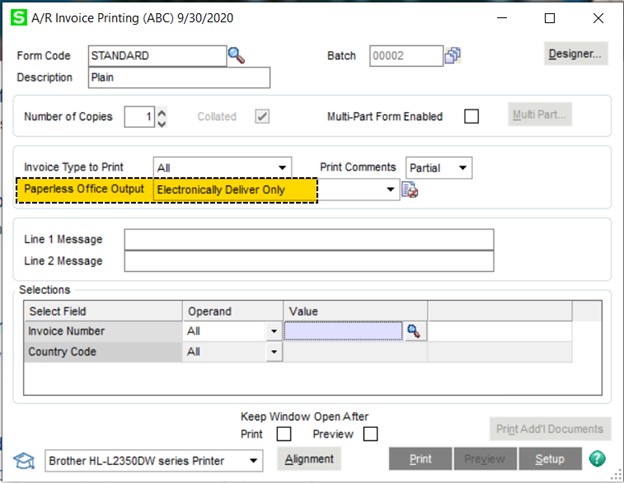 See if your document was sent
To see whether past documents have been sent, you can go to Paperless Office, Main menu, and Customer Viewer or Vendor Viewer (depending on the form). Then select the Company Code and Form Type, and enter a date range to view orders printed to Paperless PDF. One of the columns (you may have to scroll to the right to see it) will be a Sent column that would indicate whether a PDF was sent to a customer.
Speak to the Sage 100 Experts for More Tips & Tricks
This is one of many tips and tricks SWK Technologies can provide to Sage ERP users. SWK is a top Sage Partner with intimate knowledge of Sage 100 and Sage 100cloud, and we leverage this experience to make sure you capture the best possible value from your software investment.
Contact SWK today to answer all of your questions on how to best use your Sage 100 or Sage 100cloud ERP.
Talk to the Sage 100 Support Experts