Sage 100 2019 GL Features – Role Maintenance
Merilyn Van Zwieten
Senior Vice President
SWK Technologies

Sage 100 2019 brings many new automated features, including a few for your General Ledger module. Here's a tip for getting the most out of GL and your Sage system by leveraging some of this automation.
For all the Paperless Office lovers out there that have grumbled about general journals generating a separate PDF file for each entry, you are now in luck. In Sage 100 version 2019 there is a new option in Role Maintenance that allows each user to choose their preference – one file or a file for each entry!  The option is in tab 3, Module Options under General Ledger.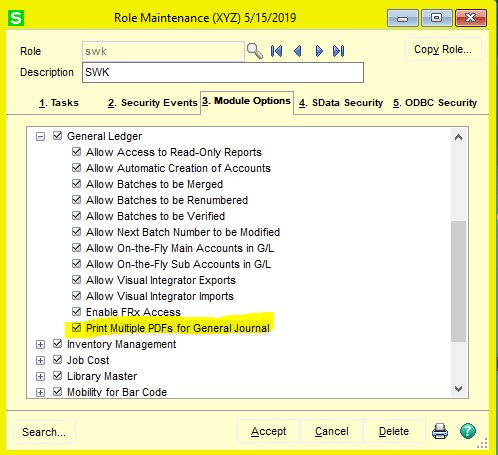 Is there a collective "Yippee" for this new feature?
Speak to the Sage 100 Experts for More Tips & Tricks
SWK Technologies is a premier Sage Partner with intimate knowledge of Sage 100 and Sage 100cloud, and we leverage this experience to make sure you capture the best possible value from your Sage ERP. Take advantage of our expertise by checking out our library of Sage 100 resources and improve your understanding of your software's versatility.
Visit our Sage 100cloud resource page here and dive into more Sage 100 educational content, or contact us to learn more.
Fill Out This Form for a Sage 100cloud Demo