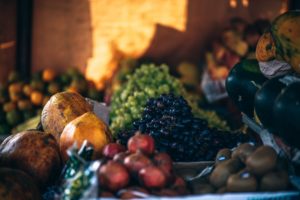 Fruit and vegetable processors and distributors have a stronger burden of responsibility for supply chain management than many other sectors. As part of the food and beverage industry, fruits and vegetable distribution is also beholden to complex regulations by the Food and Drug Administration (FDA) as well as the Environmental Protection Agency (EPA) in the case of imported items. In addition, consumer expectations have shifted towards calls for transparency and extensive traceability for fruit and vegetable products.
The "farm-to-fork" trend places a greater demand on food and beverage processors and distributors to provide fresher products when it comes to fruits and vegetables. This pressure also reflects general reactions to foodborne illness outbreaks of the past that originated from improperly handled produce. Contemporary fruits and vegetable distributors must be able to demonstrate compliance with regulatory and industry standards with extensive reporting, which can be facilitated by a modern Enterprise Planning Resource (ERP) system such as Sage X3. Sage ERP X3 is business management software by Sage that delivers comprehensive supply chain transparency for food and beverage distributors.
Here are five ways Sage X3 benefits businesses that distribute fruits and vegetables:
Track-and-Trace Visibility
Sage X3 delivers native traceability functionality to food and beverage processors and distributors that provides them with end-to-end visibility for their supply chain processes. This solution allows businesses in food and beverage subsectors to maintain accurate tracking data for material resources and end-products at every stage of processing and distribution. Users can modify data entry fields to reflect their circumstances and practices and establish reports for the lifecycle of each product from batch production to customer delivery.
Several governmental regulations require food and beverage manufacturers and distributors to maintain product traceability over multiple supply chain stages. The early 2000's saw several pieces of legislation pass that aimed to protect consumers from contaminated food and beverage products, including the Bioterrorism Act of 2002 and the Food Safety Modernization Act (FSMA). These regulations mandate that food and beverage businesses maintain traceability for their products throughout their production and distribution processes. Both foodstuffs processed domestically and those imported from other nations fall under the jurisdiction of these laws.
Items such as produce bring added risk for foodborne illnesses due to factors such as consumption practices (for example, vegetables being eaten raw) and an aging national population. This necessitates implementing a system for tracking consumables with inherent perishability over the course of their production and distribution lifecycles. Produce traceability helps prevent outbreaks from foodborne illnesses originating in contaminated fruits and vegetables from spreading further when identified and allows for quicker recalls.
Consumer trends also compel produce processors and distributors to maintain supply chain process visibility. Customer demands have transitioned from processed foods to more natural ingredients. Vertical transparency allows you to demonstrate compliance with consumer standards for fresh fruit and vegetable products.
Quality Control
Comprehensive visibility delivered by Sage X3 also contributes to enabling processors and distributors to inspect and ensure the freshness of their products. With automated quality control checks, users can compare current inventory against preprogrammed standards to determine distribution viability. Sage X3 allows you to maintain reports for the quality history of your ingredients and end-products to sort through and remove potentially contaminated batches.
The Centers for Disease Control and Prevention has estimated that as many as 48 million Americans were affected by foodborne illnesses each year. Most of these incidents resulted from unidentified causes that led to symptoms such as acute gastroenteritis, which can, in turn, lead to hospitalization and death in severe cases. Findings such as these prompted the passing of the FSMA and the establishment of quality standards for food processing facilities. The FSMA empowers the FDA to conduct inspections and testing at their discretion to determine compliance with these standards.
Financials Management
Implementing an enterprise level accounting solution such as Sage X3 enables your fruit and vegetable business to maintain your financial data in a centralized hub. Sage X3 keeps track of all of your financial transactions, calculates monetary values automatically, and produces consistent reporting for invoices. Sage business management software is built flexibly to provide support for multiple languages, currencies, and companies.
The fruit and vegetable packing and distribution industry extends across several US states and international locations. It also involves the use of several storage and distribution centers between trading partners or within individual companies. Sage X3 allows you to consolidate data from multiple orders and expenditures being facilitated among several locations and parties at any given time.

Planning
Sage X3 compiles, organizes and manages all of the user- and processing-generated data recorded for inventory and purchasing functions to enable easier decision-making. Planning functionality allows you to compare stock levels, budgets, purchases and other data to enable you to forecast for delivery schedules and profit margins. Sage X3's built-in analytics provide a streamlined user experience for more effective data reporting and review. With access to more informative data, fruit and vegetable processors and distributors are able to deploy solutions for their supply chain procedures much more easily.
Several factors can lead to sudden external or internal shifts in the food and beverage industry, including for subsectors such as fruit and vegetable processing and distribution. The perishability of raw materials used as ingredients and seasonal changes in consumer demand prompt fruit and vegetable companies to adapt accordingly. Consistent visibility allows users to extract data from their supply chain processes to forecast for future trends and plan for impending supply and demand.
Supply Chain Management
To allow you to interact seamlessly with your partners, Sage X3 provides streamlined supply chain management capabilities that alleviate pain points in supplier processes. It allows you to coordinate purchasing by tailoring communication and exchange procedures according to the established practices of your partnership. Sage ERP X3 also compiles and presents inventory and financial for both yourself and your supplier to allow for more accurate measurement in your trading processes.
For increased integration and more seamless communication with "big box" partners, consider implementing the MAPADOC EDI solution. EDI (Electronic Data Interchange) is electronic communication software that enables you to comply with the trading standards of larger retailers. MAPADOC is the only EDI solution made for full integration with Sage X3, and SWK can guide you through your implementation to ensure your software is tailored to your specific trading pain points.
Sage X3 Provides End-to-End Visibility Over Fruit and Vegetable Supply Chains
Fruit and vegetable processors and distributors require accurate insight into their supply chain processes to ensure continued profitability and growth, as well as to adhere to regulatory obligations. Sage X3 delivers consistent, informative traceability overall distributed products that allows for quicker reaction times to emerging situations and better decision-making in potential instances of noncompliance.
Read through these five ways to maintain compliance in food and beverage manufacturing with Sage X3 to discover additional methods of adhering to FDA regulations for fruit and vegetable processing.
Download the ebook on Enterprise Management F&B, Powered by Sage.