SWK Technologies is proud to announce that we will be joining our partner Acumatica at the World of Concrete (WOC) convention. WOC will take place February 3 – 7 at the Las Vegas Convention Center in Las Vegas, Nevada. Senior Sales Executive Dene Powell and Solutions Engineer Mike Duberstein will be representing SWK at booth N1463 alongside Acumatica and communicating to attendees the benefits of cloud-based construction accounting software.
What is World of Concrete?

The World of Concrete is the largest annual international event dedicated to concrete and masonry professionals. The WOC was introduced in 1975 in Houston, TX to the commercial construction industry. It presented 77 exhibiting companies in 22,200 sq. ft of exhibit hall, with 1,550 construction industry professionals in attendance.
43 years later, WOC now boasts 1,500 exhibiting companies and 55,000 registered industry professionals in more than 725,000 sf of exhibit space. WOC also offers both 90-minute and 3-hour seminar sessions and more than 150 skill-building seminars with top industry experts.
Why You Should Attend WOC with SWK and Acumatica
As a busy contractor, you're always looking for ways to make smarter decisions, improve project visibility and achieve greater profitability for your business. With Acumatica's cloud-based construction accounting software, you can easily streamline Job Cost Accounting, Project Management, Payroll, Inventory, Service Management and CRM – all in one cohesive solution. Adaptable cloud and mobile technology give you a real-time view of your business anytime, anywhere and on any device.

Join SWK Technologies and Acumatica
at World of Concrete – Feb 4-7 at Booth N1363
Acumatica Cloud ERP delivers multiple solutions for your operational needs, from web-based accounting to feature-rich purchasing, material management and field service capabilities. There is only one true cloud construction software solution – Acumatica.
Cloud-based Construction Accounting Software with Acumatica
Whether you are a concrete, masonry or construction professional, SWK and Acumatica can help you grow your business and your profits. With Acumatica Construction Edition, you'll have easy-to-use cloud-based construction accounting software that includes project management, accounting, contracts, job costs, commitments, subcontracts, change orders, compliance and retainage.
As the Acumatica Partner of the Year for the past two years, SWK Technologies will provide you with the right guidance for your cloud ERP migration. Our SaaS solution experts will help you chart your path to real-time visibility and field service management using in-depth feature knowledge and an understanding of your industry needs.
Join Us at World of Concrete in Las Vegas February 3-7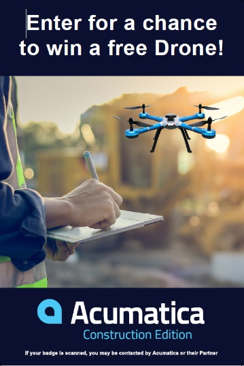 Acumatica will also be giving attendees who stop by our booth a chance to win a MJX RC Bugs6 drone. Attendees who have their badges scanned will be entered in a raffle with the drone as the grand prize.
We'd love to tell you more! There are two ways to connect with us at World of Concrete:
Visit SWK Technologies and Acumatica at booth N1463. There, you can see Acumatica Construction Edition in action and enter our raffle drawing to win a drone!
Schedule a one-on-one meeting to discuss your technology needs with one of our experts. Just email Susan Little at little@acumatica.com to select a time.
If you have any questions, you can reach us at any time before the event at info@swktech.com or filling out the form below.