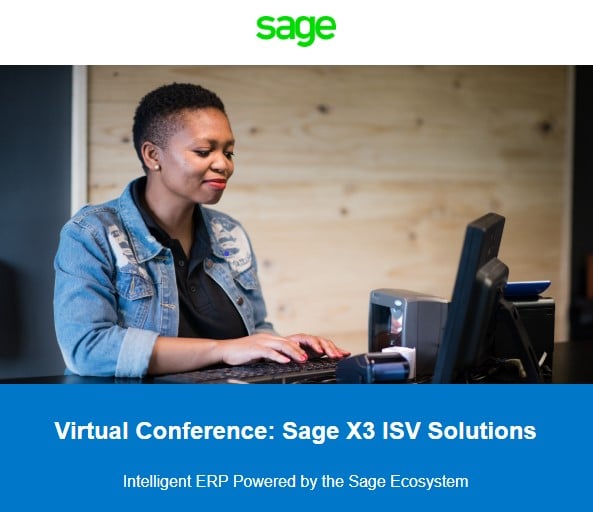 Sage North America will be hosting a 4-hour Sage X3 Virtual Conference on August 5, 2020 from 9 AM – 1 PM PST/12 PM – 4 PM EST. This online virtual event is dedicated to Sage X3 customers and partners, including SWK Technologies, and will feature breakout sessions presented by multiple Sage ISVs (independent software vendors).
Discover everything the Sage ecosystem has to offer Sage X3 users and interact directly with presenters, product knowledge experts, industry thought leaders, and fellow customers and partners to answer all your questions about your ERP. The conference will feature a virtual exhibit hall where attendees will have access to information on topics such as:
Accounts payable (AP) and payment automation
Inventory management and optimization
Leveraging automation as a business driver
BI software best practice and tools
See below for a full agenda of all presentations available during the Sage X3 Virtual Conference:
Sage X3 Virtual Conference Agenda
Time (EST)

Presentation Name

Presenter

12:00 – 12:10

Welcome

Nancy Harris

EVP and Managing Director, Sage North America

12:10 – 12:30

Intelligent ERP (iERP) Powered by the Sage Ecosystem

Mike Stein

Product Marketing Manager, Sage North America

12:30 – 12:40

Break

12:40 – 1:15

3 Ways to Go Touchless in AP & Beyond

DocLink by Altec

12:40 – 1:15

Maximize your Sage X3 Investment with eCommerce

CommerceBuild

12:40 – 1:15

Drive More Profit From Your Inventory

Sage Inventory Advisor

1:15 – 1:25

Break

 

1:25 – 2:00

Take Control of Your Budgeting Process with True Sky

True Sky

1:25 – 2:00

How to Improve Warehouse Operations and Increase Productivity with Datalinx Warehouse Manager and Sage X3

Datalinx

1:25 – 2:00

Make the Smart Move towards an Intelligent ERP with Sage Data & Analytics—The Complete Solution for Insights Across Sage X3 and All of Your Data!

Sage Data & Analytics

1:25 – 2:00

Fully Integrated Formulation & Regulatory Control Software for Process Manufacturers and Food & Beverage Distributors

Procession

2:00 – 2:10

Break

 

2:10 – 2:45

The Impact of a Black Swan Event on Transportation and Logistics

ProcessWeaver Shipping

2:10 – 2:45

5 Ways Sales Teams Can Help Finance Improve Cash Flow

Skynamo

2:10 – 2:45

The New Era of Customer Fulfillment—Full-Service EDI and System Automation for Sage X3

 

SPS Commerce (MAPADOC)

2:45 – 2:55

Break

 

2:55 – 3:30

2020 Sales Tax Changes and the Impact of COVID-19

Sage Sales Tax (Avalara)

2:55 – 3:30

One Solution for Complete Data Management and Analytics

Sage Enterprise Intelligence

2:55 – 3:30

Successfully Navigating 2020—Building a World Class, Agile Planning Capability Powered by Sage and Prophix

Prophix
For more information on the agenda and to register, click here.