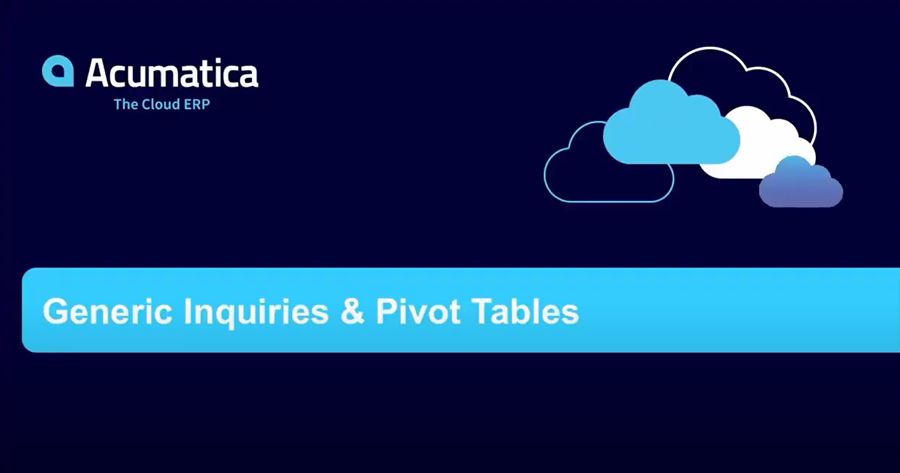 Learn more about Acumatica Generic Inquiries with this video overview, which covers how to use the GI functions to gain visibility into the data you need, as you need it. The Generic Inquiry functionality in Acumatica Cloud ERP provides a quick and relatively easy way to filter through and organize disparate dimensional fields to build out reporting, dashboards and business intelligence (BI) analytics that is legible for all users. Watch the video or continuing reading the transcript to discover more:
Acumatica: Generic Inquiries (GI) Video Transcript
Our Generic inquiries.
So, if I pop over to System Customization and then Generic Inquiry, this is where I can find the existing Generic inquiries of my system and I can also start to build new ones as well.
I'll pull an Inquiry that I know already exists, something like my invoiced items.
Now, what we're doing here is this is just a bit different from a report because at this point we are asking Acumatica to produce data for us based on different relations and parameters that we have defined, but we are pulling this information from Acumatica fields which allows us to actually produce this as an Acumatica screen.
So, what do I mean by that? Well, here's all of our tables that we've included, here's how they are related to each other.
When I view my Inquiry, notice this looks different from that report we saw earlier it's not a PDF document but it's actually a screen within Acumatica, so that allows us to do a number of things – it allows us to use pivot tables, for example.
So, I have a pivot already set up for this particular Generic Inquiry and this pivot is looking at sales by product, by quarter.
So, we have our Sales Data by Product by Quarter, but how can we take this one step further. If I customize this pivot table, I have a variety of fields that I can pull in, and in this case, I'll pull in a filter for State. Very basic, but I'll save and close. When I refresh that pivot table, now I can actually take that filter and start to utilize it within my pivot.
So now not only am I seeing Sales by Product by Quarter, but now I'm actually seeing Sales by Product by Quarter by State
So, you can see that my States have been grouped together over here in my rows and then the products being sold within those States, as well as by quarter. So, you can get very dimensional as to how you utilize Acumatica reporting and analytics.
Last thing I will say about these Generic inquiries, and let me just take that same invoiced items example that we were looking at, is you can expose these via OData using Acumatica APIs. So, you can push this data out over our APIs and use a tool like Power BI which is Microsoft's business intelligence tool to take your analytics a few steps further.
Discover More Tips, Tricks and Other Features for Acumatica
SWK Technologies will help you get the most out of your ERP investment, leveraging our deep technological and industry knowledge as a top Acumatica partner and Community resource. Check out some of our Acumatica videos and other educational resources, and reach out to us when you're ready to learn more tips and tricks to maximize your value return on your software.
Contact SWK here to gain access to more Acumatica tips, tricks, updates and tailored demos.
Learn More About Acumatica Generic Inquiries