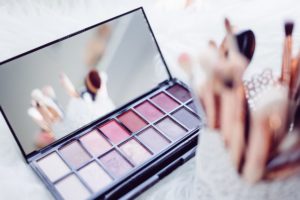 Cosmetics manufacturing is governed by regulations both domestically and internationally. Many countries follow the standards set by the International Cooperation on Cosmetics Regulation as well as those set forth by the International Organization for Standardization (ISO) in mandates such as ISO 22716:2007. In the U.S., cosmetics manufacturing is overseen by the Food & Drug Administration (FDA), while Canada falls under the domain of Health Canada.
Health Canada fulfills a similar role as the FDA does in the U.S. by monitoring production and distribution in multiple vertical sectors, including cosmetics. Several of the regulations implemented by Health Canada may appear virtually identical to those set forth by the FDA, however, there are a few key differences in content and procedure that must be noted by any manufacturers who will be alternating between the requirements of the two agencies.
These are 10 of the most important regulations governing cosmetics manufacturing in Canada:
1. Food and Drugs Act & Cosmetic Regulations
The manufacturing of cosmetics in Canada falls under the jurisdiction of sections 16, 17, 18, 27 and 30 of the Food and Drugs Act (R.S.C., 1985, c. F-27) as well as the Cosmetic Regulations (C.R.C., c. 869) law. The Food and Drugs Act defines what products are labeled as cosmetics, and the Cosmetics section of states the primary rules governing the production and sale of cosmetic products in Canada. These include enforcing sanitary conditions for production, the prohibition of sale of any product not meeting these conditions and maintaining clear and consistent labeling for all products that reflects established standards.
The Cosmetic Regulations law provides the more detailed requirements for the production, distribution and sale of cosmetic products in Canada. These include the obligations for labeling, storage of items under specific conditions and for different products, and stipulations for certain ingredients. It also contains procedures for coordinating with regulatory officials.
2. Risk Assessment
All cosmetic regulations in Canada are based upon a foundation of determining the risk a product may pose to consumers. This applies to many other consumer product categories and is designed to prevent items from harming users when applied as intended. All cosmetic products will be subject to risk assessments of their production, distribution, and use under Health Canada's Consumer Product Safety Program to ensure that in performing their labeled function they do not cause unexpected damage. The assessment will also consider factors such as the severity of any possible injury and potential consequences from unintended use of the product.
3. Storage
Cosmetics manufacturing materials and end-products must meet the cleanliness and safety standards of Health Canada in order to be deemed complaint. Both the Food and Drugs Act and the Cosmetics Regulations law require that storage spaces of said items meet certain sanitation standards that prevent items from becoming tainted and not functioning as intended during use by consumers.
4. Ingredients
Health Canada maintains a specific list of ingredients which cannot be included in cosmetic products made available for sale in Canada. Referred to as the Cosmetic Ingredient Hotlist (or simply the Hotlist), it contains all materials prohibited from being used in cosmetic products in Canada, as well as compounds that may be related to those ingredients. It also includes a list of items whose use is restricted along with their base elements, what product they are typically used in, and any warning labels that must be displayed on product packaging if they are used. However, even if an ingredient is not currently on the Hotlist, Health Canada may still decide to limit its use after an assessment.
5. Labeling
Clear labeling is another stipulation under both the Food and Drugs Act and the Cosmetic Regulations law. Labels must distinctly list all of the ingredients included in the product and additional categories of each compound if required to do so by the governing regulations (such as for botanical ingredients). They must also establish if the product can cause any injury to one or more areas of the human body. Additionally, if ingredients are not listed by the term applied to them under the International Nomenclature of Cosmetic Ingredients (INCI), then they must be listed in both English and French according to Canadian law.

6. Inspection & Enforcement
Under Health Canada's Cosmetics Regulations and the Food and Drugs Act, the Canadian regulatory agency reserves the right to conduct regular inspections of cosmetic products sold in the country to deem if it remains compliant. If a product is found to be non-compliant with regulations, then they also may work jointly with the manufacturer of said product to ensure future compliancy.
7. Importation into Canada
All cosmetic products imported from the U.S. or any other country into Canada will be subject to inspection upon notification of intent to sell within Canada's national boundaries. The manufacturer of said product must allow their product, its ingredients and the procedures surrounding its production to be reviewed to determine compliancy with Canadian regulations. Imported products that are relabeled or modified to become compliant may become available for sale if done so within three months of importation.
8. Notification
Whether manufactured by domestic or foreign parties, all intentions to sell cosmetic products must be declared to Health Canada within 10 days of the first sale made in Canada. This must be done by completing and submitting a Cosmetic Notification Form (CNF). In the event that any changes are made to the information recorded on the CNF, the manufacturer must submit another notification to Health Canada appraising them of the situation.
9. Cosmetic-Drug Interface
Certain items may be found by Health Canada to have properties of both cosmetic and drug products, in which case they will receive their own classification of product at the cosmetic-drug interface (PCDI). PCDIs include categories such as natural health products or any other medicinal item that is intended to affect the internal processes of the human body. These types of products fall under the jurisdiction of the Natural Health Product Regulations and are considered separate from personal care products.
10. Future of the Self-Care Product Classification
Cosmetics fall under the self-care consumer product classification, along with the natural health products and non-prescription drugs. Currently, each of the three categories is subject to their own set of regulations. However, Health Canada has been reviewing how this division of regulations is affecting their ability to determine risk post-market, among other factors. The proposed changes are presently being implemented, and these classifications and the regulations governing them may be subject to change in the future. One such modification may be the introduction of tracking requirements similar to those mandated by the FDA in the U.S.
SWK's Enterprise Management Cosmetics & Personal Care Products Bundle, Powered by Sage, Ensures Compliance with Cosmetic Manufacturing Regulations
SWK Technologies has created the Enterprise Management Cosmetics & Personal Care Products turnkey solution, powered by Sage, based on Enterprise Management (formerly Sage X3) to address compliance concerns for Health Canada, the FDA, and any other regulatory agency in the U.S. and Canada overseeing manufacturing. The Enterprise Management Cosmetics & Personal Care Products bundle provides end-to-end supply chain visibility of your compliance procedures to enable a pain-free method of adhering to regulations domestic and international.
Check out our Enterprise Management bundled solution to learn about how it can help you meet compliance in cosmetic manufacturing.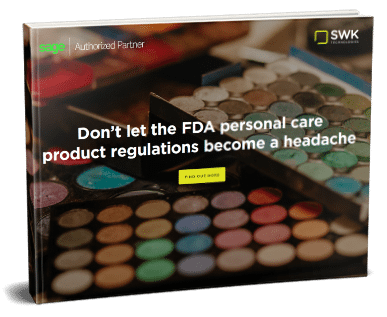 Learn more about each of these features and its impact on supply chain management and compliance with our EBOOK by downloading it today.