Seth Kuhn
Sales Engineer
SWK Technologies
Acumatica's technology is extraordinary and borderline overwhelming!
This shouldn't be that surprising, as when the cloud ERP provider secured $25M in venture capital funding, they said it would almost exclusively be going into product development.
Why was the technology especially compelling, this year?
1. Modifications to Acumatica that were previously customizations (albeit perhaps minor) are now 'configurations,' meaning that consultants can do even more during implementation without developers. Additionally, customer instances of Acumatica will be more sustainable through version upgrades, as these modifications are done using their platform tools.
2. Ability to scan directly into Acumatica via the mobile app!
3. A new Processing Bar for greater insight into the progress and detail of large batch processing that also lets you multi-task and move on to other screens in the system (vs holding you hostage on that screen until it's done).
4. Machine Learning – the beginnings of AI have been enabled to:
a. Produce smarter query returns in the global search, making the help documentation even more useful and quicker to get to what you're looking for.
b. Suggestive data entry field population based on historical use, i.e. typically when you enter a Bill for Power Co ABC you use the same accounts and subaccounts. The system will start to remember those accounts and populate them for you.
5. And lastly, the platform is strong enough that they're getting into more of the detail working. Like Michelangelo moving to the faces of his frescos. Things like allowing you to change the color of each Company and Branch beyond the indigo and Acumatica blue that were previously the only two choices. Combined with the conditional highlighting and formatting on generic inquiry screens (reports) are indications that the technology is in a very confident place.
The Commerce Edition (Ecommerce) is making a pivot that could be HUGE.
For the past couple of years Acumatica has been leading with Magento as the endorsed/recommended ecommerce shopping cart. And that makes sense, Magento is a very powerful application that has grown to be one of the biggest in the market by being Open Source and by also having a free version (not a free trial) to start with. One of the downsides to Magento, though, is that it needs to be hosted. It does not have a SAAS (hosted) license and so you must host it yourself or rely on your Magento partner to manage the hosting.
This year, I was very intrigued that BigCommerce had a booth. BC is hosted, is SAAS, and is also a relatively lighter, user-friendly shopping cart to work with…less of a learning curve with BC. In addition, Acumatica has announced that they will be 'owning' the BigCommerce to Acumatica integration as part of their Commerce Edition. So…BC is hosted, it is not as expensive and Magento, it does not take a transactional percentage, as Shopify does, and Acumatica is owning the integration. BC also has market alignment with Acumatica (and has for years) in the mid-market space.
All things considered, I believe BigCommerce will better help Acumatica compete with NetSuite in the ecommerce arena. NetSuite has SuiteCommerce, which is essentially a shopping cart that's part of the ERP. Epicor did a similar thing with iNet. While it's certainly convenient to have your ERP publisher throw in an "Ecommerce module," there's no conceivable way that those "included shopping carts" can even begin to stack up to the shopping cart publishers who have already participated in the "arms race" to be the best, and left their competition in the dust. Three shopping carts have "won" that race: Magento, BigCommerce, and Shopify. It seems to me that the question will come down to…would you rather your shopping cart be published by a shopping cart publisher who's a leader in that space, by or your ERP publisher who has many other things to do and develop?
The ultimate barometer will be how much a given customer really cares about ecommerce, how big of a slice do they see it being for their business, and what resources, if any, do they intend to have running the ecommerce part of their business. Either way, the next few years should be interesting. As for me, BC isn't the past, it's the future.
The Reporting Tools available with Acumatica and their ISVs are now sophisticated and comprehensive.
1. Of course, you have the financial reports coming out of the GL that you can create with the Analytical Report Manager.
2. The Report Designer allows you to format your invoices, checks, etc.
3. The Generic Inquiry tool has been exceptional for years, but gets better with every version. The filtering is stronger and more dynamic now, especially "on-the-fly." There are now side panels to get more detail on business accounts (customers, vendors, employees) without needing to drill in. You can create pivot tables and dashboards off of your generic inquiries, and now you can also have conditional formatting, i.e. Customer's who owe us more than $5,000,make them red (or taupe!), Vendors who have given us special terms for paying early and we're coming up on the special terms due date, let's have them automatically be highlighted yellow (or fuchsia!).
4. Business Intelligence (BI) – Microsoft Power BI, a free tool, has always been able to connect to Acumatica (via the OData technology), which you can use to go create more dynamic dashboards with maps and so on. However, if you don't want to build it all from scratch, you can also get 5,000+ prebuilt dashboards through DataSelf and Tableau. While it's not free, the value is easy to see.
5. Excel-based Reporting – Velixo Reports from Gabriel Michaud allows you to pull in GL level detail to Excel where you can do those spreadsheet magic tricks that you like to do while allowing you to maintain the ability to drill into the detail and drill right back to (and open) Acumatica. You can also import budgets from Excel! So you don't have to go get that $50,000 Budgeting/Forecasting tool…unless you really want it.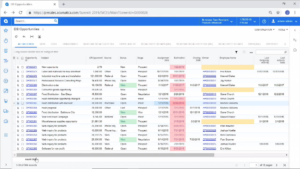 Overall, the Summit was an exciting event, especially for us at SWK who took home a number of partner awards. And yes, while I'm definitely drinking the Kool-aid…I have to say, it is delicious. The technology is more modern and powerful than any other ERP available to the mid-market, foundationally the product is 90-95% there, and in a demo, Acumatica can certainly "show it colors."
Watch this video blog from Cloud Solutions Architect Jeremy Potoka to get more takeaways from Acumatica Summit 2019.
Want to know more about the technology in Acumatica Cloud ERP?