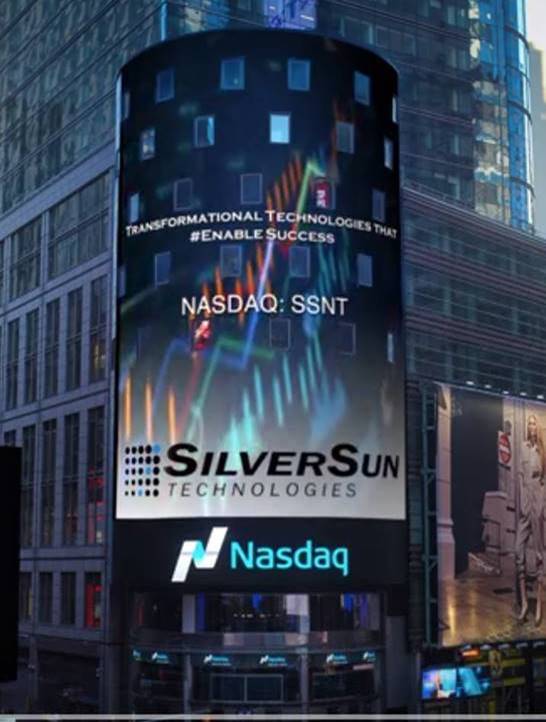 EAST HANOVER, NJ, August 1, 2018 – SWK Technologies' parent company, SilverSun Technologies, a national provider of transformational business technology solutions, has accepted an invitation to participate in the Opening Bell Ceremony at the Nasdaq MarketSite in Times Square, New York, on August 15. The event will be broadcast live from Times Square at https://new.livestream.com/nasdaq/live on the day of the event.
The Ceremony will start at 8:30 AM Eastern Time and proceed until 9:45 AM. Guests will begin arriving at commencement and will be allowed to take photos between 8:35 and 9:05, and 9:15 and 9:20. The Ceremony proper will open at 9:20 with a Welcome Video and comments from representatives of Nasdaq and Mark Meller, CEO of SilverSun and designated Bell Ringer.
Guests will be invited to join Meller on stage at 9:27 AM before a 10-second countdown commences at 50 seconds past 9:29 AM. At 9:30 AM, Meller will officially ring the bell during the live broadcast, after which guests will be escorted back off the stage for additional photos before the program ends.
SilverSun Technologies applied for and was approved for public listing on the NASDAQ Capital Market in early 2017 and began trading April 19 of that year. Mark Meller called the achievement "a tremendous accomplishment and corporate milestone" for SilverSun and added that this was accomplished without any outside financing. Meller credited the team at SWK Technologies for contributing to SilverSun's organic growth through "hard work, dedication and commitment to excellence."
About SWK Technologies, Inc.:
SWK Technologies, Inc. (www.swktech.com) delights its customers and partners by providing solutions and expertise that transform their businesses and enable success. SWK's Strategic Technology Advisory Team (STAT) provides business management consulting services that help maximize value derived from technology investments. SWK Network Services is a managed network service provider that delivers IT infrastructure management and training, as well as business continuity, penetration testing and data protection solutions. Secure Cloud Services, Inc. offers Business Application Cloud Hosting that supports SWK Technologies' ERP, CRM, WMS, and other software solutions. SWK's parent company, SilverSun Technologies, Inc., is publicly traded (NASDAQ: SSNT).
About SilverSun Technologies, Inc.:
We are a business application, technology and consulting company providing strategies and solutions to meet our clients' information, technology, business management, and network and cybersecurity needs. Our services and technologies enable customers to manage, protect and monetize their enterprise assets whether on-premise or in the "Cloud". As a value-added reseller of business application software, we offer solutions for accounting and business management, financial reporting, Enterprise Resource Planning ("ERP"), Warehouse Management Systems, Customer Relationship Management, and Business Intelligence. Our customers are nationwide, with concentrations in the New York/New Jersey metropolitan area, Chicago, Arizona, Seattle, Greensboro, and Southern California. SilverSun's latest venture is Critical Cyber Defense Corp., a provider of enterprise-class cyber threat solutions for the mid-market, including Cyber Security-as-a-Service.