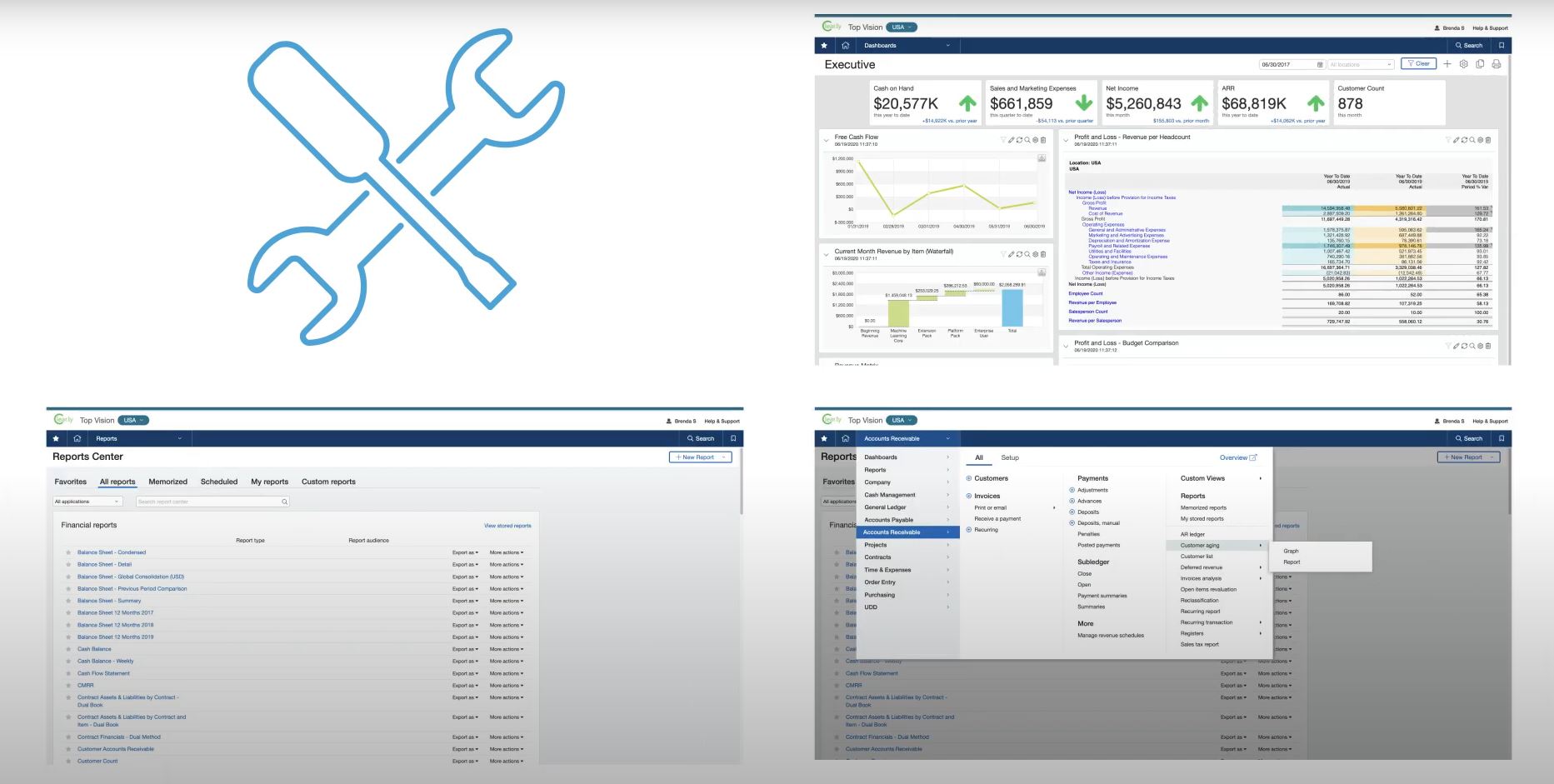 Learn more about the Sage Intacct reporting capabilities and dimension-powered dashboards with this quick video walkthrough. Discover how this modern cloud accounting software empowers your team to capture greater financial visibility by watching the video or continue reading below:
Sage Intacct Reporting and Dashboards Video Transcript
Data-driven decisions that transform organizations require broad and deep visibility into financial and operational data.
Meet Brenda – she provides financial reporting and analysis for her organization. In her old financial system, she spent most of her time exporting data to spreadsheets and external reporting tools which delayed getting information to decision makers and left little time for analysis. Since moving to Sage Intacct, she enjoys built-in tools to analyze and drill down to real-time source data.
Brenda has multiple ways to access her data depending on where she is in her business processes. Customizable dashboards provide daily visibility into role-based and process-based metrics reports and charts for quick insight and data-driven decisions.
For in-depth reporting the Sage Intacct report center contains a library of reports and financial statements as well as tools for Brenda to modify, duplicate and create completely new reports and charts. Module menus give her quick access to activity-specific sub-ledger reports, like customer aging and check registers.
To produce financial statements, including income statements, balance sheets, cash flow statements and more, Brenda turns to financial reports and charts that pull real-time data from the general ledger. They provide filtering and hierarchy based on dimensional structures.
Dimensions are things like location, department, customer or project that can be assigned to or tagged on transaction line items. She can even create user-defined dimensions to further break out or refine her reports
Out of the box, task-centered reports with set selectable filters help Brenda and her team in their day-to-day reporting. Process reports provide the team with information for processing transactions, interacting with customers and vendors, and speeding up the close.
With the Custom Report Writer, Brenda creates ad hoc reports to look up, sort and filter information across related records, like finding phone numbers for all the customers that ordered a particular product or service. She uses these reports along with her activity reports to provide insight into her organization's unique business processes
The interactive Custom Report Writer gives Brenda in-depth lookup and analysis of transactional data so she can make comparisons and find trends. A library of more than 60 interactive reports give her a quick start for rapid analysis of key transactional information With the powerful build options, she creates reports and pivot tables on live production data using hierarchical field selection, drag and drop, automatic formatting, formulas and subtotals.
Reporting comes with granular permissions, allowing Brenda to grant access only when and where it's needed. She can allow access to anyone, limited to certain user groups or give individual permission to key people
When it came time to learning how to use all the reporting tools, Brenda found everything she needed in the Sage Intacct Education Center, with options for hands-on courses held live in various cities, virtual classroom instructor-led courses and on-demand learning, the entire finance team quickly became Sage Intacct reporting pros.
Get More Sage Intacct Tips & Tricks with SWK Technologies
Sage Intacct offers plenty of options for producing and tracking financial reports, and SWK Technologies will help you uncover the best workflow fit for your current processes. Visit our Intacct resource pages to learn more and get in touch with our experts to see more tips, tricks, updates, news and improvements for your modern cloud accounting software.
Contact SWK here to discover more Tips & Tricks for Sage Intacct and get the most out of your financial management systems.
Learn More About Sage Intacct Reporting