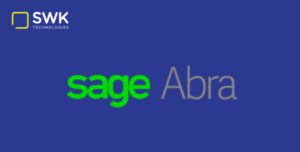 In June 2019, Sage officially announced that the Sage Abra Suite for human resource and payroll management would be retired by December 28, 2020. The final release for current Abra users before "End of Life" will be in September 2020. Updates for tax tables, legislation changes and security patches will be discontinued after this date. The support center for Sage Abra HR and payroll software customers will cease providing assistance after December 2020.
While software End of Life (EOL) does not mean the product will be shut down, it does denote the end of program and data upgrades that allow your system to handle new security threats and information. In the case of a human resource management system (HRMS) such as the Sage Abra software, users will no longer be able to take advantage of compliance automation features that are regularly updated for complex regulatory changes. The good news is that SWK Technologies will be able to help walk you through what you must do before December 2020 to keep your human resource processes running smoothly.
Here are the most important items to consider when moving on from Sage Abra to a new HR solution:
End of Life – Visual FoxPro & Abra Support Discontinued
The reason for Sage's retirement of the Abra HR software is the previous discontinuation of the programming language which powered the software's environment. Microsoft announced the end of development for Visual FoxPro (VFP) in 2007, though Sage continued to provide its own updates for the VFP-built Abra to ensure it kept running smoothly. VFP applications still work on more recent versions of Windows with some modification, but the language is outdated and unable to power the database of a modern HRMS.
Due to Abra's legacy framework, Sage decided to cease investing in enhancements for the aging system and will only release tax compliance updates until September 2020. Even without Sage Abra EOL approaching, your business should consider moving to a different HRMS solution ASAP as current Windows patches are not tested for VFP code, which can lead to serious network security vulnerabilities in your legacy system.
2020 Year-End Processes Will Be Affected
The top consideration for migrating from the Sage Abra Suite to a new HRMS solution is the time factor. There will be no product updates past Q3 2020, meaning that you will not receive the latest tax tables and legislative information for your year-end activities in Q4 2020. This means you will not be able to use your software to process all the data you need for Q1 2021, including Sage Abra payroll information.
Recommended Next Steps for Sage Abra Customers:
Conduct an audit of your current technology requirements.
Your business must start reviewing alternatives now to ensure you are able to find something that can handle your specific year-end tasks in 2020. This should include an audit of what your current technology requirements are – SWK can provide a free assessment of your HR and payroll needs to make a recommendation for the solution that best fits your human resource management processes and adds onto the value provided by Sage Abra.
Contact SWK to evaluate alternatives and select a new solution.
SWK Technologies is a recognized Sage Partner that has worked alongside many of our ERP customers find the right HR and payroll solutions for their Sage software system. SWK's human capital management (HCM) practice will help you migrate from Sage Abra to a new HRMS and keep your human resource management processes working seamlessly.
Develop a migration plan that ensures migration completion before September 2020 – don't wait until December 2020!
Chances are you are currently using your Sage Abra payroll software to process quite a bit of data, and once you do decide to migrate, you will have to move all of those files to your new system. That is why your business must draw up and implement a comprehensive migration plan with input from a Sage Partner such as SWK. Your plan must include the extent of your existing processes, databases and the resources you can devote to the project to help you develop a comfortable deadline for completion with enough time to fix anything that goes wrong.
Reach Out to Us for Sage Abra Support