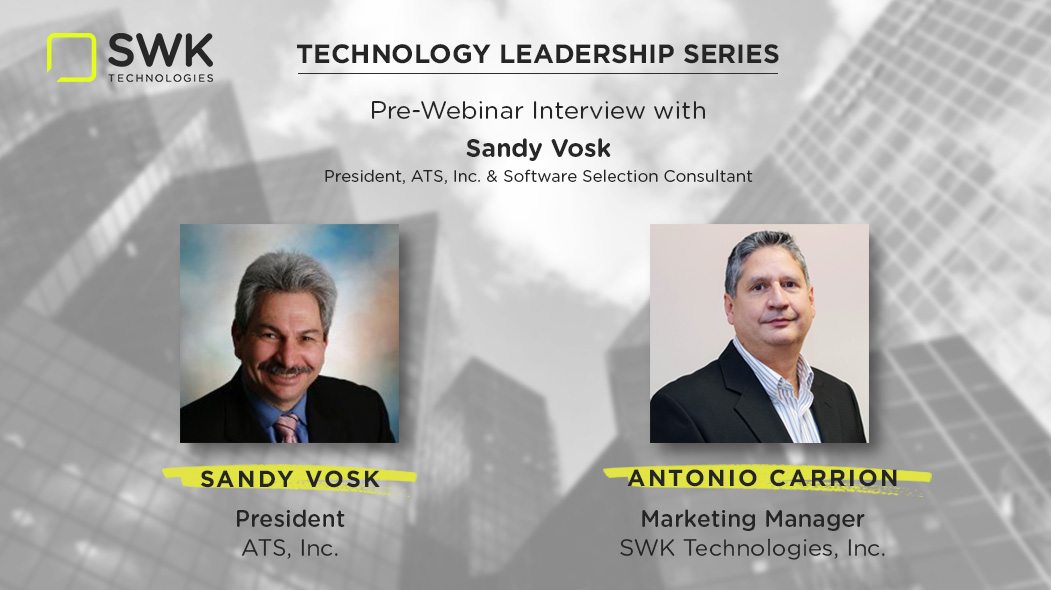 Sandy Vosk was interviewed on February 27, 2017 by Antonio Carrion, SWK Technologies' Marketing Manager to introduce him as our first speaker for SWK's Technology Leadership Series. Read the transcript below and register for our first webinar on March, 29.   
Antonio Carrion: Hi, Sandy, let's start by having you tell us a little about your background 
Sandy Vosk: Hi, Antonio. I have over 35 years of technology experience, predominantly in the supply chain industry. The foundation of my career was at PepsiCo, where I developed software to track the sale and promotion of all beverage products sold through Pepsi managed franchises.
In July 2003, I founded Advantage Technology Solutions, Inc. (ATS) a technology company with a specific niche in business intelligence and supply chain solutions.
I am proud to say that ATS has served more than 20 companies across the US, helping them select and implement ERP, Warehouse Management System (WMS), document management (ECM) and mobile inventory management (Radio Frequency/barcoding) systems. ATS has overseen numerous successful projects, supporting the development of each company's Functional Requirements, identifying the key vendors that match those requirements and guiding the team through their systems selection and negotiation process.
AC: You seem to have a real passion for the supply chain industry, what do you find so fascinating about it?
SV: My father was a truck driver, so I tease sometimes that I was born into the supply chain industry. I learned early in life to value the hard work involved and importance of storing and moving products. Today, every company involved in the creation, storage and movement of goods is being pressured by revolutionary changes forced by the growth of eCommerce. Consumers' ability to shop over the internet via more and more powerful mobile devices creates more than enough challenges for most companies today without the additional complexities involved in their demands for shipments and returns. I find it fascinating!
AC: What are some typical reasons companies reach out to you? 
SV: Companies come to us because we help them make better business decisions in selecting new accounting and supply chain management systems. Our unique balance of people, process and technology skills enables our clients to become the beneficiaries of technology, rather than the victims of it. We work predominantly with SMB executives who are: a) growing rapidly, they're usually running on QuickBooks and MS Excel and know they need a better solution to scale and meet their business goals; b) challenged in keeping up with customer demands as they are running on legacy systems. They know they need to make a change but are buried in the day-to-day business; c) in pain because they made a bad decision and their employees and customers are angry. They know they need to do something different, investing in an experienced consultant to guide them.
AC: Ideally, what should technology be doing for companies? 
SV: I tell my clients technology should, at the least, be helping them with three key things: Empowering their employees by helping them do what they do better and keeping them fully "engaged;" supporting their customers by enabling businesses to find more ways to say "Yes" to your customers and prospects, profitably; and lastly, providing quantifiable ROI via improved employee and customer satisfaction, operational efficiency and profit.
AC: If you could give one piece of advice to small and medium-sized companies trying to keep up with technology, what would that be? 
SV: Before you buy, know what you need, why, and what the real costs will be. It's critical to know the core business requirements of each functional area and involve them in the selection process. It's not about the technology; it's about managing change and the project plan is where the rubber meets the road. Too many companies focus primarily on negotiating license costs and not enough on the internal and external resources that will be required for the project.
AC: Sandy, thank you for your time and providing tips that any software buyer can use. 
We look forward to having you launch our Technology Leadership Series on March 29 with a webinar on the "Top 5 Mistakes Companies Make Selecting Software." 
I'm sure you'll have more valuable advice for our audience so we're urging them to register today…