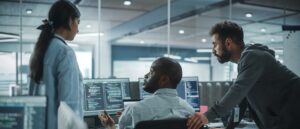 For the Highest Levels of Application Security, Choose Your Hosting Provider Carefully
Protecting your data and devices is important, but it may be even more important to ensure that you properly protect your cloud-hosted applications. When you host your data in the cloud, you must be able to trust that your hosting provider will ensure true application security for your mission-critical business software, no matter what.
Some hosting providers are very serious about your security. They use the latest, high-tech cybersecurity tactics and they certify for the highest compliance standards. Others do not. How your provider handles your applications can make all the difference.
Cloud Application Security by the Numbers
In November 2022, British security software company Sophos released an interesting study of nearly 5,000 IT professionals at small to midsized businesses (SMB). "The Reality of Cloud SMB Security in 2022" reported that only 1 in 3 organizations has the resources to continuously detect, investigate, and remove threats facing applications on the cloud, and that less than half (43%) of companies have 24x7x365 cybersecurity protection.
With numbers like these, it is unsurprising that cybercriminals are so successful these days.
Fortunately, the study also had good news. It found that companies with advanced cloud security are twice as likely to report a decrease in attack volume, complexity, and impact, as compared to companies with lower levels of cloud security.
Advanced cloud security must include continuous detection capabilities and 24x7x365 cybersecurity protection.
SWK's Secure Cloud Hosting Provides Advanced Cybersecurity
SWK Technologies' Secure Cloud Hosting service provides advanced cybersecurity you can trust. It is the most secure and cost-effective way for you to host your business applications in the cloud OR to leverage a hybrid hosting model that combines on-premises and cloud hosting.
You can host your ERP, CRM, network monitoring software, and other business management applications in SWK's secure cloud environment. By doing this, you will leverage, by default, SWK's advanced cybersecurity controls, including:
Our 24x7x365 Security Operations Center (SOC)
SWK's intelligent Security Operations Center (SmartSOC) combines high-end cybersecurity tools with a globally renowned team of cybersecurity experts who work 24x7x365 to proactively ensure your application security in our cloud. With our dynamic blend of human intelligence and state-of-the-art technology, we continuously hunt cyberthreats in real time and we destroy them.
Advanced Endpoint Protection
Unlike traditional antivirus and firewall solutions that rely on known attack signatures, Advanced Endpoint Protection provides next-generation security that leverages machine learning and behavior analysis to identify and stop emerging threats as they are occurring. With no loss to user privacy, Advanced Endpoint Protection monitors all devices, workstations, and ports connected to your network – eliminating security loopholes, halting potential attacks, and closing hacker backdoors.
Our SOC 2-Certified Data Center
SOC 2 (System and Organization Controls) is a series of standards designed to help measure how well a service organization regulates their clients' data and information. The rigorous audit process behind SOC-2 certification demonstrates that SWK's data center, IT consulting team, and managed services providers understand and comply with the highest standards for protecting your data and application security.
Security gaps can emerge anywhere, which is why SWK's advanced cybersecurity services extend into all areas of our company, not just the IT services team. Though it requires a lot of extra work, SWK makes sure that our engineering, support, project management, and development teams all adhere to the security standards and best practices set forth by the SOC-2 standards governing body. You deserve that peace of mind.
Do You Have the Right Cloud Hosting Provider?
In a world of seemingly interchangeable SaaS solutions, many people have come to expect that all cloud solutions are generally equal. Unfortunately, this is not the case. When it comes to application security, who you choose as your cloud service provider makes all the difference.
Once you consider that cloud service providers are, above all, service providers, it becomes instantly clear that you must make the right decision when it comes to choosing your cloud hosting service provider.
If you are looking for advanced security, device protection, compliance, and customer service, it is time for you to look into SWK Technologies' Secure Cloud Hosting service.
Explore SWK's Secure Cloud Hosting
Get Fast Answers
Any time you have questions about your business technology options, all you have to do is reach out to our team of seasoned experts here at SWK Technologies.
Learn More about SWK Cloud Services