2014 (7.6) and 2015 (7.7)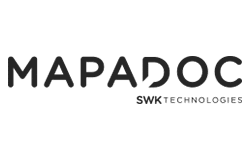 The MAPADOC team is pleased to announce the release of MAPADOC for Sage 500 (compatible with Sage 500 2014 (7.6) and 2015 (7.7)). This release brings you new features and functionality as well as some defect fixes designed to make your EDI life easier than ever. Read on to see what is new for you!
New options have been added to the Visual Process Flows – a link to the 753 Select Routing Request Information option on the ASN process flow and a link to Select EDI 855 PO Acknowledgement on the Orders process flow.
Sales Order Creation has been modified to allow creation of sales orders in PO Number order making reconciliation easier.
The Ship Method Cross Reference has added new fields that can be added to outbound documents. Transportation Method Code, Method of Payment Code and Service Level code have been added and all outbound document processing options have been modified to allow inclusion of the fields on outbound documents to meet your trading partner requirements.
New Auto Assign Bill of Lading options have been added to automatically assign the bill of lading number with the Shipment ID or the Next VICS Bill of Lading number saving you from manual data entry.
The EDI Ready to Send Register and Outbound Sent Register reports have been modified to add the Customer PO Number for applicable document types. The transaction count has also been added to the partner and document type subtotals saving you from having to count the totals by hand.
Subtotals were also added to the Sales Order Creation Register for all sort options – Customer, Customer Name and Creation Date.
Here is a really good one…the General Cross Reference Maintenance feature has been modified to add an Exceptions Only Cross Reference field to the General cross Reference List header. If this option is checked, missing values in the cross reference will not be reported as exceptions during inbound and outbound processing enabling you to only enter information for specific values needing cross referencing instead of every value.
For those of you utilizing SPS Commerce or DI Central as your translator, the archiving process has been modified to archive the individual files instead of the combined file. This change makes it so much easier to find and re-queue documents as needed. The original file name will be retained and if it already exists in history, a date/time stamp will be appended to the file name.
Clear Inbound EDI Info has been made more precise by adding the Document Type to the selection criteria. You are now able to clear specific document types instead of all inbound EDI in the queue.
The Delete Range of Sales Orders has been rendered a bit safer by the addition of a prompt notifying you of the number of sales orders selected for deletion. If you see that 15,000 orders will be deleted, you now have an opportunity to modify the selection criteria before deleting.
Finally, a New Conditional Processing option has been added to all outbound mapping and creation options enabling you to perform conditional processing based on a selected mapping variable.
A number of defect fixes were added to this release. For details on defects addressed, please review the MAPADOC for MAS500 Updates.txt file in the Sage 500 ClientED directory.
For more information on the added functionality, please review the webcast recording where Marthe demonstrates all the changes incorporated in this release. If you don't see a feature that you would like, please register for the MAPADOC Forum and enter a request.  The forum can be found here.