HOW TO FIND TRUE CLOUD SOFTWARE FOR DISTRIBUTORS
Eight ways to know your cloud ERP will enable real-time visibility
There's no shortage of business software for distributors. Some of it calls itself "cloud software." But most of it can't give you real-time visibility into your sales, order management, inventory, purchasing, production and services, and accounting information.
Don't settle for fake cloud software. Discover how to find a true cloud solution—and learn what it can do for your business—in a new white paper by Acumatica.
"True cloud software supports all mobile devices without requiring additional software. However, just being mobile doesn't provide the benefits you need to compete."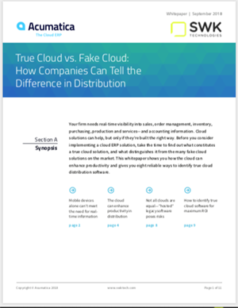 In "True Cloud vs. Fake Cloud: How Companies Can Tell the Difference in Distribution," you'll find out:
Once you read this white paper, you'll never be fooled by fake cloud software again. Download the white paper now.
Fill out the form to download the True Cloud ERP for distributors white paper!
HOW CAN WE HELP YOU?
SWK Technologies is a business application and consulting company providing strategies and solutions to meet our clients' information and business management needs. We make technology work for you, and provide the experience and expertise to get the job done by working with both your needs and the business management software that actually support your ways of doing business.