Don't Overlook These Costs When Evaluating Your Next ERP
You received a quote for a new ERP system so you know the cost of the software, hardware, implementation, and training. Nevertheless, many companies are surprised when they encounter additional costs to implement and maintain their new system.
Don't Get Caught Off Guard.
Read this white paper and learn about additional costs you should consider.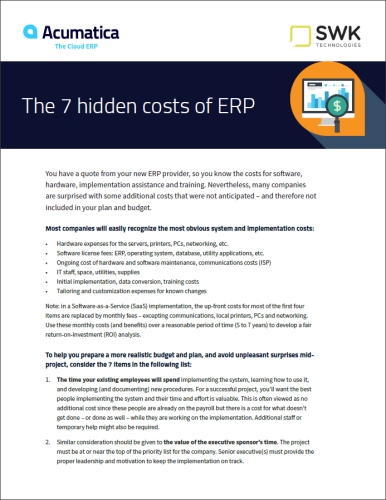 In "The 7 Hidden Costs of ERP" you'll learn:
Don't miss this chance to learn about all of the costs you should consider before investing in your next ERP.
Download your free copy of this white paper today.
Fill out the form to download The 7 Hidden Costs of ERP White Paper
HOW CAN WE HELP YOU?
SWK Technologies is a business application and consulting company providing strategies and solutions to meet our clients' information and business management needs. We make technology work for you, and provide the experience and expertise to get the job done by working with both your needs and the business management software that actually support your ways of doing business.