IT Consulting and Support for Manufacturing Companies
Managed Cloud Services (MCS) by SWK Technologies
SWK's Managed Cloud Services is uniquely positioned to serve the manufacturing industry's IT needs. With hundreds of customers in the manufacturing industry SWK has the experience necessary to understand and optimize your IT needs.
MCS combines SWK's award-winning network services with our Secure Cloud Hosting and Managed Infrastructure as a Service (IaaS) solutions to provide our customers with comprehensive infrastructure management and robust technology stack support for their entire application ecosystem. MCS also delivers real-time IT support for on-premise, hosted and hybrid environments, modern business continuity and disaster recovery solutions, state of the art cybersecurity supplemented by a Smart SOC (security operations center), network vulnerability testing, proactive employee security training, Dark Web monitoring, encryption and more.
Learn how SWK is uniquely positioned to manage your technology so you focus on running your business. Fill out the form for a free consultation to determine how we can best support your business.
Manufacturer? Protect Your Company by Adding Business Continuity to the Assembly Line
As a manufacturer, you're producing real, tangible products each and every day. In the age of technology, your equipment relies heavily on the computers configuring their behavior. What would happen if those systems became compromised? How long could you afford to halt production? In the manufacturing industry, downtime comes with costs from all directions. If production stops, you'll likely be paying a lot of employees who are standing around, waiting for a solution. The inability to fill quotas can impact sales. This can also damage your reputation as customers are unable to place orders. For manufacturers, the loss of intellectual property data can greatly hamper a business.
Download the eBook to learn how you can keep your manufacturing company safe from downtime.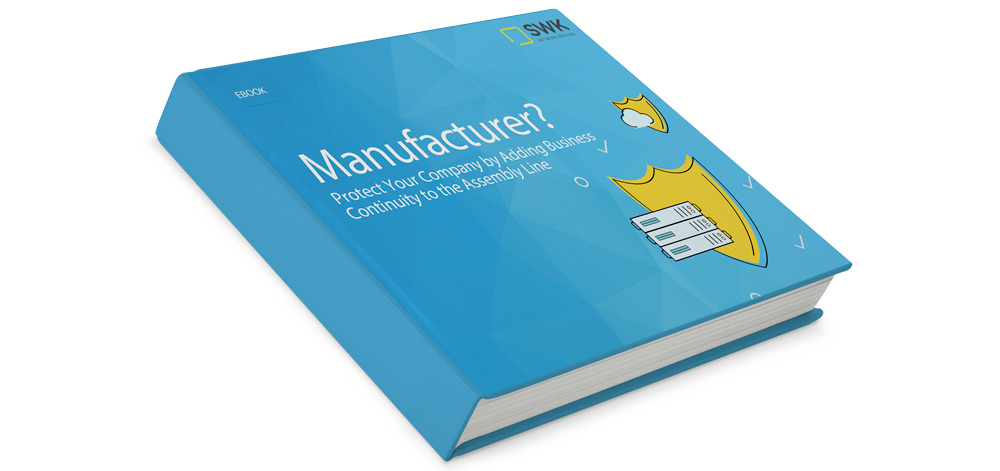 HOW CAN SWK TECHNOLOGIES HELP YOU?
SWK Managed Cloud Services is well positioned to maintain your network and keep it protected as one of the top managed service providers in the world.
Contact us: info@swktech.com