eBook
Backup and Data Protection Needs for Growing Businesses
Businesses that intend to keep growing in good times and bad need robust solutions to back up their critical data. They can't afford to let operations grind to a halt because a ransomware attacker has rendered critical data and applications unusable or an employee has accidentally deleted, overwritten, or corrupted critical data. Nor can they run the risk of fires, earthquakes, hurricanes, or catastrophic system failures wiping out customer or financial records.
Learn what you need to know about keeping business-critical data accessible.
Download the eBook to get the facts on: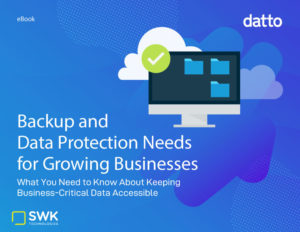 Why a modern backup and recovery capability is so important
What to look for in a backup solution
What features that backup should have
and more…
Want to figure out exactly what will meet the needs for your business?
Simply give us a call at
(856) 956-5800!
SWK Managed Cloud Services is well positioned to maintain your network and keep it protected as one of the top managed service providers in the world.