Merilyn Van Zwieten
Senior Vice President – STAT
SWK Technologies, Inc.
At Last! The very latest product update for Sage 100cloud includes an option to automatically update the Daily Transaction Registers (DTR).  Oh, My Goodness!!  For years and years clients have been complaining about registers having a two-step process.  First the register is printed and updated, then the user is prompted to print and update the DTR to post the transaction to General Ledger.  A bit of a pain considering the user cannot make any changes to the DTR so why not have it update with the invoice, check, etc., registers.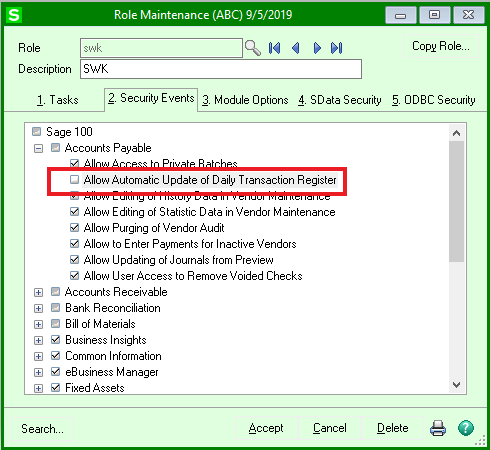 This new feature is very easy to turn on.  It is a Security Event in Role Maintenance.  Each module has the option.  Once selected, the user is no longer prompted to print and update the DTR.  It happens automatically.  If Paperless Office is being used the DTR is stored without displaying on screen.  Very nice time saver.
Upgrade from Sage 100 to Sage 100cloud for These New Features
This feature is an excellent reason to upgrade your Sage 100cloud to version 2019, Product update 2.
View our blog post here to see more reasons to upgrade your Sage 100 software to Sage 100cloud.