By Alan Hardy, Executive Vice President of Cloud and Migrations at SWK Technologies
Now that the year is coming to a close, your company is probably assessing what you should do with your accounting software.
Should you stay on the same system and upgrade?
Should you migrate to a new system?
These questions can be hard to answer, especially when you're in the thick of the holiday rush.
Here's what you need to consider when planning for your accounting system changes.
Defining our terms
The acronym "ERP" stands for Enterprise Resource Planning, and refers to a software system which engages with and includes everyone in your company—not just the accounting department.
The trouble with upgrades
Upgrading your existing accounting software system may be cheaper than buying all-new software, but it can still be quite expensive—and it may not get you any more functionality than you had before. After all, it's the same software, just upgraded! A migration to a complete ERP system may be a much more strategic decision, relative to your projected future growth and goals.
What areas of functionality are you missing? More complete ERP systems include things like:
CRM
Document Management
Help Desk / Contract Management
Alerts & Approvals / Workflow
eCommerce, Customer Portals, Employee Portals
Fixed Assets
Warehouse Management
Projects
Many ERP solutions appear to have these pieces within their software, but in reality, many ERPs are still operating under the "best of breed" approach, which means they're really just maintaining multiple integration points "hobbled" together. While that makes it seem like they are all part of the same system, your team may have a few cumbersome workarounds to deal with, even when completing simple tasks.
A difficult choice… with a looming deadline
With the recession not far back in the rearview mirror, your company may be reluctant to invest a lot in upgrades, software migrations, or new technologies. After all, there are many older/legacy accounting software systems still in use… and making a change can be a difficult and expensive proposition. To make things even more challenging, some of the accounting software systems are being "retired" by their software publishers, which puts a looming deadline on your final decision.
The 6 questions you need to answer now
Answer these six questions before upgrading or migrating to a new accounting/ERP system:
Are there specific accounting software systems that already have a developed migration path from your system to theirs?
Do you need additional areas of functionality that would be addressed with a more complete ERP system?
Is the ERP system being considered developed on a current technology platform? Are all of the modules built on the base platform, or are there external integrations needed?
Should you consider a cloud-based software system? What are the savings and benefits in NOT maintaining hardware/network infrastructure internally?
Is SaaS, or a subscription type of software licensing, more appealing and cost effective?
What are your growth plans and expectations?
As a final comment, I suggest you hold an internal "strategic evaluation" to determine how your overall systems are running today. Then, bring in your trusted software advisors to continue that strategic evaluation with the up-to-date feedback and suggestions you'll need to make your choice.
Ready to Move Forward?
Click the button below to Schedule Your Strategic Evaluation Now.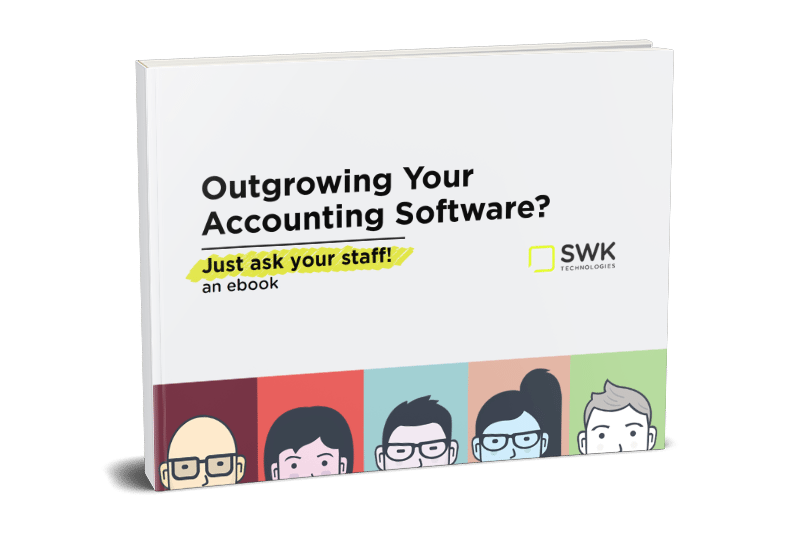 Download our ebook and learn how better accounting software solves for 5 departments' common problems—as told by your staff!