Reduce Compliance Headaches & Drive More Innovation
Recent changes to FDA regulations rendered many current business management systems for quality control, documentation, tracking and data security noncompliant. With these regulations in mind, SWK Technologies assembled an end-to-end FDA-compliant supply chain solution bundle that combines hand-picked software with expert services, solving for the latest FDA regulations for cosmetic and drug manufacturers and distributors.
End-to-End FDA Compliance Features for all Cosmetic Brands
SWK's Sage X3 Cosmetic compliance software bundle provides improved documentation, tracing capabilities, time-stamping, data security and distribution control to reduce the burden of adherence to new regulatory requirements.
Documentation Control. Recent FDA regulation requires greater control over paperless records, including time-stamping, electronic signatures, product ingredient documentation, and product distribution tracing. These regulation changes also demand that a personal care company's product distribution technology can adjust to individual market regulations. The Sage X3 Cosmetics & Personal Care Products bundle covers these new regulations and enables cosmetic manufacturers and distributors to comply with new product registration requirements, including bill of lading.
Quality Control. The Sage X3 compliance software bundle enables cosmetic companies to store the safety and handling information for raw materials, including exposure limits, product properties (flash point or pH) and GHS ratings. Storing this data with the raw material record allows manufacturers and distributors to provide the most up-to-date data and makes that data easily accessible throughout the entire supply chain.
Security Control. The latest FDA compliance guidelines highlight the importance of enhanced security measures. Modern supply chain management involves more data than ever before, and technological solutions must offer ironclad protection. The Sage X3 Cosmetics bundle integrates with CRM data while maintaining total data protection and regulation compliance.
Meeting Compliance Demands for Cosmetic Drugs
Cosmetic products defined as both a drug and a cosmetic must comply with additional FDA regulations, such as ensuring product-level tracking and good manufacturing practice (GMP). Notification systems are also essential to compliant supply chain management. SWK's Sage X3 bundle is the only end-to-end FDA-compliant supply chain bundled solution for these additional demands.
New Product Tracking Requirements. The FDA and the Drug Supply Chain Security Act (DSCSA) require that cosmetic drug products be tracked beyond lot level to the product level. Many basic and enterprise business management systems and ERPs were not designed to do this, so as a result, they have serialization tracking limitations. Only the Enterprise Management bundle provides a product-level tracking solution for the supply chain.
Supply Chain Control. Sage X3 enables companies to calculate the true cost of doing business by tracing all raw materials, provides special pricing options to their customers and tracks the multiple pricing levels within their business management system. This allows cosmetic manufacturers and distributors to develop quality control parameters inside the business management system to identify failures or issues in any part of the production and to track products back to the supplier for improved traceability. Finally, cosmetic companies would also be able to establish work‐flow process for return merchandise approval, as well as visibility into whether items are authorized for return.
Timeline to Meet New Compliance Standards
Manufacturers and wholesalers must serialize by November 2017.
Repackagers will be required to serialize products by 2018.
Distributors will be required to transact only serialized products and verify returns by 2019.
Dispensers will be required to transact only serialized products by 2020.
The entire supply chain must be able to trace at the unit level by 2023.
The Sage X3  Cosmetics & Personal Care Products solution bundle is powered by X3, MAPADOC and SPS Commerce for EDI functionality, Datalinx for warehouse management and ProcessWeaver for shipping automation.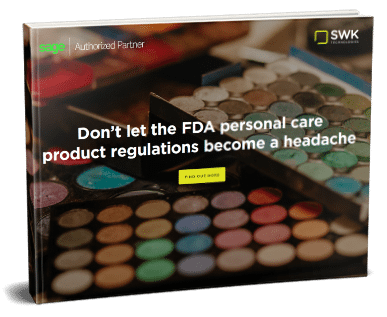 Learn more about each of these features and its impact on supply chain management and compliance with our EBOOK by downloading it today.