Learn How to Perform an ROI Analysis for Your ERP Project
Most companies complete a ROI analysis before committing to a new ERP system. ROI analysis identifies the expected direct and indirect costs of a project compared to the benefits – over some reasonable lifetime.
But there is no such thing as a one-size-fits-all ROI analysis.
Every ERP implementation project is unique – as is the ROI analysis that accompanies it. Get this white paper and learn about key costs and benefits to consider while performing your own ROI analysis.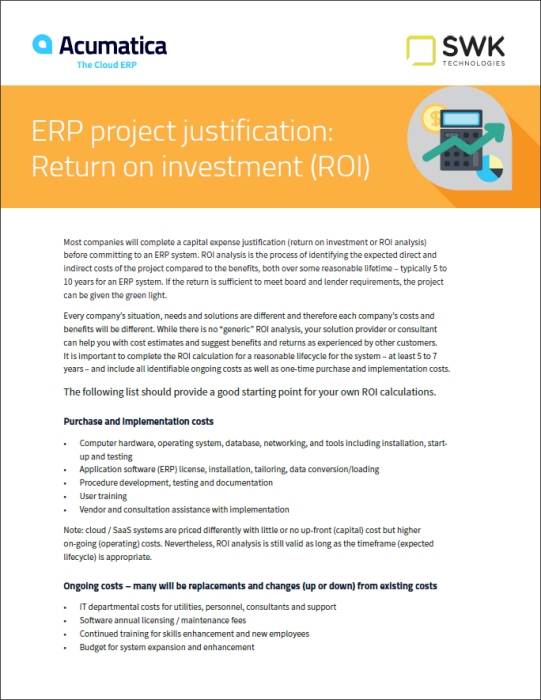 In "ERP Project Justification: Return on Investment (ROI)" you'll learn about:
Don't miss this guidance on how to develop a more accurate ROI analysis for your next ERP project.
Download your free copy of this white paper today.
Fill out the form to download the ERP Project Justification: Return on Investment (ROI) White Paper
HOW CAN WE HELP YOU?
SWK Technologies is a business application and consulting company providing strategies and solutions to meet our clients' information and business management needs. We make technology work for you, and provide the experience and expertise to get the job done by working with both your needs and the business management software that actually support your ways of doing business.