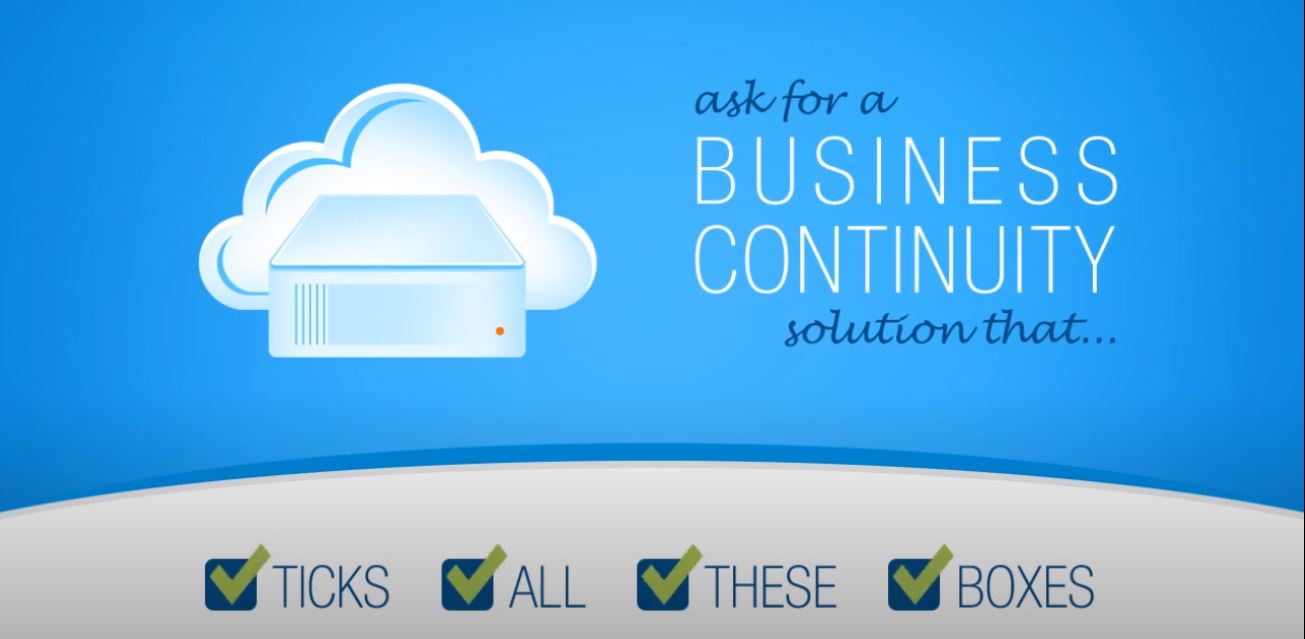 Discover Why Not All Business Continuity Solutions are Equal
Not all business continuity solutions are created equal – your plan should incorporate more than just backing up data, and must be able to account for every risk, vulnerability and idiosyncrasy that can impact your systems. Nor is every backup solution the same – how many files do you have spread out over how many number of applications, how often do you back them up and where are they stored? The answers to these and many, many more questions can make or break your recovery process, as well as your business if your BCP is not solid enough to withstand real disaster.
The COVID-19 pandemic forced many out of their traditional office spaces into work from home environments – it also made obvious the vulnerability of data in the midst of disruption, reinforced by the malicious actors that exploited it. Hackers, wildfires, hurricanes and more have caused downtime for organizations across the country, costing them untold millions in restoration expenses, compliance fines, lost data and lost customers. Finding the right disaster recovery solution is the first step in protecting your business from all of the threats you face by preserving the integrity of your data and empowering yourself to recovery seamlessly from downtime.
Discover why not all business continuity solutions are equal by watching the video below:
Not All Business Continuity Solutions Are Created Equal Transcript
For years, you've been hearing about the importance of data backup. You hear about it in radio commercials, and on the sidebars of oh so many websites. "Just make sure to back up your data, and everything will be great!" Well, that's [bull noise]. Okay, maybe not [bull noise], but it's certainly not the whole truth.
The truth is data backup alone is not enough. For one thing, you have much more data than you used to. Most likely, the data that you have is also much more important than it used to be, and because viruses, disasters and system failures are always looming the risk of losing your data has never been higher.
What you need is a business continuity solution. That means you need a solution that ensures that your backed up data is usable, non-corrupted and virus-free. it means that when disaster occurs – and some day one will – you'll be backed up and running in no time with all of your data intact.
Not all business continuity solutions are created equal, but here's the good news – as long as you kick the tires a bit and have a look under the hood a great business continuity solution is well within reach.
Here are the things that you should look for:
For one make sure your data backups will be image based. While file-based backups handle files and folders slowly, one at a time, image-based backups take a picture of entire machines. Image-based backups happen so quickly and seamlessly, users won't even notice. And restores are blazingly fast, taking seconds, not hours or days.
Next, make sure that your backups will be stored both locally and securely in the cloud. That way, you can conveniently pull backups from an on-site device. But let's say your office gets flooded – there go your local backups. If that happens, having your apps, files and systems in the cloud can save you and your business. Some solutions even let you virtually open and use a backup directly over the cloud for peace of mind.
You'll want to know that your backed up data is tested for validity. A good continuity solution examines each backup automatically to ensure everything checks out. Some solutions even send screenshots of your backups via email so you can verify at a glance that all is well.
Finally, you'll want to make sure that you can easily upgrade. As your business grows, don't get stuck with an expensive upgrade that requires you to lose all of your backups and start over, so ask your managed services provider if they offer a business continuity solution that ticks all of these boxes. If they don't, you should probably move on to one that does.
Let SWK Help You with Business Continuity Planning
SWK's managed IT and cloud services includes comprehensive business continuity planning with disaster recovery solutions tailored for your specific needs. From your unique industry pain points to your ERP framework to your cloud-hosted data, we will leverage our expertise in technology stack management to build you a business continuity solution designed to withstand your greatest risks.
Contact SWK Technologies today and learn more about the business continuity solutions included with our Managed Cloud Services.