Get the Best Process for Selecting Your ERP Partner
An ERP system touches nearly every aspect of your business. That's why selecting the right ERP system to manage your business operations is a critical strategic decision.
But selecting the right ERP is only the first step.
It is also critical to select the right partner to maximize the benefits that your ERP system will bring to your business. You need someone who will take the time to understand your business, who is reliable and has the resources to support your business, and that understands your goals. Simply put – you need someone to truly partner with you.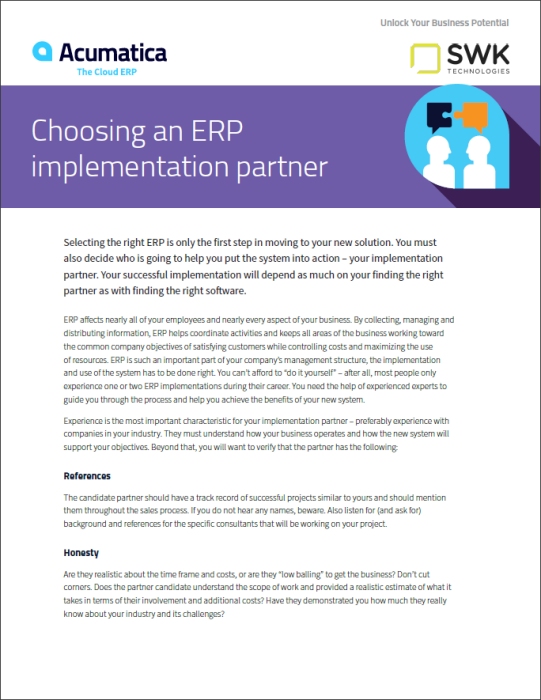 In "Choosing an ERP Implementation Partner White Paper" you'll learn four key considerations for choosing a partner including:
Don't go at it alone. Find out how to team up with the right expert so you get the most out of your ERP system.
Download your free copy of this white paper today.
Fill out the form to download the Choosing an ERP Implementation Partner White Paper
HOW CAN WE HELP YOU?
SWK Technologies is a business application and consulting company providing strategies and solutions to meet our clients' information and business management needs. We make technology work for you, and provide the experience and expertise to get the job done by working with both your needs and the business management software that actually support your ways of doing business.