LEARN ABOUT ACUMATICA ERP FOR WHOLESALE DISTRIBUTION
If you're a wholesale distributor, your plate is already full. You require consistent, accurate updates about your operations in order to maximize your deliverables to your customers, and you need them in real-time. In addition to controlling inventory levels, you must streamline your fulfillment and warehouse management processes as well as ensure you comply with packaged goods regulations. On top of that, you must be able to deliver top-notch customer service to your clients.
Download the data sheet collection and learn how you can solve these problems, and more, with the modern cloud Acumatica ERP for wholesale distribution.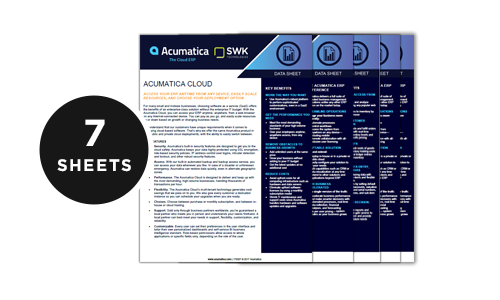 Fill out the form to download the data sheets!
HOW CAN WE HELP YOU?
SWK Technologies is a business application and consulting company providing strategies and solutions to meet our clients' information and business management needs. We make technology work for you, and provide the experience and expertise to get the job done by working with both your needs and the business management software that actually support your ways of doing business.