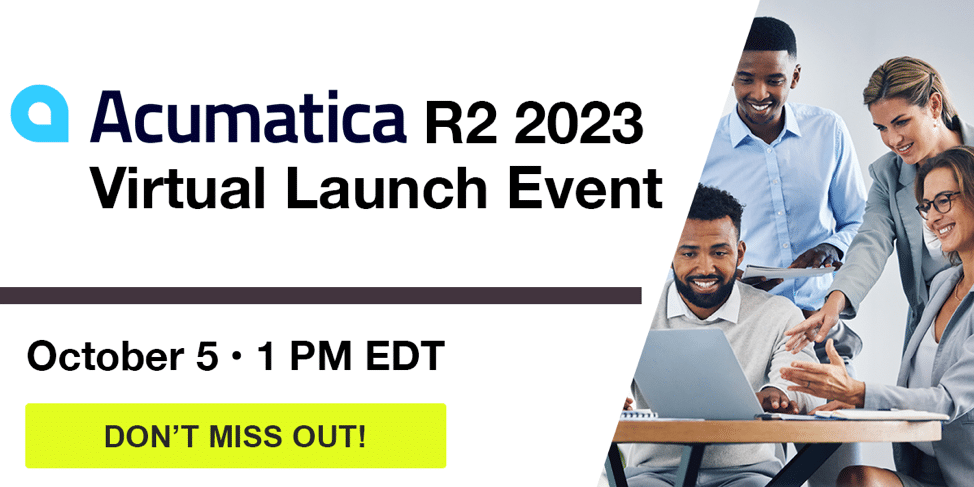 Join us for an exclusive virtual launch event to learn the new features that will be included in the much-anticipated Acumatica 2023 R2 release!
Acumatica's reputation for product excellence and adaptability to the ever-changing business landscape is unparalleled. The forthcoming R2 is another testament to their commitment. In line with their six-month release cadence (R1 was released April 2023), the 2023 R2 promises to deliver even more community-inspired features, upholding the highest standards of quality.
Be among the first to explore the transformative capabilities of Acumatica 2023 R2.
Date: October 5
Time: 1 PM EDT
What to Expect
Get ready for an exclusive sneak peek into Acumatica's freshest and most user-friendly features. Open to all Acumatica customers, prospects, partners, and developers, the Acumatica 2023 R2 Virtual Launch Event guarantees insights that you won't want to miss.
By registering (for free, might we add!), participants will secure a seat at the must-see General Session, as well as your choice from five specialized breakout sessions:
Manufacturing
Distribution
Construction Edition
Retail Edition
Developer Session
But there's more! Crafted to be concise yet impactful, every session shines a spotlight on Acumatica's latest cloud ERP product innovations through immersive live demos. The cherry on top? The floor will be open for you to ask questions, give feedback, and interact directly with the Acumatica Product Team.
What are Some of the New Features?
In today's dynamic market landscapes, a nuanced understanding of each industry's distinct requirements is crucial. Acumatica recognizes that the era of one-size-fits-all ERP solutions is behind us. Every industry has its unique requisites and vital KPIs that drive customer success. Thus, Acumatica meticulously crafts industry editions, tailored to specific needs, ensuring you stand out and thrive in your competitive markets. With that in mind, here are some of the new features and functionality specific to different industries.
New for Distributors, Retailers, and Commerce Merchants
Improve profitability and provide transparency with capabilities that enable reviewing estimated margin percent and amount calculations during order creation for an entire order and individual line items.
Streamline mass stock allocation and deallocation for orders with the new Manage Sales Allocations screen; automate the allocation process and apply manual overrides to change or refine suggestions.
Protect margins with features that optionally exclude automatic line discounts, such as volume discounts from order lines for a particular price, such as promotional pricing.
Add the world's largest sales channel with the Amazon connector that connects Acumatica to Amazon's Seller Central marketplace, supporting FBA (Fulfilled by Amazon) and MFN (Merchant-Fulfilled Network) delivery models.
Open new markets and accelerate sales to business customers with Shopify's new B2B eCommerce platform by seamlessly integrating online sales with Acumatica's back-end fulfillment processes.
New for Manufacturers
Improve manufacturing cost control and streamline implementation and setup for cost accountants with a new user role and the option to lock production order status.
Simplify production order ticket printing with the Acumatica DeviceHub service that includes automation schedules and predefined printer settings.
Extend Acumatica's Product Configurator via new web endpoints to leverage rules-based product options and values logic for configured orders from external apps like website storefronts, custom portals, or other applications.
New for Contractors and Service Organizations
Gain better insights with side panel access for multiple business document maintenance screens that improves end-user navigation.
Save time with capabilities that enable deactivating cost codes that are no longer used in projects. Once deactivated, the cost codes become unavailable but remain specified in documents so users can continue working.
Empower users with features that enable editing retainage information in subcontracts and purchase orders linked to change orders.
Improve project visibility with capabilities that support reviewing outstanding AR aging documents and their unreleased retainage for a particular date.
The new features we listed above just scratch the service. Acumatica is also adding new functionality around Artificial Intelligence, Machine Learning, mobile, workflows, financials, CRM, and more.
Don't miss this chance to learn how you can elevate your business operations and stay ahead in the game with Acumatica's latest innovative release. See you there!
Any time you have questions about Acumatica, just reach out to our team of seasoned experts here at SWK Technologies.
See SWK's Acumatica Support Resources
---