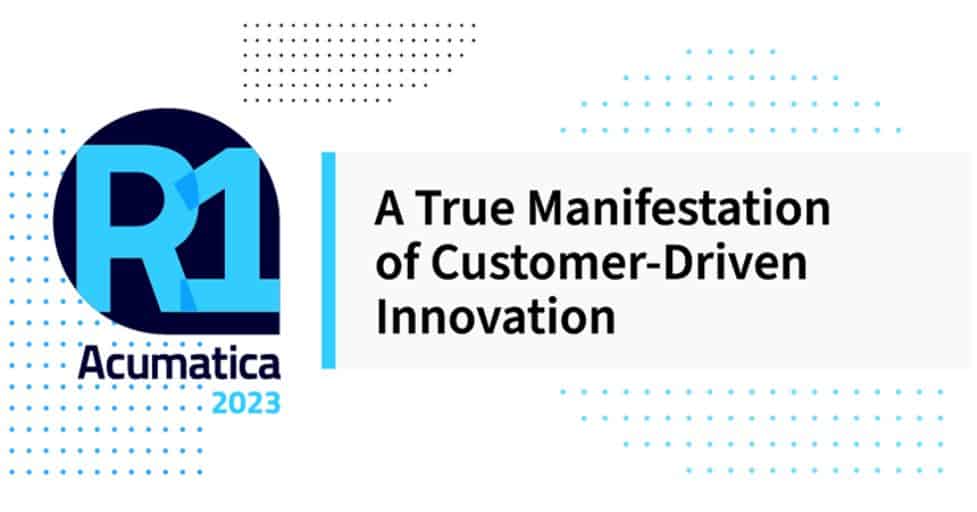 Acumatica, the leading provider of cloud-based ERP software, has just announced the release of its latest update, Acumatica 2023 R1. This new release includes a range of new features and enhancements designed to improve functionality and productivity across various industries.
Improvements
Acumatica 2023 R1 is now available to Acumatica customers whose feedback and insights drove every feature improvement decision. Here's a quick overview of some of these new features:
Exceptional Usability: Acumatica 2023 R1 offers exceptional usability with its pre-built panels and dashboards, simplifying configuration and setup, streamlining processes, and providing easy access to help files. With improved error checking and better error messages, you can expect a more forgiving experience. This allows you to access information quickly, run processes with fewer clicks, and achieve value faster.
Intelligent Platform: The update also features an intelligent open architecture that enables rapid integrations and allows for the extension of applications with artificial intelligence and machine learning. The global operations are also strengthened, allowing for the retrieval of values in any language, streamlining AP processes, and enabling additional workflow capabilities.
Dominate Vertical Segments with Industry-Focused Functionality: Acumatica 2023 R1 updates for each industry edition, such as Construction, Manufacturing, Distribution, and Retail-Commerce, are tailored to help businesses in each of these vertical segments succeed. Enhancements include streamlined counter sales and reporting, along with side panel access to purchasing, sales, inventory, and manufacturing from data entry screens.
Overview
Acumatica's latest release and upcoming updates demonstrate the company's commitment to providing its users with the most advanced and comprehensive cloud ERP software available. The new features and enhancements included in Acumatica R1 are designed to help businesses across various industries improve their productivity and streamline their processes. With exciting new features and functionality planned for future updates, Acumatica is poised to remain a leader in the cloud ERP software space.
Contact Us
If you're interested in learning more about Acumatica R1 and how it can benefit your business, contact SWK Technologies today. Our team of experts can help you explore the new features and functionality and determine how they can help you achieve your business goals.