CFOs Need the Right Tools to Meet Growing Expectations
The role of a CFO continues to evolve. In addition to managing organizational finances, leadership teams now look to their CFO to provide sound and trusted advice.
CFOs are expected to ensure audit and compliance obligations, communicate essential financial information to stakeholders, and enable the business to meet growth targets – all while ensuring data is secure.
In order to meet all of these expectations, a CFO needs the right ERP.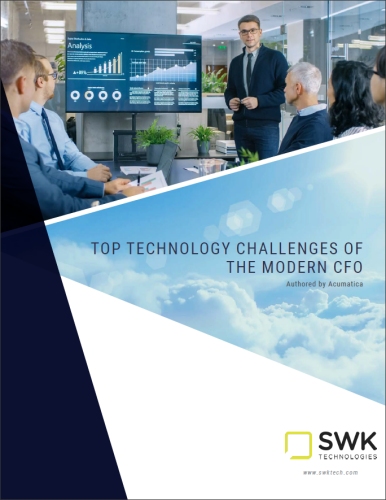 In "Top Technology Challenges of the Modern CFO" you'll learn how to:
Don't miss out on this go-to reference for overcoming the top CFO challenges in the current business climate.
Download your free copy of this eBook today.
Fill out the form to download the Top Technology Challenges of the Modern CFO eBook
HOW CAN WE HELP YOU?
SWK Technologies is a business application and consulting company providing strategies and solutions to meet our clients' information and business management needs. We make technology work for you, and provide the experience and expertise to get the job done by working with both your needs and the business management software that actually support your ways of doing business.